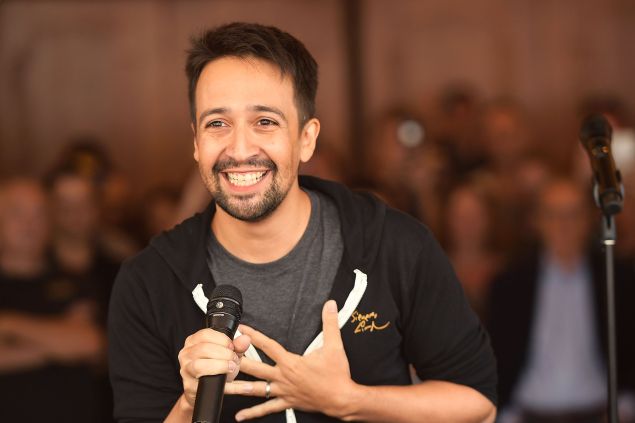 Lin-Manuel Miranda has done it again.
Last night the Tony-winning composer of Hamilton released "Almost Like Praying," a charity single to benefit Hurricane Maria relief on Miranda's home island of Puerto Rico. The song, available on all music streaming and purchasing platforms, was inspired by a lyric from the West Side Story song "Maria." Miranda said he wanted to give the name a positive connotation again.
Miranda's lyrics include the names of all 78 towns in Puerto Rico, because as he told The New York Times, "I don't want anyone in Puerto Rico to ever feel forgotten again." The song features an all-star lineup of Latino artists, including Jennifer Lopez, Marc Anthony, Camila Cabello, Gloria Estefan, Fat Joe, Luis Fonsi and Rita Moreno.
All proceeds from sales of the song go the Hispanic Federation for Puerto Rico relief.
Miranda wrote "Almost Like Praying," contacted the artists involved, recorded the song, mixed it and released it all in less than two weeks. And while Miranda held recording sessions in Miami and Los Angeles, other artists had to find more creative ways to send in their verses.
That's where tech came in—many artists recorded remotely in Puerto Rico and the Dominican Republic. And no story is more dramatic than that of Puerto Rican rapper PJ Sin Suela.
Miranda recounted on Good Morning America that he contacted Suela early in the writing process but didn't hear from him for a while. Then on Saturday (as in six days ago) Suela emailed Miranda that he had just gotten power back and would love to be part of the song. Suela then recorded his section of the song on Sunday, but he didn't have enough bandwidth to send Miranda a wav file.
But wait, there's more—as luck would have it, Estefan was going to Puerto Rico on a relief mission Monday. Miranda gave her a memory stick, and she was able to save Suela's portion of the song.
Thanks to quick technical solutions like that, "Almost Like Praying" was released on time, and it quickly reached the number one spot on iTunes.
One person was not impressed, however: Florida senator Marco Rubio.
But while Miranda did tell the Miami Herald that he wanted a stronger federal response to Maria, he did not claim anywhere that he was doing more than FEMA.
To its credit, the Herald updated the headline. Rubio retweeted the updated story, but did not delete his earlier tweets.