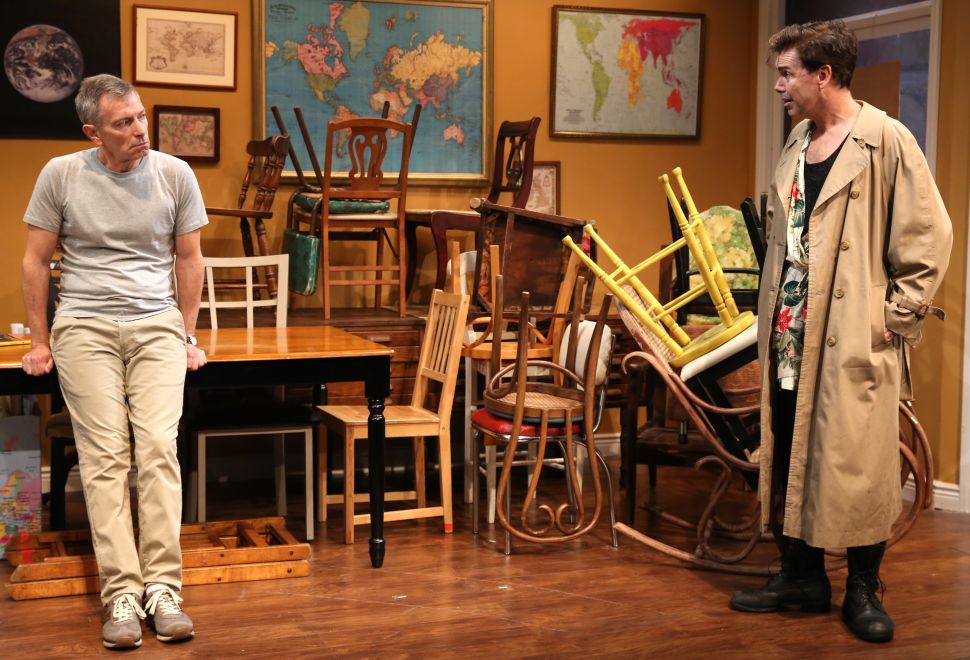 The great Arnie Burton stands alone, slightly off center-stage, at the start of Steven Dietz's Lonely Planet. As proprietor and (almost) only inhabitant of Jody's Map Shop, he is puzzled by the sudden appearance of an unannounced and unsolicited chair.
The chair turns out to be a gift from a friend, Carl (the equally great Matt McGrath), a buoyantly unmoored gay man who is switching professions like sweaters, constantly.
There are more chairs where that came from—much more. The multiplicity of chairs is a puzzlement to audiences and Arnie alike. At final count, 51 are shoe-horned on stage—in all sizes, shapes and descriptions: lawn chairs, leather chairs, barber's chairs (good for a quick quip and chat), porch chairs, armchairs and loveseats. For a cherry on the sundae, Dietz adds quotes from Eugene Ionesco's The Chairs.
The boys take all this giddiness at full gallop, but the suffocating sorrow outside the shop starts seeping in. Suddenly, we realize where we are: in the pitch-black '80s of the AIDS era. And they're the heirs of chairs (here, the surrogate tombstones of fallen friends), and Carl's trying to extend these lives by assuming their occupations.
Lonely Planet, written 25 years ago and finally getting a first New York revival from the Keen Company at Theatre Row's Clurman, is practically—but, tragically, not quite—a period piece. It has heartbreak, hilarity and a lingering personal sadness.
"This is one of the hardest things I've ever done," Burton confessed without a blink. "It's one of those plays where the characters are thinking one thing and saying another, so the play is very elliptical. With most of the plays I've been doing lately—like The Government Inspector—what the characters are saying or doing or wanting is right there on the page. With this particular play, it's quite different because there's a lot of game-playing—a lot of denial going on, especially with my character."
Audiences have really been going with the play's loop-de-loop, McGrath contends. "We're having pretty full houses now, so it's fun because they're with the ride the entire time. You really can't get a perch on what's happening from the top. Someone is play-acting, and you don't know if that's his persona, or if this is sustainable throughout the entire play, or if the audience will be watching the rest of the night.
"The play really does take you right there because of the level of the game-playing and the coping mechanisms and the denial. Both characters suffer from denial. Getting somebody out of that rut is always a challenge, especially with something as troubling as what Jody goes through: he's sweating about being tested. On top of the death and destruction happening outside, Carl is watching his friend shut down."
For anyone who emerged from that dark period, the prospect of returning to it, even in a play, is daunting. "It seems like a lifetime ago," sighs Burton. "I'd just moved to New York City and was hit in the face with AIDS and losing friends—just going out on the streets and seeing the look of someone you didn't know was sick and realizing that they're suddenly sick—it brought all of that back to me," he said.
"The other day when we were in tech, we had all the chairs for the first time. The space suddenly filled up with the chairs we didn't have in the rehearsal room. It felt so much like the first time I saw the AIDS quilt—the first time they spread it out on the promenade in Washington. You could physically see each of those patches and know each patch represented a person. You saw how huge it was. It was kinda like that," Burton remembered.
For him, doing this play meant returning to a time when AIDS was a death sentence, and revisiting how the community was coping with that. "I remember being so fearful, like Jody. I didn't get tested for a long time because I was so afraid of what the diagnosis would be. It's not a fun place to go back to, but I do recall being proud of how the theatre community and the gay community and New York dealt with the epidemic. We were an epicenter."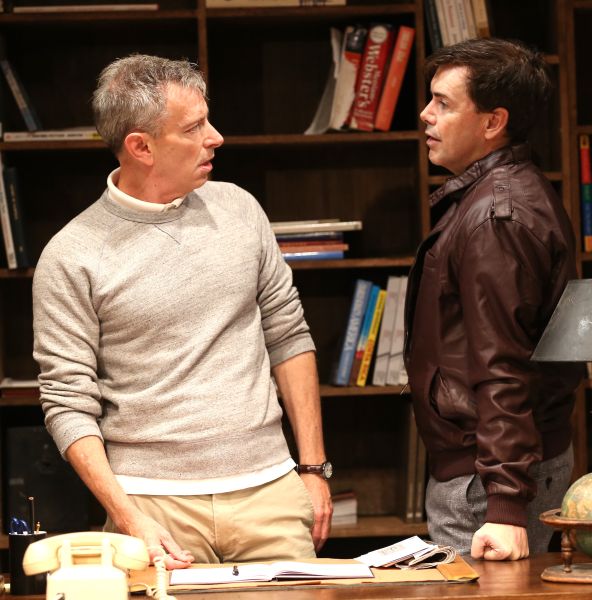 McGrath has similar memories. "The crisis happened when I was on Broadway in Peter Pan, and I went on tour," he recalled. "By the time we got to San Francisco, it was in full swing. Coming back to New York, people started dying, and it was really a tough time for me. I was 12 years old, so dealing with friends and loved ones and teachers and mentors falling—so many, so fast—was hard for a 12-year-old to take in."
His parents tried to protect him from the devastation. "There were a lot of people I didn't get to say goodbye to. They were like family. They would come for Thanksgiving. We were a big family and had a large apartment so we'd invite a lot of them. The dancers would come after their shows, and the stage managers, and Sandy [Duncan], and Christopher Hewitt," McGrath said.
At the time Jody and Carl were clustering together in their chair-clutter in the play, Burton and McGrath were, in real-time, learning their craft at Circle Rep. They've been friends and followers of each other's work for a quarter-century—but they've never worked together before, save possibly for some readings back in the lab days.
"Working with Arnie," says McGrath, "reminds me of the way we used to work at Circle Rep. That company produced a very specific type of actor. One that was highly intelligent, kind-of intuitive—both intuitive and logical, really. Arnie knows his stuff. He knows how to get into something, to break something open and really look at it. What we're doing here is looking at this crisis and showing how coping mechanisms work."
Right from day one, Burton saw the sparks of a marriage made in Circle Rep. "It's such a thrill—after all this time of knowing each other and each other's work—to actually work together," he says. "I thought it'd be great because I knew that's the kind of actor Matt was. This doesn't mean we approach everything the same way. We're different in that way, but, for some reason, when we get together on stage I feel a chemistry that I haven't felt in a long time."
Neither Burton nor McGrath saw Lonely Planet when it played New York with Denis O'Hare and Mark Shannon. "I remember seeing a lot of other AIDS plays at the time, like As Is and The Normal Heart, but I never saw that one" says Burton. "It's one of those plays I've always heard the title of floating around—but, once it was offered to me, people said, 'Oh, my God! That's one of my favorite plays! I love that play!'"
Jonathan Silverstein, Keen Company's artistic director, smartly cast longstanding friends to play longstanding friends. "Arnie and Matt were, absolutely, our first choices," he declares with more than a tinge of pride. "They are very unique actors in a wonderful way, so it was tailoring the whole play to their friendship. The script was quite challenging, figuring out how to activate all the games and the symbolism of it, but the three of us worked collaboratively to figure out how to make it work."
Friendship is also the operative word for the creation of this play in the first place. Because the playwright is heterosexual, his only entry to Lonely Planet was as a friend. According to Silverstein, Dietz had quite a few friends affected by the disease: "He felt that his best way in was through a friendship. Since he wasn't gay himself, he couldn't really talk about what that was like during the AIDS crisis. His goal was to attack this via a friendship. To me, that's one of the beautiful things about this play—and a rare thing, too: it's about friends. You don't see a lot of those plays."
Burton admits being surprised—and, also, quite pleased—about the playwright's sexual orientation. "What doesn't make the play dated is that he hasn't created a too "insidery" gay world. He hasn't set it in a particular city. He never names the disease going around. The gay men are not defined by cliché ideas of what we think gay men would be like in music. In fact, my character's favorite song is a Bob Dylan song sung by Joe Cocker, 'I Shall Be Released.' What I find beautiful here—because he's such a slight outsider—is that it allows you not to think of this play as a gay play or an AIDS play. It's more of a play about friendship, and that makes it become more universal.
"I've always been attracted to plays that celebrate friendships," Burton admitted. "It's a relationship that we take for granted. You just don't hear much about them per se. It's not a relationship that is explored like romantic relationships or family relationships. Yet, I still think that it probably is the relationship that informs us most during the course of a day."
Lonely Planet gives Burton, for a refreshing change, a great shot at drama. Another refreshing change is he'll do it as a single character. "I'm kinda known now in New York as the guy you can hire to play three parts in a comedy." His record, "counting inanimate objects," is playing 43 parts in The 39 Steps.
"I love doing comedies—we're living in such dark times that people came up after and said, 'Oh, my God! It felt so great to laugh again!'—but it's also nice to do drama again. There was a lovely lady in the front row on Sunday, just sobbing at the end. Afterward, she came up to me and apologized. It's so nice to move people like that.
"And it's important to remind them of what it was like then—what true fear was like. I hope patrons take away from this wonderful play a bit of what we went through—how, as a community, we persevere. I hope they take away the beauty of friendship."
Dietz, who lives in Seattle and teaches in Austin, has promised to visit the revival during its opening week, and McGrath has his list ready: "I have plenty of questions, believe me. I think we've cracked it from our own perspective, for our own purposes, but I'm really curious to see what he thinks—if he thinks we are handling his play with care, because I think it's such a fantastic piece and people are calling it a new classic. Certainly of the AIDS plays, I think that it's the one that can last the longest."