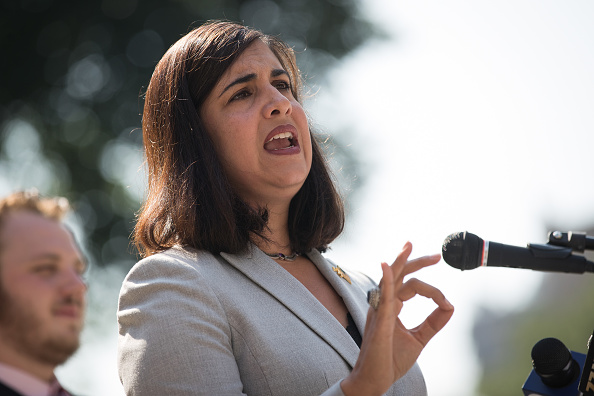 Nicole Malliotakis, the Republican mayoral candidate, said Friday that Mayor Bill de Blasio's political fundraising efforts should be reinvestigated after a top de Blasio donor alleged that he gave the mayor campaign contributions in exchange for favors from City Hall.
Jona Rechnitz, 33, a wealthy Brooklyn real estate developer who pleaded guilty in March to charges of corruption, testified at the bribery trial of Norman Seabrook, the former president of the Correction Officers Benevolent Association, on Thursday that he "was giving money to the mayor of New York in exchange for favors." On Friday, he claimed that the mayor asked him to give more than $100,000 in 2014 as he worked to assist Democrats in regaining control of the state Senate.
In March, Joon Kim, the acting U.S. Attorney for the Southern District of New York, and Manhattan District Attorney Cyrus Vance announced that they would not file charges against de Blasio over a potential pay-to-play scheme involving de Blasio's now-defunct political nonprofit Campaign for One New York and his failed 2014 fundraising effort for the State Senate Democrats, respectively.
Rechnitz was among the donors de Blasio referred to — though he did not state any of their names — in an op-ed he released at the beginning of September on political donors who did not get special favors from City Hall, more than a year after he first said he would share the list.
Malliotakis said that Rechnitz's testimony on Thursday was "really shocking" and that it adds to the theme she say she's been talking about for the last six months.
"My campaign has really been centered about quality of life, the issues that are plaguing the city and the fact that we're not getting the services we deserve as taxpayers but it's also been centered around the pay to play at City Hall and that there's literally a 'For Sale' sign at the gates and we need to change this culture," she said on NY1's "Morning on 1" show Friday morning.
"And as someone who's been a reformer in Albany, I believe strongly that we need to ban lobbyists, individuals from bundling this significant amount of money and what today's headlines really show is that there needs to be an investigation that's reopened here," Malliotakis continued.
Malliotakis noted that by the time Vance had a meeting with de Blasio's lawyer, the attorney's firm and its partners had given $70,000 to Vance's campaign for another term as DA.
On Thursday, she wrote a letter to Gov. Andrew Cuomo asking him to appoint a special counsel to probe Vance amid reports he has received $178,000 from attorneys or members of their firms with clients who were under investigation by his office.
"We have to remember that there was also an article recently showing that $70,000 from the mayor's lawyers was donated to the prosecutor who's doing the investigating, Cy Vance," she said. "And so we need to really take a step back here and ask ourselves, 'Is this what we want from our city government?'"
She reiterated that despite not bringing any charges against de Blasio, Vance said that the de Blasio's team's actions "appear contrary to the intent and spirit of the laws."
"The spirit and the intent of the law was defied, right," Malliotakis added. "That's what the DA said at the time. Is that what we want in a mayor, someone who's looking for that little loophole to get around the law or do we want someone who has a moral compass, who's going to do what's right for the people of this city and put them first?"
In a statement released to reporters, Eric Phillips, a spokesman for de Blasio, dismissed Rechnitz's claims.
"If Jona Rechnitz says he bought the mayor, he is a liar," Phillips said. "If he says he has had unfettered access, he is a liar. The only thing Jona Rechnitz can say honestly is that he is a failed fixer of grand delusion just trying to save his own skin."
"These are noting but re-heated, re-packaged accusations that have been extensively reviewed and passed on by authorities at multiple levels," he continued. "The administration has never and will never make government decisions based on campaign contributions."