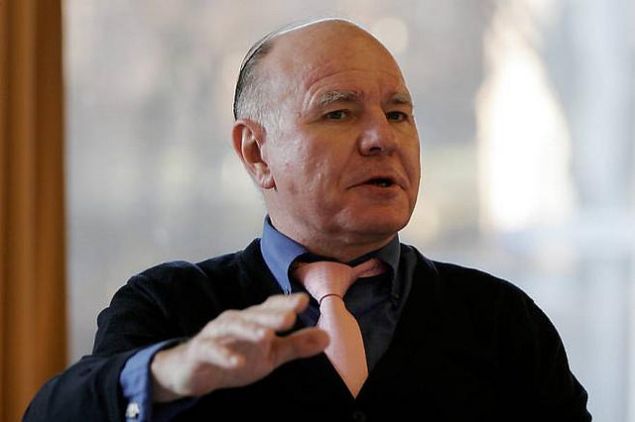 A Swiss investor was removed from several company boards and barred from appearing on financial TV networks after writing in his latest newsletter that America only prospered because it was settled by white people.
Marc Faber is director of an eponymous investment firm based in Thailand, and he's also involved with several fledgling funds on the Asian market. The 71-year-old, who is nicknamed "Dr. Doom" because of his pessimistic outlook, is best known for predicting the "Black Monday" stock market crash in 1987.
Or at least he was until this week, when the newest edition of his monthly Gloom, Boom & Doom Report made waves online. In the October newsletter, Faber denounced socialism and criticized New York City Mayor Bill de Blasio over his attempts to take down Confederate monuments throughout the city.
Then he pivoted to race.
"Thank God white people populated America, and not the blacks," Faber wrote. "Otherwise, the U.S. would look like Zimbabwe, which it might look like one day anyway, but at least America enjoyed 200 years in the economic and political sun under white majority. I am not a racist, but the reality—no matter how politically incorrect—needs to be spelled out as well."
The newsletter was published October 3, but Faber's comments were only made public this week. And not surprisingly, they provoked immediate backlash. Fox Business, CNBC and Bloomberg TV all said Faber would never appear on their respective networks again.
Canadian fund manager Sprott, precious metals company NovaGold Resources and mining exploration firm Ivanhoe Mines each dismissed Faber from their boards as well. Stocks in all three companies fell slightly following the controversy.
"The recent comments by Dr. Faber are deeply disappointing and are completely contradictory with the views of Sprott and its employees," Sprott CEO Peter Grosskopf said in a statement. "We pride ourselves on being a diverse organization and comments of this sort will not be tolerated."
Ivanhoe Mines added in a statement that it "disagrees with, and deplores, the personally held views about race that Marc Faber has published in his current investment newsletter."
Despite this widespread criticism, Faber stood by his controversial comments.
"If stating some historical facts makes me a racist, then I suppose that I am a racist," Faber told MarketWatch. "Africans will always use the excuse of [oppression] to explain where they are economically, saying that it is 'all the fault of the colonists.'"