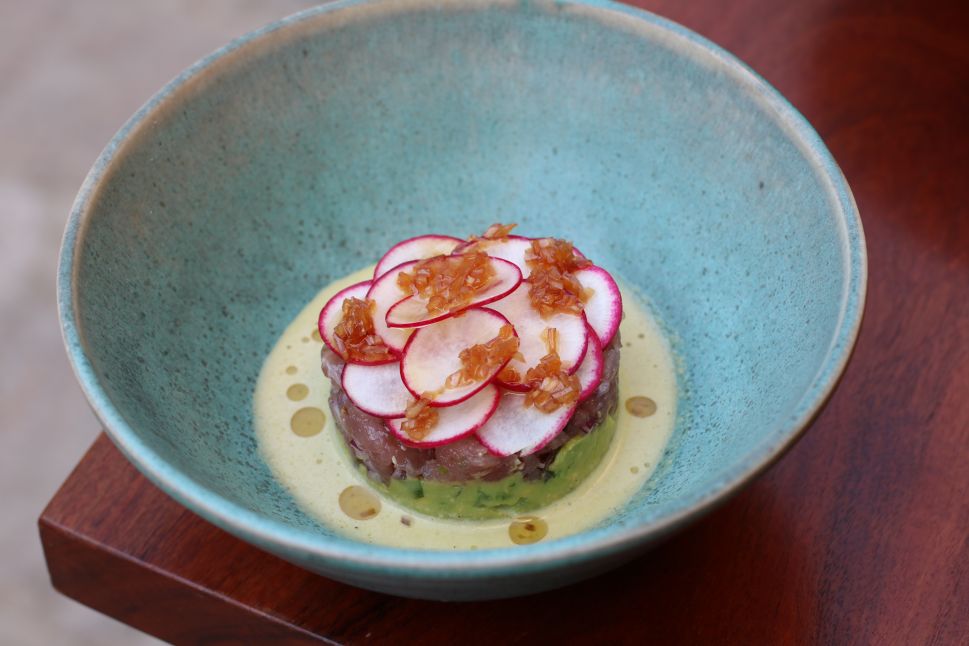 At 7:30 p.m. this past Saturday, Tintorera was a chill family affair. There were multiple tables with young children on the stunning courtyard patio at the new outdoor restaurant in Silver Lake. One father had his baby sleeping on his shoulder.
By 9 p.m., the patio was busier and louder, but still civilized. The odor of really strong weed wafted past us, and there were singles on the make sipping carefully crafted cocktails. But it was easy to have a conversation. This is one of those rare hot new restaurants where you can actually hear your dining companions, where it's pleasant to linger with a Bloody Mary, one that includes mezcal-infused or gin-infused vegetables.
The vibe can be almost everything at a place like this, but the main attraction at Tintorera is chef Maycoll Calderon's menu of luxurious Mexican seafood dishes. Calderon, who was born in Venezuela, is known for the widely acclaimed Huset in Mexico City. His qualifications also include stints in restaurants from world-beating chefs Ferran Adria, Juan Mari Arzak and Jean-Georges Vongerichten. Calderon is not exactly the type of chef you expect to find running an L.A. restaurant with an entirely outdoor dining area in a neighborhood that's heavy on scene. (Tintorera also has a cozy indoor bar, on the other side of the kitchen.)
But L.A. is lucky that he's here. This is the kind of restaurant that Yelpers attack because they're not used to paying $50 (or more) per-person for Mexican food. But Tintotera, with its crab tostadas, assorted ceviches, red snapper aguachile and tuna tartare featuring a jalapeño emulsion, is worth it. Calderon is using premium seafood, of course, and his food pops with freshness and acid and spiciness and umami. His dishes are bold and balanced, the way L.A.'s best food is.
Our hungry party of four spent $60 per person on five small plates, two entrees, a dessert, four cocktails and a green tea and rice milk mocktail. We left happy and totally sated. Every savory dish we ordered, including a roasted sea bass entree with salsa verde, featured seafood except a spectacular arroz con pollo with chorizo, saffron, cilantro and big slices of avocado.
We live in an era of L.A. where you can go to almost any on-the-rise neighborhood and spend more money than that at an Italian restaurant with much lower food costs. People should loosen up about ambitious modern Mexican restaurants (or ambitious modern Asian restaurants) with $15 appetizers and $35 entrees. This is especially true at a restaurant that serves high-quality seafood and celebrates local produce.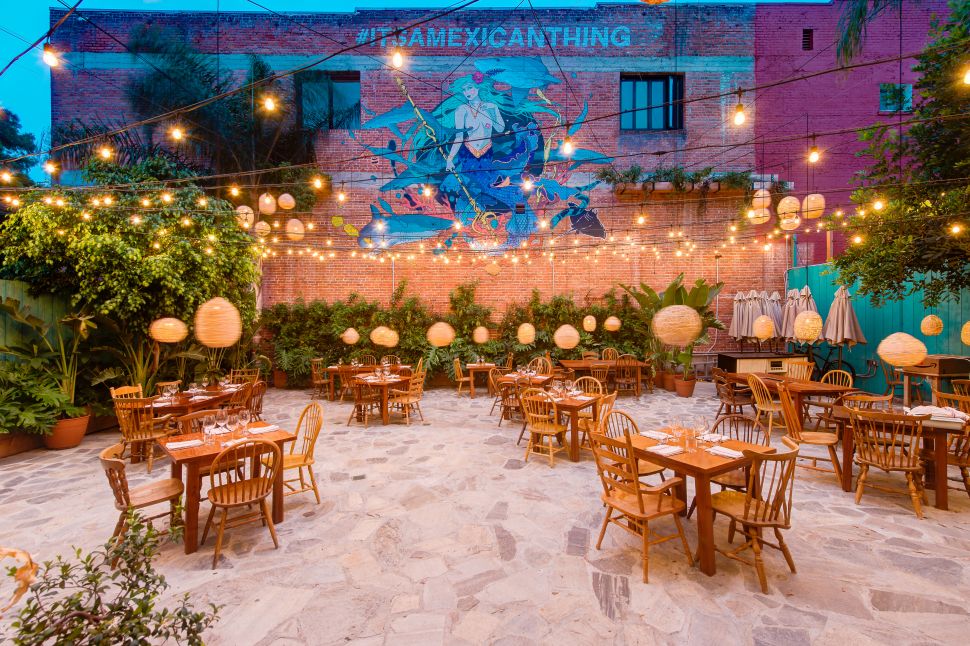 And, anyway, Calderon isn't exactly swimming against the tide: L.A. restaurants like Salazar, Broken Spanish and Verlaine are all elevating Mexican food in their own way. Guerrilla Tacos, which is working on a brick-and-mortar outpost, is known for selling uni and foie gras out of its truck.
So think of it this way: There is a chef in L.A. who has worked in the kitchens of El Bulli and Arzak, a man who could be doing tasting menus but is instead making excellent seafood tostadas you can eat on a Sunset Boulevard patio in Silver Lake. Tintorera is a transporting restaurant, whether you're putting your kids to bed 15 minutes after you leave or whether you're going dancing in the neighborhood after dinner. This is a grown-up restaurant for all sorts of grown-ups. It kind of feels like a bargain.
Andy Wang, the former real estate and travel editor at The New York Post, has covered West Coast food and drink for more than a decade.
More from Andy Wang: 
Inaugural Cocktail Festival Showcases the Best and Brightest of LA Bars
Great White's Blue Smoothie Bowl Is Peak LA
Jason Fullilove's Modern Soul Food Is Unlike Anything Else in LA