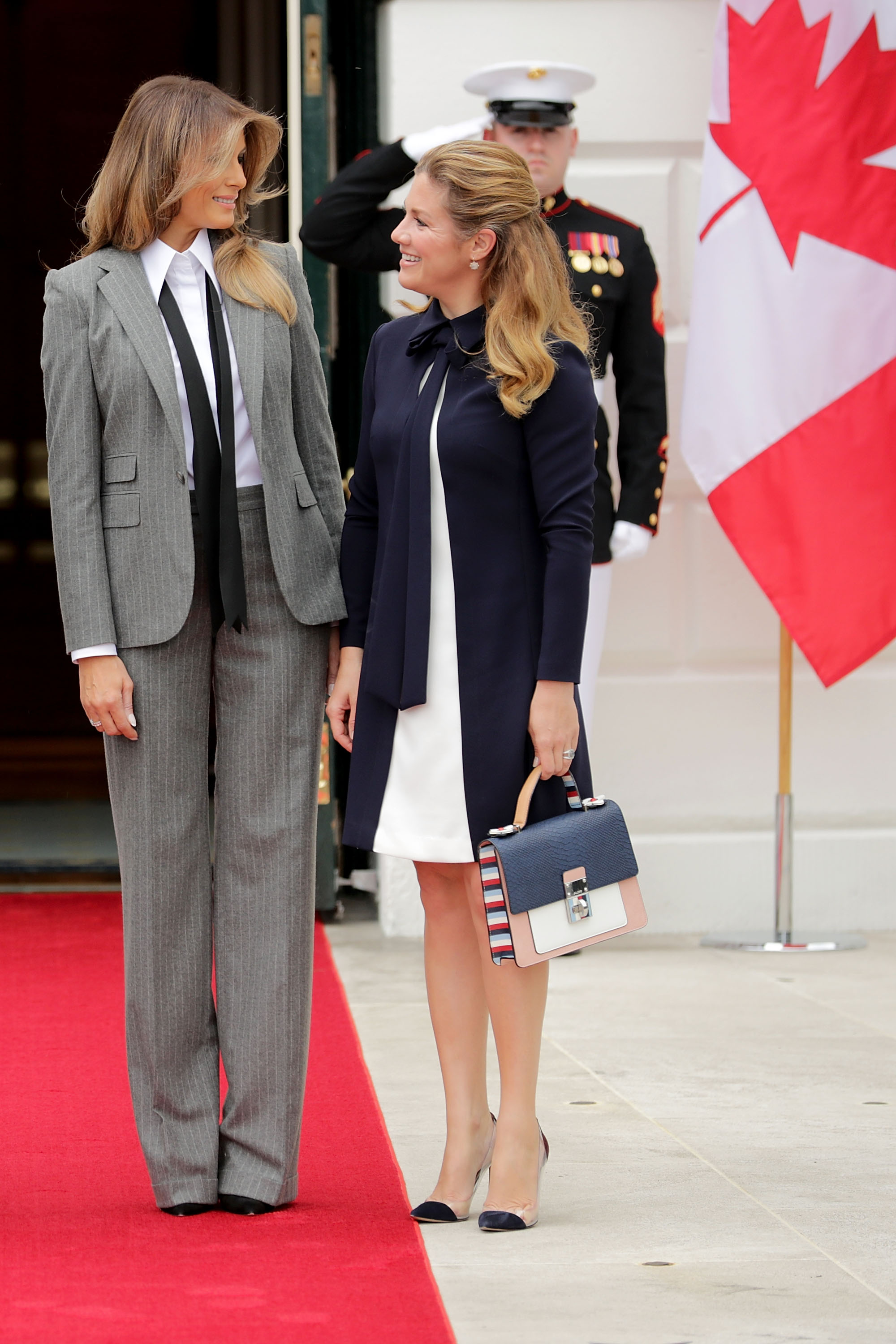 It's no secret that Melania Trump has adopted a signature style of sorts, which has been revealed at the many public events she attends as the First Lady. Often including a sheath dress that has been nipped-in at the waist or a floaty frock featuring a flared out skirt, feminine is the name of the game, at least when it comes to her style.
However, for a meeting with the Canadian Prime Minister Justin Trudeau and his wife, Sophie Grégoire Trudeau, FLOTUS decided to throw a sartorial curveball.
Shedding her ladylike vibe, Melania decided to wear a grey pinstripe suit by Ralph Lauren Collection for the occasion. Featuring a straight-legged trouser and a perfectly fitted jacket, plus a white blouse with a knife-sharp collar, she polished off the menswear look with a long, skinny scarf—which seemed to be a creative nod to a tie, the finishing piece on a Wall Street uniform.
When paired with FLOTUS' voluminous and feathered blowout, the outfit harkened back to the pantsuits of the '70s, when women wore their jackets and pants proudly, as a symbol of the fight for gender equality. This is, of course, ironic, as President Donald Trump's administration has done little to protect the rights of women—and has in fact even begun to diminish women's liberties, particularly with last week's rollback on mandates for companies to cover birth control for their employees.
Perhaps Melania wore this outfit as a form of defiant symbolism, similar to that time she donned a pussy-bow blouse right after video footage revealed her husband making lewd comments about women and announcing that he could "grab them by the pu**y."
Rather ironically, Sophie wore a frock with a bow for her visit to the White House, though it was not technically a pussy-bow. Her navy blue A-line frock featured a knot at the neck and a contrasting shock of white down the front. Basically, the outfits of these two First Ladies could not be more dissimilar.