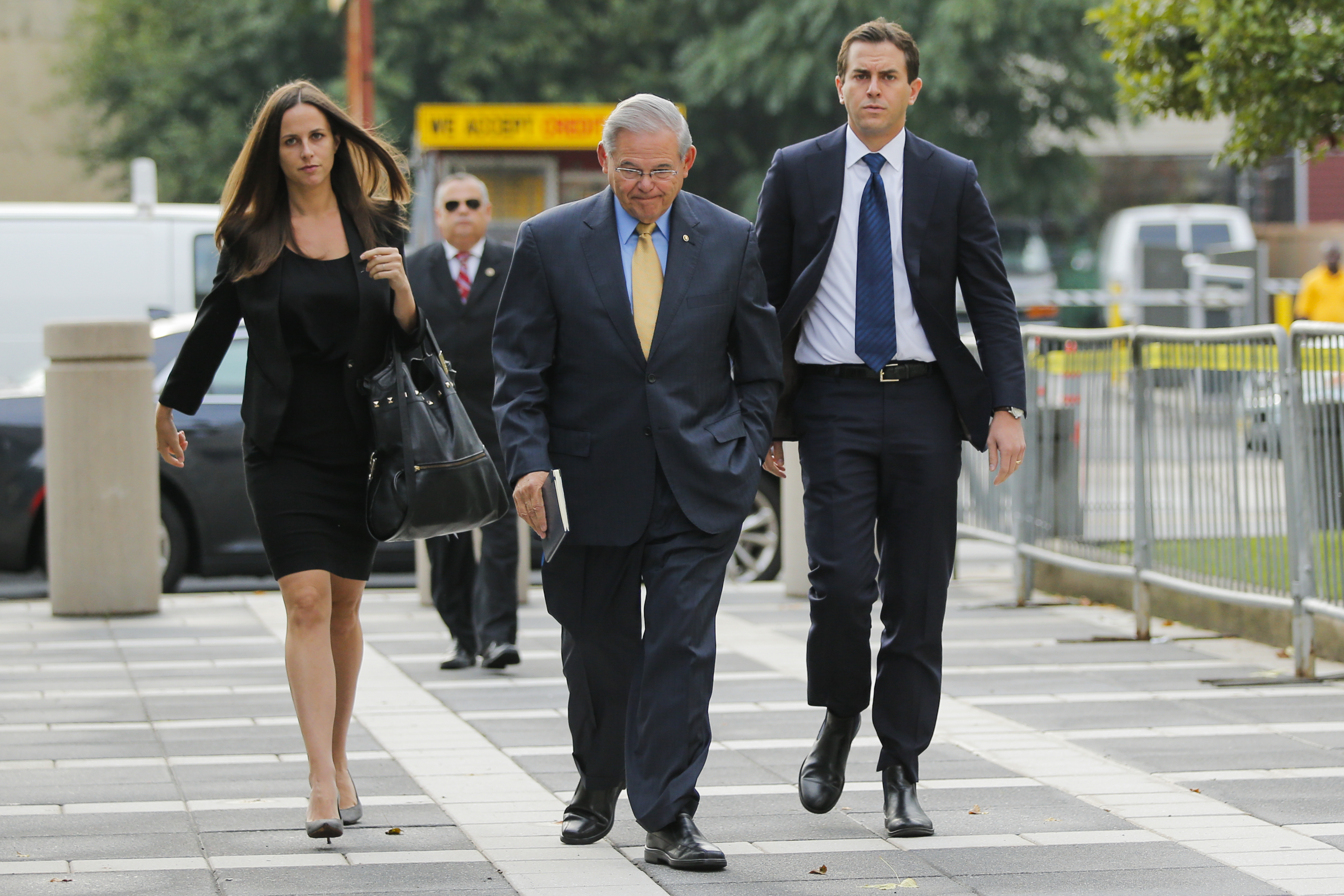 Defense attorneys for Sen. Bob Menendez and his top donor, Florida eye doctor Salomon Melgen, began to present their case Monday by putting the senator's son and Melgen's wife on the stand.
Robert Menendez Jr. said he called Melgen "tio," the Spanish word for uncle. Melgen's wife, Flor Melgen, said Menendez would call on her birthday and sing. The senator and Melgen were inseparable when they were together, Flor Melgen testified, so much so that she called the duo "SaBob."
The personal relationship between Menendez and Melgen is a key part of their defense against the bribery charges they face. Prosecutors claim Menendez took official actions to benefit Melgen's interests in exchange for gifts, trips and campaign contributions over the years. Menendez attorneys argue that the exchanges stemmed from their close friendship, not a long-standing corrupt agreement.
"They're like brothers to each other," Menendez Jr. said. "There is no person my dad has that type of relationship with. It's different than all other friendships. It's definitely his closest friendship."
The senator's son testified about a couple of trips he took with his father to the Dominican Republic, recalling details like sleeping in a bunk bed in Melgen's home when he was 14 years old. He said Monday that a "major part" of a 1999 trip to the Dominican Republic was to spend time with Melgen. But under cross examination, he conceded that three years earlier he had testified before a grand jury that seeing Melgen was just a "small part" of the trip and had said, "we didn't vacation together."
Menendez Jr. also spoke about his work on the 2006 Senate campaign and said port security was a "major issue" ahead of that election. The testimony was an effort by the defense to show the senator cared about port security in general, not just when it became an issue harming Melgen's business interests.
Prosecutors have cited Menendez's effort to help Melgen in 2012 with a Dominican Republic port shipping dispute as evidence or a corrupt agreement between the two men. On Monday, Menendez attorneys played a 2006 campaign commercial that highlights the senator's effort to fight an attempt by President George W. Bush's administration to sell New Jersey ports to a foreign country.
Flor Melgen, speaking through a translator, played down the luxurious amenities at Casa de Campo, the Dominican resort where the Melgens own a home. She said Menendez never took advantage of the polo fields, tennis courts and spa. "He showed absolutely no interest in leaving the house," she said.
She said she, too, invited people to fly on Melgen's personal jet without charging them. "I charge no one to go into my car so the plane is another form of transportation," she said. Prosecutors have highlighted the senator's flights on Melgen's jet and how he didn't initially disclose them.
Earlier in the day, U.S. District Court Judge William H. Walls rejected the defense's attempt to get corruption charges against Menendez thrown out. He ruled the entire case against the could proceed to a jury even after the U.S. Supreme Court narrowed the scope of bribery crimes in the 2016 case McDonnell v. United States.
Walls said the McDonnell decision did not invalidate the "stream of benefits" theory at issue in the Justice Department's case against Menendez. And he added that there was enough evidence for a jury to possibly conclude Menendez and Melgen engaged in a years-long bribery scheme.