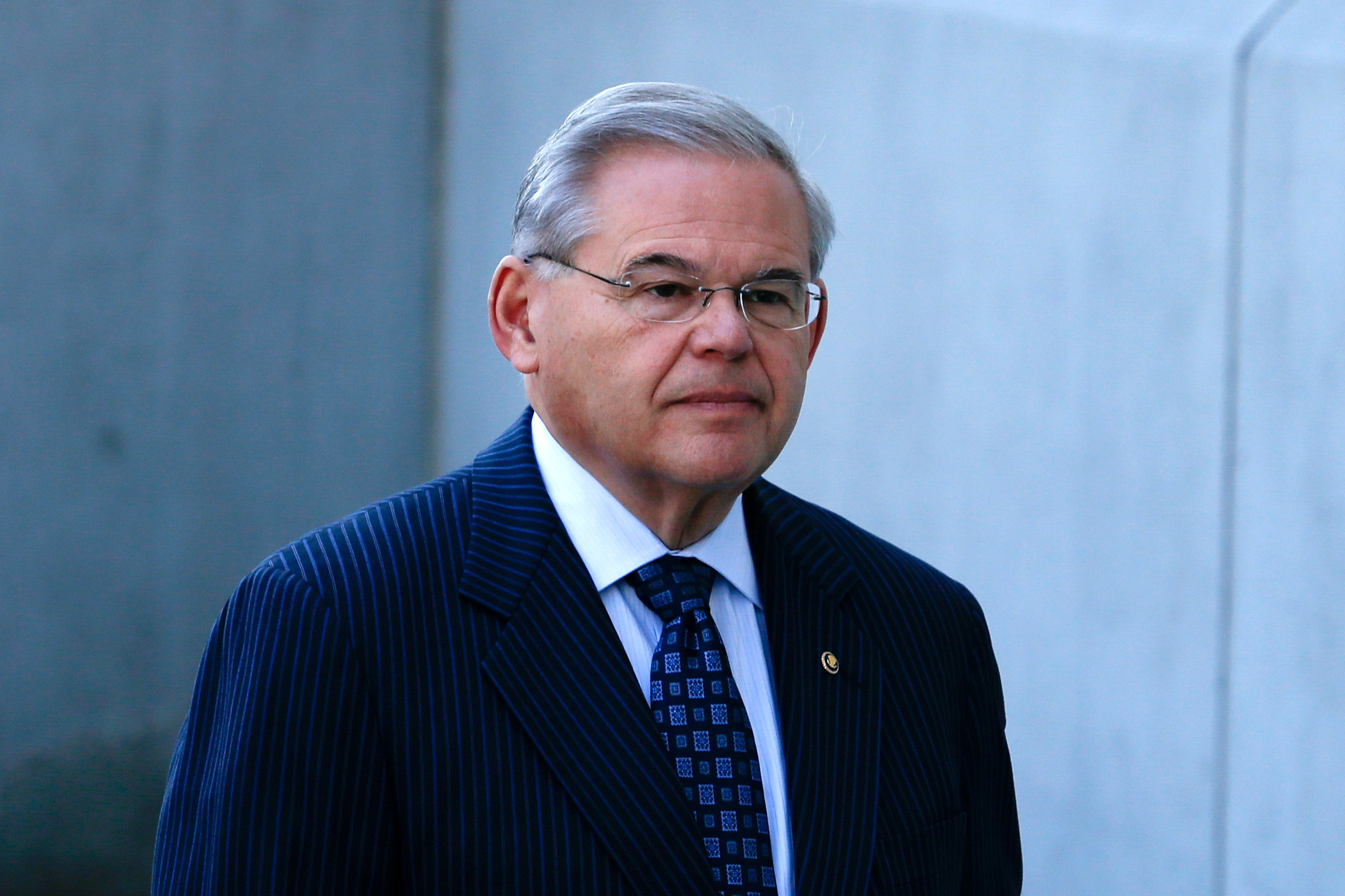 NEWARK — After eight grueling weeks standing trial, Sen. Bob Menendez on Thursday took the fight to the judge overseeing his corruption case, accusing him of blocking key pieces of evidence and witness testimony in a way that Menendez's attorneys argued effectively denied the senator a fair trial.
Attorneys for both Menendez and co-defendant Salomon Melgen asked U.S. District Judge William H. Walls to declare a mistrial, claiming that Walls had skewed the evidence presented to the jury in favor of the prosecution by not allowing certain witnesses to take the stand and allowing the prosecution to submit over 300 documents into evidence while the defense has only 10 documents in evidence. Attorneys say that Walls has created an imbalance in the "weight of evidence."
"I am deeply disappointed that it came to the point that my lawyers had to make the motion they made today," Menendez told reporters as he left the Newark federal courthouse on Thursday. "I think that what they said in court stands for how I feel. Their words stand for where we view things at this moment, but we will carry on."
Walls disagreed with attorneys and said that he did not feel their objections met the criteria for a mistrial. He asked attorneys to submit written arguments expanding on their claims.
"If you are going to accuse the court of misconduct and, or the government, I am going to hold your feet to the fire," Walls said.
The confrontational relationship between Menendez and Walls has been building for years. The judge, a Bill Clinton appointee known for his tough talk from the bench, has denied reams of motions Menendez has filed since 2015 seeking to toss the bribery case against him.
Before the trial started on Sept. 6, Walls denied a motion from Menendez seeking to pause the court proceedings on days in which the Senate had critical votes lined up. Walls said the senator's request was an attempt to use his office to impress the jurors. Attorneys for Menendez said Walls had "disparaged" the senator with those remarks, which were included in a written opinion. At one point, Walls told one of Menendez's attorneys to "shut up" early on in the trial and recently compared two female attorneys arguing to a "hen party."
It was an eventful day from the start in Walls's courtroom, with two of Menendez's closest friends in the Senate, Sens. Cory Booker and Lindsey Graham (R-S.C.), taking the stand to vouch for his integrity. Neither gave extended testimony and they were not asked about the underlying charges, but both vouched for Menendez's integrity and repeatedly prasied him as "trustworthy."
Graham and Menendez worked together as members of the Gang of Eight, a bipartisan group of senators who worked together to attempt to bring about comprehensive immigration reform.
"I want to thank my colleagues, Lindsey Graham and Cory Booker for their extraordinary courage to come and testify in a trial that wasn't necessarily in their interest to do," Menendez said. "I appreciate them coming forward and telling the jury about who I really am."
But another witness, prominent Democratic lawyer Marc Elias, was not allowed to testify. And that, along with Walls's decision to limit testimony from Florida Democratic operative Agustin Garcia regarding an October 2010 meeting with Menendez — seemed to be the last straw for the defense and their displeasure with Walls.
Menendez attorney Abbe Lowell said that without Elias, it would be difficult to demonstrate the defense's argument that the number of flights Menendez took on Melgen's private jet wasn't concealed as part of the alleged bribery agreement between Melgen and Menendez, and instead was an honest oversight.
Lowell on Thursday told Walls that he felt the judge was prejudicing the jury by making statements from the bench. He noted a moment from Wednesday's proceedings, when Walls told jurors during testimony from Menendez friend Donald Scarinci that they could choose for themselves whether or not to believe a witness.
"I don't think you understand fully the weight you have," Lowell said. "You have enormous weight. It matters."
But Walls denied that his statement was improper, noting that he similarly instructed the jury at the onset of the trial. Mistrial arguments are expected to continue when the trial resumes on Monday.