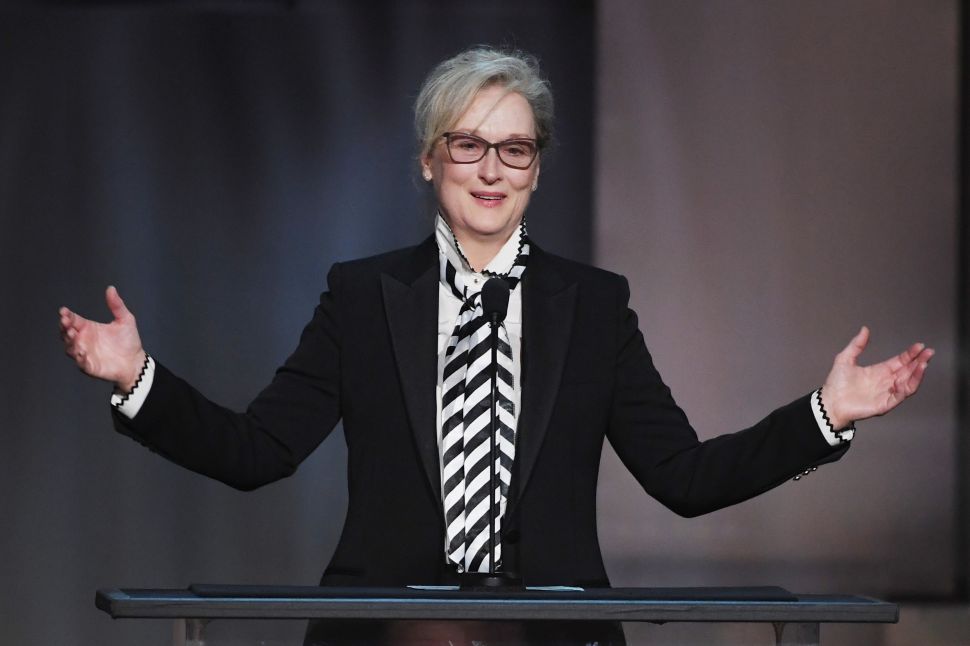 With more and more sexual harassment allegations from actresses and employees coming out against film producer and executive Harvey Weinstein, many have been waiting to hear what Meryl Streep, who has worked with Weinstein before, had to say about it all. As arguably the greatest living American actress, Streep's comments hold a lot of weight in Hollywood. Today, she has broken her silence.
In a statement to The Huffington Post, Streep called the accusations "disgraceful," "inexcusable" and an "abuse of power." She also described the women who have come forward as "heroes." Streep has collaborated with The Weinstein Company, which is vulnerable at the moment, on recent films such as August: Osage County and The Iron Lady. As of now, Weinstein has reportedly reached financial settlements with at least eight women over harassment and assault accusations over the years.
The original bombshell report came from the New York Times last week, which prompted Weinstein to take a leave of absence while the company put him on suspension. However, an emergency meeting of the board members over the weekend resulted in his firing Sunday, citing "new information about misconduct by Harvey Weinstein that has emerged in the past few days."
Here is Streep's full statement:
"The disgraceful news about Harvey Weinstein has appalled those of us whose work he championed, and those whose good and worthy causes he supported. The intrepid women who raised their voices to expose this abuse are our heroes.

One thing can be clarified. Not everybody knew. Harvey supported the work fiercely, was exasperating but respectful with me in our working relationship, and with many others with whom he worked professionally. I didn't know about these other offenses: I did not know about his financial settlements with actresses and colleagues; I did not know about his having meetings in his hotel room, his bathroom, or other inappropriate, coercive acts. And If everybody knew, I don't believe that all the investigative reporters in the entertainment and the hard news media would have neglected for decades to write about it.

The behavior is inexcusable, but the abuse of power familiar. Each brave voice that is raised, heard and credited by our watchdog media will ultimately change the game."
Weinstein has long been a strong supporter of the Democratic party and a big donor to liberal politicians. He's been a guest at the White House of former Presidents Bill Clinton and Barack Obama. Several Democrats who received donations from him have donated the money to other organizations.