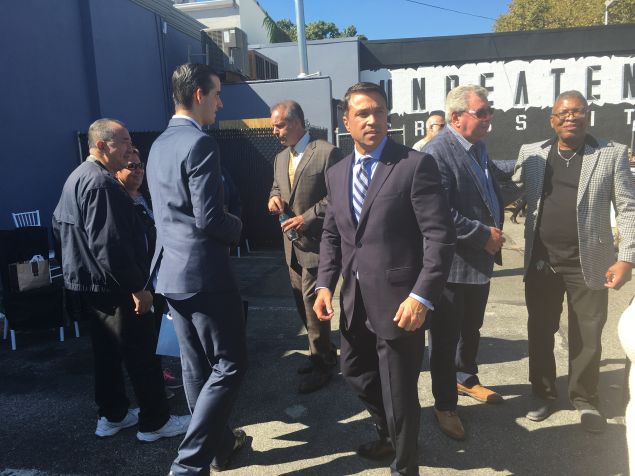 When former Rep. Michael Grimm arrived at Violet's Cellar in the New Dorp section of Staten Island on Sunday afternoon, the scene recalled one of President Trump's campaign rallies.
"Made in America, baby!" he shouted as he approached the podium.
The crowd of around 200 supporters chanted "USA!" and sported American flags and "Grimm has our back!" posters as Grimm pledged he would have Trump's back. He described his opponent, incumbent Rep. Daniel Donovan (R-Staten Island) as too liberal.
But Grimm's recent conviction hung over the event and is sure to be the biggest obstacle in his campaign to win back his former seat. In July 2015, he was sentenced to eight months in federal prison after pleading guilty to felony tax evasion for paying workers off the books and failing to pay taxes while operating Healthalicious, a restaurant. He resigned from the House in January 2015.
"I'm truly sorry if I let you any of you down," Grimm said at his campaign announcement Sunday. "I still feel like I let your voice be abruptly taken away from you when I resigned."
Will the former congressman stun observers and make a comeback, or be doomed by his history of legal troubles and controversies? Staten Island pundits, politicos and key party leaders and officials expressed mixed views.
"Since Grimm is a mini-Trump both in attitude and behavior and Staten Island voted overwhelmingly for Trump, who knows?" said Doug Muzzio, a political science professor at Baruch College. "That's the route to victory. But again, in normal times, he is a loser."
In normal times, Muzzio said, Grimm could only win if Donovan had a scandal over his head or was incompetent.
"Dan Donovan doesn't have that," he said.
Convicted Felon Attempts Comeback  
The ex-congressman points to his service in the Marines, his time as a FBI agent and his work advocating on behalf of the borough following Superstorm Sandy in 2012. He held his seat from 2011 to 2015 and managed to defeat his Democratic opponent, Domenic Recchia Jr., a former Brooklyn councilman, in November 2014 as he faced a trial in Brooklyn federal court.
"That is called leadership," Grimm said. "For those that like to throw that word around like a political platitude, let me tell you: it was always personal for me and it still is. I gave my heart and soul and I think that's why you're all with me today."
In addition to going to jail for tax evasion, in January 2014, he physically threatened NY1 Washington reporter Michael Scotto when he attempted to ask Grimm about allegations of illegal campaign fundraising.
Grimm campaign spokesman Michael Caputo, a former Trump campaign adviser, said that Staten Island Republicans understand that Grimm was "railroaded by a weaponized Department of Justice," just like Trump, Caputo said, and the former Arizona sherriff Joe Arpaio, whom Trump pardoned in August.
The district, which covers Staten Island and parts of Brooklyn, Caputo said, is "Trump country."
"We believe that constituents of New York 11 understand what Congressman Grimm has been through, that he has made amends, paid his price and is ready to serve," he said. "Additionally, New York 11 is a vey unique place and the constituents desire an assertive representative in Washington, not just a go along-get along congressman and Michael Grimm represents that change."
He also noted that Grimm "still won handily" in 2014 despite the indictment.
"The eventual charges were for hiring a handful of delivery boys off the books," Caputo continued. "Anyone in New York 11 who's ordered food for takeout knows exactly how common that is."
Lack of Institutional Support
In August, a pack of Staten Island Republicans endorsed Donovan, including Assemblyman Ronald Castorina, chairman of the Staten Island Republican Party; Borough President James Oddo; Assemblywoman Nicole Malliotakis, the GOP nominee for mayor; and Councilmen Steve Matteo and Joseph Borelli.
Former borough president and U.S. Rep. Guy Molinari, Grimm's longtime mentor, supports his bid. Molinari did not respond to a request for comment.
New York State Conservative Party Chairman Mike Long told Grimm three weeks ago that it was a "very difficult path." Grimm, he said, requested that he "just keep an eye on the race."
Long noted that Donovan served as Staten Island district attorney and deputy borough president and ran for New York State attorney general. While Grimm also has name recognition, Long said, he "has some hurdles to climb over."
"I don't disagree with him that he may have been unfairly penalized for the type of criminal charges that he faced but that's a whole different story," he said. "But I think it's just very difficult for him. It's gonna be very difficult for him to raise money … but time will tell."
Possible Path to Victory
Evan Lukaske, a spokesman for the Democratic Congressional Campaign Committee, said Grimm will be "wrapping his arms" around repealing former President Barack Obama's Affordable Care Act.
"If you look at the way the Republican electorate is viewing politicians who are part of the Washington establishment, which is really a do-nothing Congress … it's not favorable," Lukaske said. "They are angry at Congress' inability to get anything done and Dan Donovan is a part of that mess."
He said that the "specter of a bloody, bruisy, Republican primary" that will yield either "do-nothing" Donovan or convicted felon Grimm "is exciting to Democrats." The Cook Political Report does not consider the race to be winnable for Democrats in 2018.
Rep. Steve Stivers (R-Ohio), chairman of the National Republican Campaign Committee, called Grimm's bid a "very weird circumstance" and said that Donovan has "done a great job."
Jessica Proud, campaign spokeswoman for Donovan, said it was hard to say which was worse: Grimm lying to his constituents, quitting and leaving them without representation under Obama or that he had "one of the most liberal voting records of all congressional Republicans."
"Either way, voters can't trust Michael Grimm and we're trying to drain the swamp, not make it murkier," Proud said in a statement. "Dan is focused on doing the people's business and helping the president enact an agenda that will lead to an American renaissance."
Tough Road Ahead
Lori Weintrob, a history professor at Wagner College on Staten Island, said that while Donovan's political vision is "distant from mine," Grimm is "weakest" on integrity and appeals to a small base.
"I think the kind of rhetoric that Michael Grimm is talking about only plays with a small part of his own party and that most Staten Islanders are more interested in someone who can have the best interest of the community in mind, not just a small group of the community," Weintrob said.
She also disputed the notion that Donovan is too liberal, noting that he "has aligned himself very much with some of the things that people don't like about Trump."
Kevin Elkins — campaign manager for veteran Max Rose, one of six Democrats challenging Donovan — said that Grimm had a similar voting record to Donovan but is embracing Trump because he "understands where those voters are." Elkins previously worked as executive director of the Staten Island Democratic Party and communications director for former Rep. Michael McMahon in his district attorney bid.
Donovan, he said, will have a "very hard time" attracting Tea Party conservative voters.
"I think the most likely scenario is that Michael Grimm wins the Conservative Party line and Donovan holds him off because of money and institutional support on the Republican line but barely and it will make it very easy for the Democratic candidate hopefully Max Rose to win in November," Elkins said.