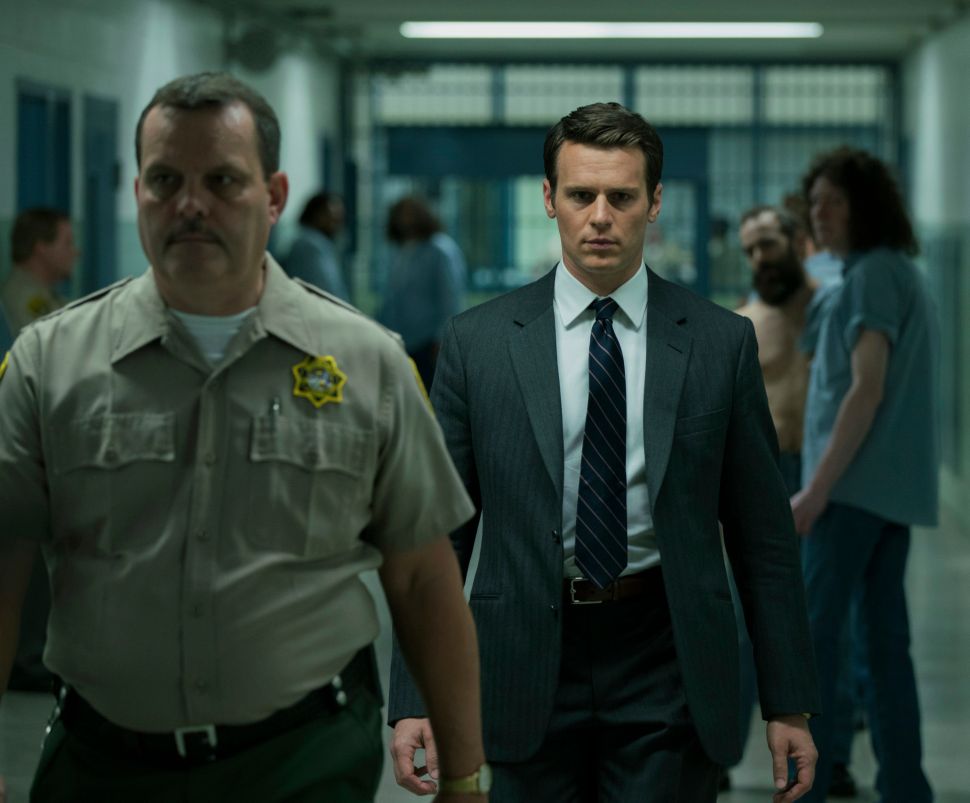 We shouldn't be that surprised that a television show from the mind of David Fincher might surprise us. This is a guy who put Gwyneth Paltrow's head in a box and turned political drama on its head with the twisty shock value of House of Cards. Now, all involved are hoping to do the same with Netflix's new serial killer crime thriller Mindhunter. Star Holt McCallany advises viewers not to get lost in their own preconceptions before diving into this one.
"It's a very unique kind of show," McCallany told TheWrap, saying that some scenes "are almost like theater" and that the commercial-free and FCC-less freedom of Netflix allows Mindhunter to "unfold at its own pace."
"When you're doing a series as opposed to a movie or a play, there's more time to explore a character in detail," he continued. "There's this…luxury of knowing that the story can unfold at a different kind of pace and you can really get to know these guys. And at the same time, get to these great criminals."
We all know how much we love our great criminals. There's a reason Hannibal Lecter and Heath Ledger's Joker are cemented in film lore for all eternity.
Mindhunter is based off John Douglas' novel of the same name and seems right up Fincher's ally as a director. The story follows two agents as they take a deep dive into the most notorious serial killers of the 1970s. The two protagonists are loosely based on real-life agents Douglas and his partner Robert Ressler.
"Some of the most fascinating scenes on this show, I promise you, are the interviews that Jonathan and I conduct with these incarcerated serial killers," McCallany said. "And just to give props to the casting department, the guys that they've chosen have just been absolutely amazing. Every one of them is amazing.They're all so different, but they're all playing real people. I know people are going to really respond to those scenes."
McCallany is familiar with Fincher, having worked with him on Alien 3 and Fight Club. That should help the show get off to a fast start as the series will first introduce viewers to Edmund Kemper AKA the "Coed Killer."
"He used to pick up hitchikers, picking up college coeds in California, and you know, torture and rape them," McCallany said. "He chopped his mother's head off and stuffed her voice box down the garbage disposal, among other things."
Yeah, this show is going to go there, which helps set it apart from the watered down procedurals tracking serial killers on broadcast.
"When you really start to go down the road of saying, what are the psychological underpinnings of sexually motivated homicide, you enter a really dark world that is foreign to us," he said. "We don't think like that. But these men do, and I think that's what fascinates us, it's because they're so different from us. We have difficulty understanding how they do what they do.
"What we're really chronicling in the show is the birth of criminal profiling, and specifically serial killer profiling, which really didn't exist. It was a real innovation.
"And what they found out was chilling and fascinating," McCallany said. "And that's really the heart and soul of the show."
Mindhunter will debut on Netflix October 13.