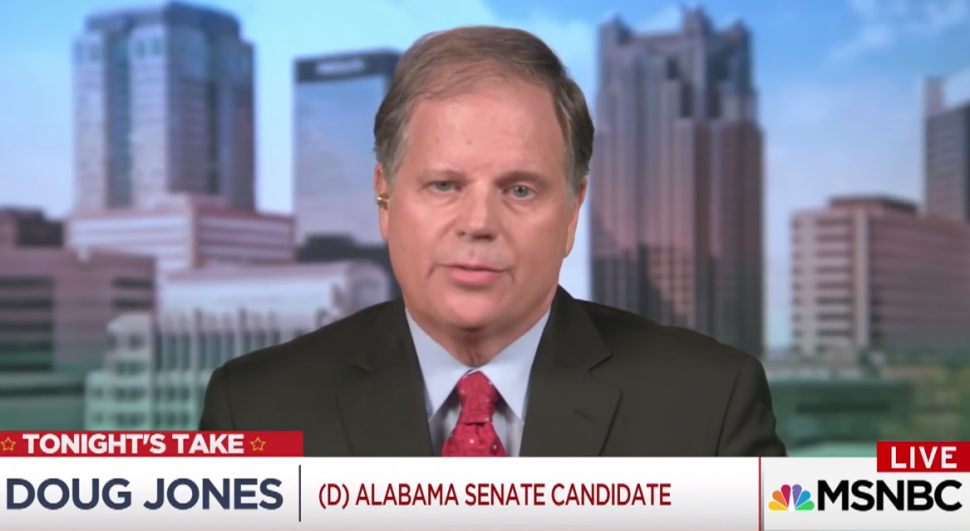 Last week in the Republican primary for a U.S. Senate seat in Alabama, Roy Moore defeated incumbent U.S. Senator Luther Strange, who was supported by President Donald Trump. Hoping to take advantage of Moore's unlikely win, the Democratic Party has mobilized behind their own candidate in hopes of winning a vulnerable seat in a historically red state. Moore, a former chief justice, was suspended from judicial office twice in Alabama for refusing to follow federal rulings in support of same-sex marriage and separation of church and state. On September 26, he infamously pulled a real gun out during a campaign rally, and he has insisted that several mass shootings are punishments for "godlessness" in America. Democrats are hoping Moore's record of extremism will swing votes to the Democratic candidate, former U.S. Attorney Doug Jones.
In the latest poll, Jones is trailing Moore by just six points, and Democrats are aiming to close that gap by the December 12 election. However, their strategy relies on failed consultants. By doing so, they are setting themselves up for another embarrassing failure.
Ahead of Jones' primary win in August, nearly half of his campaign's expenditures went to Mothership Strategies, a Washington D.C.-based digital ad agency founded by former Democratic Congressional Campaign Committee (DCCC) operatives. This agency is responsible for the failure of Georgia special congressional election candidate Jon Ossoff earlier this year. Though Ossoff raised more money than any other congressional candidate in history, he ultimately lost.
Ossoff's campaign spent nearly $5 million on Mothership Strategies' services. The firm was widely criticized for its word choice in fundraising emails. One subject read, "URGENT." Another falsely claimed, "JON OSSOFF LOSES" to fearmonger supporters into donating. One tweet from the agency read, "It's time to party your Ossoff."
In response to Ossoff's historic loss, former digital strategist for Bernie Sanders' 2016 campaign Melissa Byrne tweeted, "Tonight, @teammothership needs to apologize to the resistance and either shut down or never use the #ga06 email program again."
With Mothership Strategies at the helm of his campaign, Jones will suffer a similar fate as Ossoff. Byrne added in response to Jones' reliance on the firm, "All hope is lost for #alsen. Jones is using @teammothership so it will be another abusive email program ala @ossoff with zero winning."
Several Democrats have expressed concerns about the long-term consequences of Mothership Strategies' fundraising tactics. The New Republic's Sarah Jones wrote in June 2017, "If the Democrats are to be the party of the people, in contrast to the GOP as the party of the one percent, it should consider treating voters less like sentient pocketbooks and more like partners in a political movement. The latter approach would still require the party to raise money, but in a way that doesn't manipulate and deceive voters."
The Democratic National Committee (DNC) and the party establishment have already started to try to exploit Republican candidate Roy Moore's record as a fundraising gimmick for Jones' campaign. The DNC sent out fundraising emails for Jones, and the last candidate they solicited donations for was Jon Ossoff. Given the Democratic Party's penchant for refusing to learn from their mistakes, Democratic supporters should brace themselves for another barrage of gimmicky marketing emails.
Michael Sainato's writing has appeared in the Guardian, Miami Herald, Baltimore Sun, Huffington Post, LiveScience, Buffalo News, the Plain Dealer, The Hill, Gainesville Sun, Tallahassee Democrat, Knoxville News Sentinel, and the Troy Record. He lives in Gainesville, FL. Follow him on twitter: @msainat1
More by Michael Sainato: 
The Quiet Battle Between Bernie Sanders and Kamala Harris in Atlanta
Botched Puerto Rico Disaster Response Is Trump's Undoing
The Democratic Party's Wild Card, Alan Grayson, Is Making a Comeback