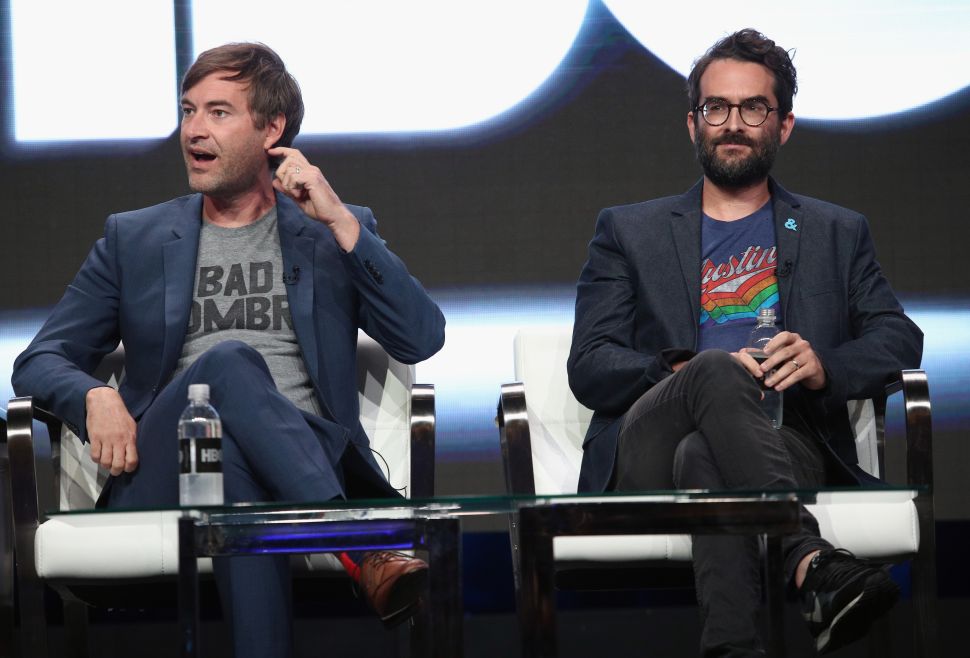 Move over Apple and Facebook, you're not the only tech companies who now want to bring users original scripted content. Snap (of Snapchat fame) is teaming up with NBCUniversal to bring short-form content to mobile screens, per TheWrap. Will your morning commute be forever changed? Fingers crossed.
This isn't the first time Snap has dabbled in original scripted content, but the previous attempts have been more forgettable than a 10-second picture. That's what makes this newest move so interesting as the collaboration's first deal is with the Duplass brothers, who brought viewers Togetherness and Room 104 on HBO. Mark and Jay Duplass are very interesting storytellers who are known for their off-beat and enjoyable content. Somehow, they seem like a solid fit for this endeavor.
In addition to their HBO shows, the Duplass Bros. (not to be confused with the Duffer Brothers behind Stranger Things, though it would be funny to see them switch places Freaky Friday-style) are also responsible for The Puffy Chair, Jeff, Who Lives at Home and The Do-Deca-Pentathlon from their Duplass Brothers Production banner. As of now, any content they produce under this new partnership will be exclusive to the Snapchat app.
This moves comes as the first significant development following NBCUniversal's $500 million investment into Snap's IPO earlier this year and its original programming deal with the app struck last year. The studio will be owned equally between the two companies.
"We fundamentally believe that mobile is a new medium," Sean Mills, Snap's head of content, said (via Variety). "Because that creative process is so unique, we felt there was a need for a fully dedicated entity focused on that."
Lauren Anderson, NBC Entertainment's former senior VP of current programming, will serve as the chief content officer.
"Lauren was a great get for us," Mills said. "She has tremendous experience, and instantly got what we were going for."
Previous unscripted content from the Snapchat—NBC partnership includes NBC News' Stay Tuned, E!'s The Rundown and The Voice spinoff. Given Snapchat's 173 million average active daily users, it's easy to see how this development came to be. But will users be interested in these content expansions?
This is really about figuring out what resonates on the platform," Maggie Suniewick, president of NBCUniversal Digital Enterprises, told the outlet.