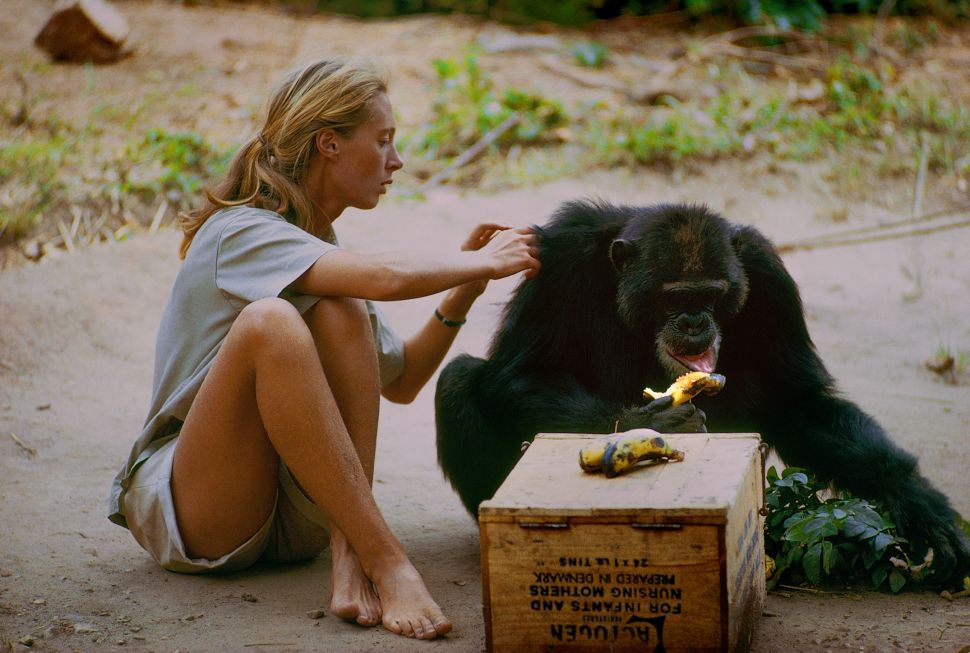 Imagine living such a prolific existence that multiple full-length films are required to cover all the ways you've changed the world. Most people would be honored to earn just a footnote, but when National Geographic once again approached trailblazer Dr. Jane Goodall to make another film, she balked. She told reporters at a roundtable prior to the new film's premiere that her response was: "Another documentary?"
But it's never been done by Oscar and Emmy nominated filmmaker, Brett Morgen (Kurt Cobain: Montage of Heck, The Kid Stays in the Picture) before. Dubbed the mad scientist of documentary films by The New York Times, Morgen's working method somewhat mimicked the research approach of the British primatologist.
"When I was approached to do it," Morgen said, "I had the sinking suspicion that there had been dozens of Jane Goodall films and the world didn't need another one."
But after scouring through over 100 hours of never seen before footage, Morgen had a change of heart. And it wasn't because he watched Goodall's life-defining moment, seeing her discover that chimpanzees have the intelligence to both create and utilize tools in Tanzania's Gombe Wilderness. A remarkable moment, to be sure, but his interest lay in Goodall herself, and the footage shot by the Dutch filmmaker who was sent by Nat Geo to document her studies, the late Hugo van Lawick, who would become Goodall's husband.
"I saw there was opportunity to create something immersive, to experience things as they unfolded. As an artifact, I loved the Orson Welles-narrated 1965 film Miss Goodall and the Wild Chimpanzees, but god help us if that was going to be the last film on Jane Goodall!" said Morgen.
So he took van Lawick's unused footage and put it to work as the primary way to illustrate his interviews.
"You learn a lot from the way they view the world," Morgen said of becoming immersed in another filmmaker's work. "It's one of the most intimate encounters one can ever have. A big part of film is van Lawick's gaze. The star making turn he does with Jane, that's not an assignment, that's a man falling in love with a subject, and a subject falling in love with him."
Against a beautifully fitting original score by Philip Glass, we see the intimacy between van Lawick and Goodall grow. Van Lawick and Goodall married in 1964 and soon after had a son they nicknamed "Grub," but for each, their number one passion was work. She wanted to continue her chimpanzee studies in Gombe, while he wanted to capture the wilderness of the Serengeti.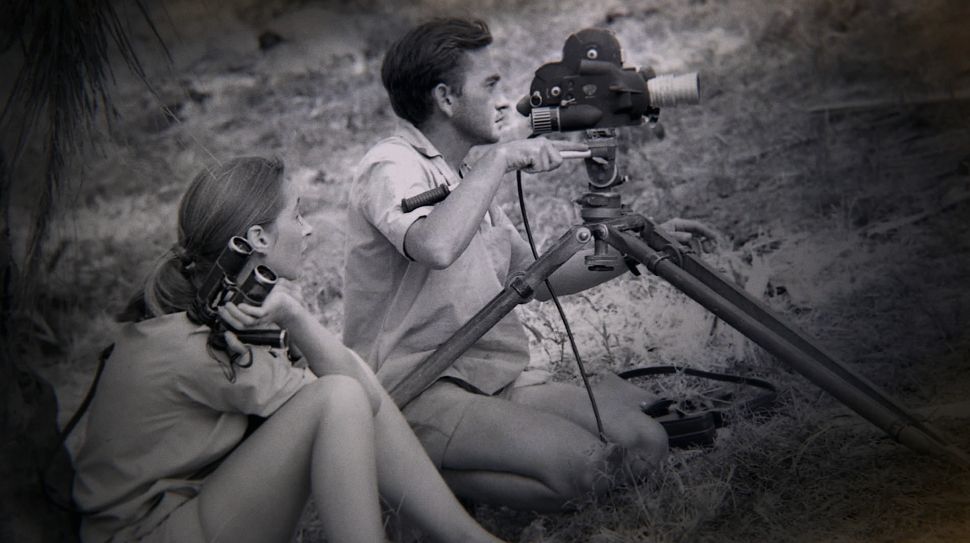 Morgen looked to Dale Peterson's masterful biography Jane Goodall: The Woman Who Redefined Man for insight into Goodall and Lawick's marriage, and its eventual demise in 1974.
"I got to speak with [Peterson] about Jane's personal stuff," Morgen said. "Obviously, talking [with Goodall] about chimpanzees is not an issue. She does it all day, every day. But falling in love with Hugo was not something she talks about."
Fair enough—everyone is entitled to their personal life. But it turns out that her silence on the subject wasn't so much a matter of privacy, rather she never understood why the details of how that relationship grew would be important to anyone else. That is, until Morgen showed her Jane.
"It was very moving when I first saw it because those were the best days of my life." Goodall told Observer during the roundtable. "More than any of the others, [this film] takes me right back into how it was back then."
Because it's such an intimate perspective of her life, I asked if there was any footage she wished had made it in.
"Just funny chimp stories," Goodall replied. "There were one or two shots that would've been fun, but they couldn't find them."
After watching Jane, it's easy to share her sentiment. The chimpanzee footage is incredibly addicting. Their interactions with one another so closely mimic that of humans, and as their descendants, watching chimps in their natural habitat tends to awaken a kind-of of primal energy within viewers. It's primarily that gut feeling, along with her admiration for Tarzan, that drove Goodall to want to study animals in the first place.
"I knew nothing about science," she said. "From the age of 10 I dreamed of going to live with wild animals and write books about them. Nobody knew anything about chimpanzees. There were no methods or field research because nothing was being done. I wasn't prepared for them to run away from me as long as they did, but I knew I had to be patient. To learn about chimps meant being with them, and gaining their trust."
Looking at this soft-spoken, elegant woman, it's crazy to think this is the same Jane we see running around in Africa barefoot, uninhibited by fear, sleeping outside, roaming around the wild with nothing but a pair of binoculars. Cut to today, with her sleek, white hair pulled into a perfectly loose ponytail, the petite 83-years-old emits a glow that fills the entire room. Goodall is approachable, kind and utterly unflappable.
"Sure, there were times I was scared," Goodall admitted of her early time in the field. "Because when [the chimps] lost their initial fear, they became aggressive and treated me as a predator. They wanted me to go away. When eight to ten chimps are staring at you, all of them eight to ten times stronger than you, looking enormous up in the branches, swaying and screaming at you, it's intimidating. But I pretended that I wasn't interested in them. I dug little holes, pretended to eat leaves, and it worked. They eventually accepted me."
The only species to scare Goodall are humans, specifically, the scientists during her years at Cambridge.
"I mean, I was doing a Ph.D. with no B.A.," Goodall said, "and they told me I did everything wrong. I should've given the chimps numbers not names. That I couldn't talk about personality, mind or emotion because they were unique to us. But I had already learned as a child from a wonderful teacher that in this respect they were wrong."
And who was this wonderful teacher?
"My dog," Goodall said.
"The accumulation of proof from van Lawick's footage—showing chimpanzees kissing, embracing, holding hands, patting one another, begging for food, showing they have a dark side to their nature, but all also compassion, love and altruism, clearly illustrating that they can be angry, sad, and die of grief—along with the science that showed from captivity how biologically like us they are, that finally forced science to admit that we were not the only creatures on the planet with personality, mind and emotions," Goodall said. "We are a part of the animal kingdom, not separated from it."
As for the main difference between man and chimp, Goodall explained, "The explosive development of the intellect. So, isn't it bizarre that the most intellectual creature that's ever walked the planet is the one destroying our only home?"
Goodall sees Jane as a way to urge viewers to save what's left of the planet, waking them up to some of its absolutely astounding and valuable wonders.
And though support of that cause runs though the film, there's another inspiring strand: Goodall herself, as a woman before her time.
"I attribute the way [my mother] raised me to a lot of my success," Goodall said. "When I began, I didn't want to be a scientist. I was not trying to break into a male dominated scientific world. I wanted to be a naturalist, and I was told I couldn't do it because girls didn't do that sort of thing, but I had a mother that said if you really want this, you have to work hard, take advantage of all opportunities and never give up. I had very strong women in the family."
With this latest installment, it's easy to see why audiences may never be satiated in their desire to be inspired by Jane.
Jane, is out in limited release beginning October 20.
More from Emily Bicks:
The Investigative Report Is in: Yes, Couples Court Is Real
In Ballet About a Ballet, 'The Red Shoes' Fails to Deliver Impeccable Dancing
Kevin Hart Launches Comedy Careers on New Streaming Network
LA Is Becoming More Like NY, and It's Awesome