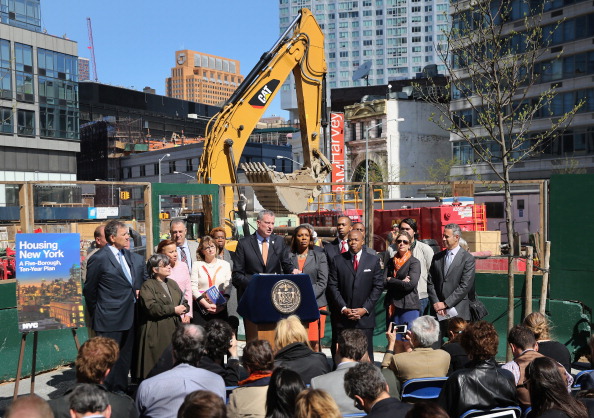 Just two weeks before the general election, Mayor Bill de Blasio announced that the city is on track toward building and preserving 200,000 affordable homes by 2022 — two years ahead of schedule.
In May 2014, de Blasio unveiled a $41.1 billion affordable housing plan that aimed to protect 120,000 affordable units and build 80,000 new units over the next decade. At the time, he dubbed the plan the "largest and most ambitious affordable housing program initiated by any city in this country in the history of the United States of America."
On Tuesday, he proclaimed that the city will ramp up to creating 25,000 affordable apartments annually by 2021 and beyond thanks to new tools, programs and funding. He also said that the city is taking on a new goal: 300,000 affordable apartments by 2026.
De Blasio told reporters that when he was serving on the City Council and as public advocate, he was "very, very frustrated" as he watched affordable housing promises fall apart "because there wasn't any teeth in the deals that were made."
"We came in here with the clear decision to change the rules of the game, to put a lot more resources into affordable housing, to put a lot more requirements into the process and to finally change the trajectory — to build a lot more affordable housing, to preserve a lot more affordable housing while protecting the affordable housing we already had and stopping the evictions and rebalancing the whole equation," he said. "That's what we sought to do."
In the coming days, de Blasio plans to present a series of new programs to implement the new goal of 300,000 apartments by 2026 — programs he said will target seniors, homeowners and tenants in existing affordable housing who need protection.
The plan, the de Blasio administration said, will require an additional $150 million a year in the current four-year financial plan. This will enable the city to invest $1.3 billion a year over a nine-year period so that it can add the extra 100,000 affordable homes by 2026. The administration said that that commitment would be reflected in future financial plans.
One of the new programs is the Neighborhood Pillars program, which will use a $275 million public-private fund to safeguard rent-regulated buildings in neighborhoods that are experiencing gentrification at a fast pace.
The city's Department of Housing Preservation and Development and the Housing Development Corporation will give nonprofits and other mission-driven organizations funding to buy older rent-regulated buildings to keep them affordable as well as current tenants in place. The program will get an additional 1,000 affordable homes each year, coming out to a total of 7,500.
Alicia Glen, deputy mayor for housing and economic development, said that she was an intern in college in the administration of the late former Mayor Ed Koch 30 years ago and thus had the opportunity to work on his landmark affordable housing plan that is said to be his biggest achievement — a plan she also worked on under the administrations of former Mayors David Dinkins and Rudy Giuliani.
"I think it's important to put that into some perspective, because even though in many respects these are plans that are started by one individual mayor and their vision, it's a real testament to how incredibly important this work and to the people who have been working in this field who transcended administrations, that this is a legacy that we're continuing to build on," Glen said.
She said that more than 40 percent of all of the affordable homes built last year served people making less than $31,000 a year, or $40,000 for family of three. She also noted that rent-regulated tenants have had no rent increases for two years and that the city is funding legal services to ensure that all tenants facing eviction have the opportunity to present their case.
And in addition to figuring out how to lower the cost of construction, she said, the city has changed its tax incentive programs so that at least 25 percent of all new apartments have to be affordable.
"I remember when I first sat down for the interview for the job and I told them that I thought, pretty bluntly, 200,000 units was a bit of a stretch … but when he said, 'I'll give you the team and the resources necessary to do it,' he meant it," Glen continued. "He delivered on his promise and that's why today the 300,000 units are absolutely within our grasp."
The administration said that the new yearly target of 25,000 per year reflects a 66 percent increase from pre-2014 levels and that to date, the city has secured 77,651 affordable homes, enough for more than 200,000 New Yorkers.
The announcement comes as a coalition of affordable housing advocacy groups urge de Blasio to fire Glen on the grounds that she is bringing a for-profit investment model from Wall Street — she headed Goldman Sachs' urban investment division — into the de Blasio administration.