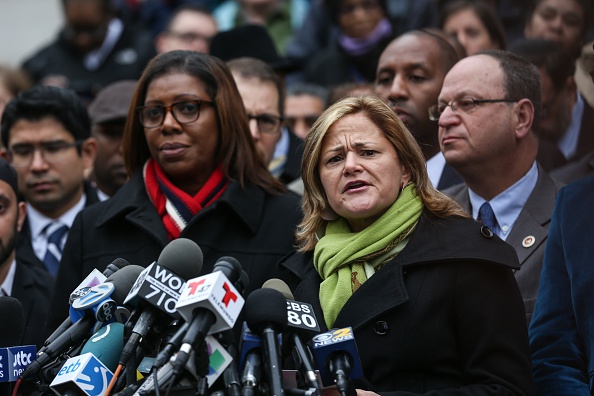 Although a number of citywide elected officials and City Council members are likely to win reelection in the general election next week, some races that seemed set in stone appear to have a little competition up their sleeves — and experts say not to discount the longshot challengers.
A number of elected officials seem likely to triumph, including Mayor Bill de Blasio — who won the Democratic primary with more than 70 percent of the vote – Public Advocate Letitia James, Comptroller Scott Stringer, the borough presidents and incumbent Council members.
Non-incumbents also appear to be poised for victory. Those include Bronx State Senator Ruben Diaz, Sr., a conservative Democrat; Bronx Assemblyman Mark Gjonaj, a Democrat who spent more than $700,000 on his campaign; Queens Assemblyman Francisco Moya, who ran against disgraced former State Senator Hiram Monserrate to win the seat held by Councilwoman Julissa Ferreras-Copeland, who is not seeking reelection.
Morgan Pehme, executive director of Effective New York, a nonpartisan think tank that focuses on public policy changes in the state, told Observer that the only seats he thinks may have a little play are the ones held by term-limited Brooklyn Councilman Vincent Gentile and Queens Councilman Eric Ulrich, who is seeking reelection.
"The races in southern Brooklyn and in the Rockaways where there's the last remaining pockets of Republican voters and independent-minded voters in New York City, those may be competitive but Democrats and incumbents hold a fantastic advantage over the opposition," Pehme said.
He said that it is "appalling" how uncompetitive the City Council and citywide races have been and that it is the second cycle in a row "that's been like that."
"They are reflections of systemic problems in the way that elections are run in the state and emblematic of why our voter turnout is so abysmal," Pehme continued.
But Dr. Christina Greer, associate professor of political science at Fordham University, told Observer that there are still some primary losers running again. She noted, for example, that Upper Manhattan Bill Perkins, who won a special election for his seat, "will be fine" in the general election but noted that there's "some political outsiders who are still giving it a go."
"There are a few people who have decided even though they lost the primary, that they were going to compete as an independent or on a different line," Greer said.
Manhattan
In Lower Manhattan, incumbent Councilwoman Margaret Chin, who is running as a Democratic and Working Families Party candidate for a third and final term, is facing off against activist Christopher Marte. The primary ended up unexpectedly becoming a close race, with Marte winning 44.1 percent of the vote and Chin capturing 45.9 percent of the vote, according to WNYC.
While Chin is expected to win, Marte recently won the Independence Party line, which has been linked to a group of breakaway Democrats caucusing with Senate Republicans. Lawyer Aaron Foldensuer, who ran as a Democrat, is now on the Liberal Party line.
Greer noted that Chin had a "really rough primary."
"That's still not done just because that's a competitive race," she said.
Over on the East Side, the race for term-limited Councilman Dan Garodnick's seat includes community activist and former lobbyist Keith Powers, who was endorsed by Garodnick and served as aide to elected officials, won 41.3 percent of the vote in a crowded Democratic primary.
He is facing off against community activist Rebecca Harary, who is running on the Republican, Women's Equality, Reform and Stop de Blasio lines. She is pro-choice and pro-LGBTQ rights but fiscally conservative and pro-NYPD. Rachel Honig, a public relations executive, is running as a Liberal candidate.
And while Manhattan District Attorney Cyrus Vance seems likely to win a third term, he has come under fire for taking donations from criminal defense lawyers who represented Ivanka Trump and Donald Trump Jr. and Hollywood executive Harvey Weinstein, who were subject to investigations whose cases were ultimately dropped. In the wake of the controversy, a grassroots activist started a movement to have Brooklyn District Attorney candidate Marc Fliedner, a civil rights attorney, as a write-in candidate.
Greer said that she still thinks Vance will win but is curious as to the percentage of votes he will receive given the recent stories about legal donations, although she noted that Fliedner has accepted donations from lawyers, too.
"For those of us who are not lawyers, it's just suspect," she said.
Brooklyn
Over in Bay Ridge, Democrat Justin Brannan, who worked for Gentile and the city's Department of Education, won the Democratic primary with 38.8 percent of the vote, according to WNYC. John Quaglione, a Republican who served as communications director for State Senator Marty Golden, won the GOP primary with 49 percent of the vote.
The two are also facing Angel Medina, who is running on the Women's Equality Party line, and civic leader Bob Capano, who has served as an aide to former Borough Presidents Marty Markowitz and Howard Golden and former Congressman and former Queens GOP Chairman Bob Turner. Capano is running as a Reform candidate.
"Certainly Brannan has the advantage of having been Gentile's chief of staff for many years," Richard Flanagan, a political science professor at the College of Staten Island, told Observer. "Brannan has done a good job of establishing an identity apart from Gentile, he's been very active in the community, he has a very big social media presence."
But he noted that there could be a little competition, noting that State Senator Marty Golden "is the hometown state senator Republican."
"A Republican can do OK. I'd be surprised, it would be an upset if Brannan didn't win but of all the races down here, that's the one where it could be a little competitive," Flanagan continued.
In July, Brooklyn Councilman David Greenfield, chairman of the influential Committee on Land Use, announced that he will not seek reelection. He will serve as executive director of the Metropolitan Council on Jewish Poverty, a nonprofit.
He raised eyebrows for announcing that he would not seek reelection after the deadline passed for candidates to petition so that they can get on the ballot, thus paving the way for his ally, Kalman Yeger, to run for his seat. Yeger is running on the Democratic and Conservative lines against Yoni Hikind, who is on the Our Neighborhood ballot, and Harold Tischer, who is on the School Choice ballot. Yeger is Greenfield's preferred successor and is seen as the likely victor in the race. But Hikind is the son of Brooklyn Assemblyman Dov Hikind, a known foe of Greenfield's.
And incumbent Brooklyn Councilman Mathieu Eugene, the first Haitian-American elected to the City Council who has held his seat since 2007, won the Democratic primary with 41.1 percent of the vote. Brian-Christopher Cunningham came in second with 30.3 percent; Pia Raymond got 22.4 percent; and Jennifer Berkley got 6.2 percent of the vote — meaning that nearly 60 percent of voters did not support Eugene.
Greer said that there were a lot of young, engaged people running but that they could not decide who should be the one leader to emerge and run against him. She noted that Cunningham, who was recently endorsed by the Working Families Party, is on the Reform line and that some people in the district are disappointed with Eugene's lack of visibility.
Brian Kelly is also running on the Conservative line.
Although it is typically hard to get Democrats to vote off of the Democratic line, she said there's a possibility of a loss in the race.
"Eugene might be the one that doesn't make it," she said.
Race for New York City Mayor 
Pehme said he is curious as to how Staten Island Assemblywoman Nicole Malliotakis, the GOP mayoral candidate, will do in the general election.
"The question is can Nicole Malliotakis exceed or do better than the landslide loss that Joe Lhota suffered last time," he said, referring to the now-Metropolitan Transportation Authority chairman's bid for mayor in 2013.
Greer believes that de Blasio will be victorious but said the question is how much of the vote he will capture. She also said that former police detective Bo Dietl, an Independent, "is stealing a lot of Malliotakis' thunder."
"Without a Dietl, Nicole Malliotakis would be doing much better but he's sucking a lot of the oxygen out of her campaign when it comes to her base," she said.