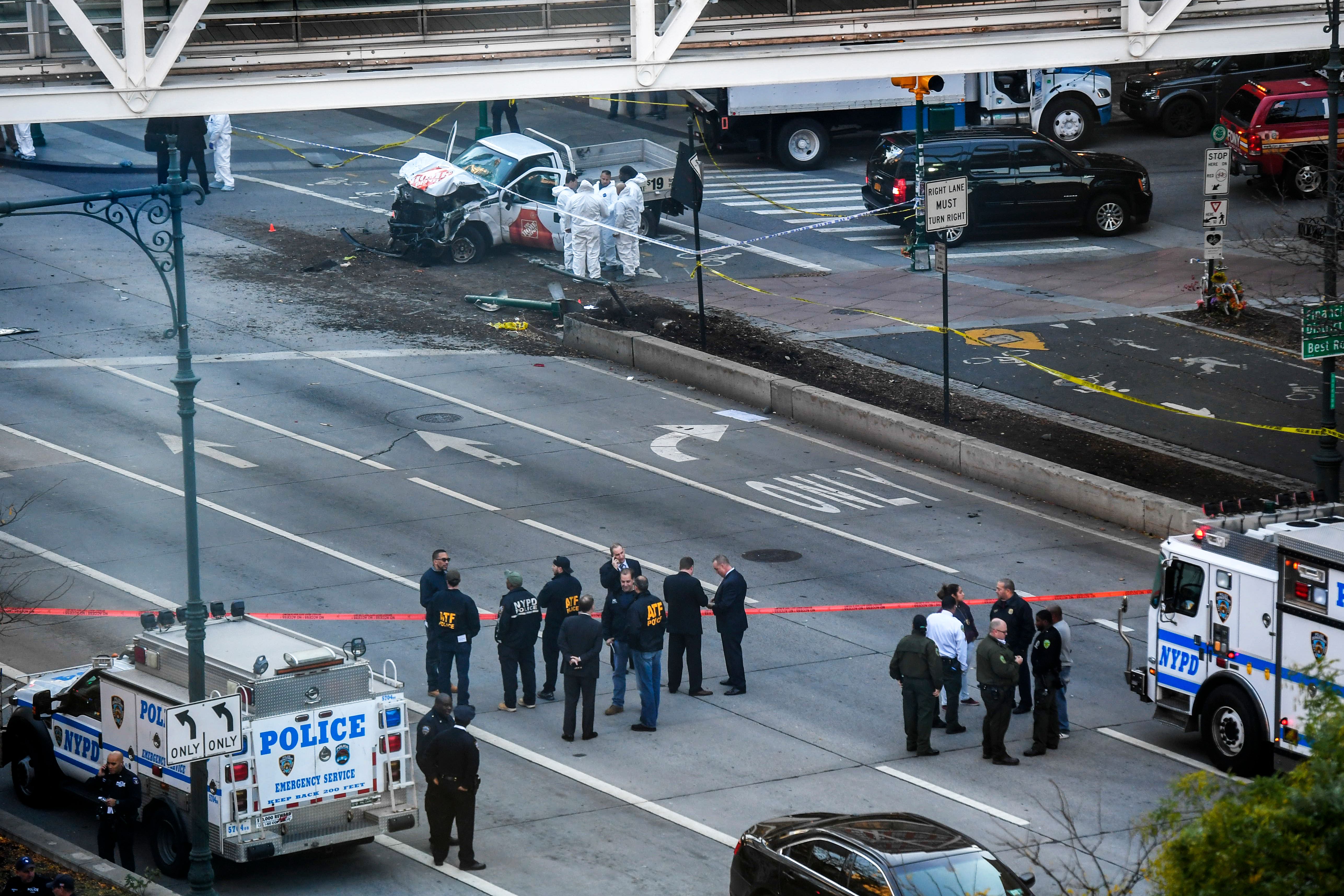 A "lone wolf" attacker in a rented pickup truck struck and killed eight people in Lower Manhattan and injured 11 others in what was described as "an act of terror" by Mayor Bill de Blasio, Gov. Andrew Cuomo and Police Commissioner James O'Neill on Tuesday, the deadliest on record in New York City since 9/11.
At 3:05 p.m., a 29-year-old man driving a rented Home Depot pickup truck entered the West Side Highway bicycle path at Houston Street and began driving southbound, striking a number of pedestrians and bicyclists along the route, according to O'Neill. At Chambers Street, the truck crashed into a school bus, injuring two adults and two children.
After the crash, the driver of the truck exited the vehicle brandishing two handguns, O'Neill said. A uniformed police officer assigned to the 1st Precinct confronted the suspect and shot him in the abdomen. He was wounded and subsequently transported to a hospital. A paintball gun and a pellet gun were recovered at the scene.
Six male victims were pronounced dead at the scene between Houston and Chamber streets and two others were pronounced dead after being transported to a hospital, officials said. Also transported were 11 victims with serious but not, at this time, life-threatening injuries. O'Neill said that there may be more injuries, noting that some people self-evacuated.
The NYPD is not releasing the suspect's name pending further investigation but multiple news outlets have reported that the suspect is Sayfullo Habibullaevic Saipov from Tampa, Fla., who also maintained an address in Paterson, N.J.
Police said the attacker shouted "Allahu Akbar" — Arabic for "God is great" — after stepping out of the pickup truck and before he was shot by police, according to the New York Times. "Two law enforcement officials said that investigators discovered handwritten notes in Arabic near the truck that indicated allegiance to ISIS," The Times reported, citing unnamed sources.
"Today, there's a loss of innocent life in Lower Manhattan," O'Neill said at an emergency briefing at One Police Plaza on Tuesday evening. "The dead and injured were just going about their days, heading home from work or from school and enjoying the afternoon sun on bicycles. This is a tragedy of the greatest magnitude for many people, for many families here in New York City and beyond today."
De Blasio, who arrived on the scene shortly after 4 p.m., told reporters that it was a "very painful day in our city" and called it a "horrible tragedy on the West Side." The attack began on the evening of Halloween, just as nearby students were leaving their schools for the day.
"Let me be clear that based on the information we have at this moment, this was an act of terror and a particularly cowardly act of terror aimed at innocent civilians, aimed at people going about their lives, who had no idea what was about to hit them," de Blasio said.
He encouraged New Yorkers to keep their spirits up, and his spokesman said the city's annual Halloween parade would proceed with heightened security.
"We know that this action was intended to break our spirit but we also know New Yorkers are strong, New Yorkers are resilient and our spirit will never be moved by an act of violence and an act meant to intimidat us," de Blasio said.
Cuomo said that there was no evidence of an ongoing threat or any additional threat but that New Yorkers would see more police in the airports and in the tunnels "just out of vigilance and caution."
"We lived with this before, we've felt the pain before," Cuomo said. "We feel the pain today. But we go forward today and we go forward stronger than ever. We're not going to let them win and if we change our lives, we contort ourselves to them, then they win and we lose. We'll go about our business. Again, there's no ongoing threat."
The governor is attending the Halloween Parade in the Village tonight in a show of solidarity. There will be extra NYPD personnel at the parade.
Saipov reportedly is a native of Uzbekistan who entered the United States legally and has a green card.