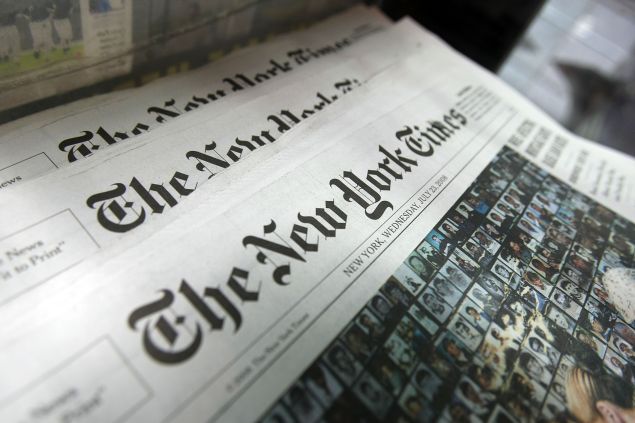 Here it is: the latest addition to the "How do you do, fellow kids" Hall of Fame.
Last month BuzzFeed debuted its morning show AM to DM on Twitter Live. The show, on which hosts Saeed Jones and Isaac Fitzgerald dish news and celebrity gossip, is already a big hit—it's averaged 1 million unique viewers each day, and 78 percent of daily live viewers are under 35 years old.
But one old media giant was not impressed with BuzzFeed's success: The New York Times. The Gray Lady took issue with the show's slogan, "All the news too lit for print."
Why? Because since 1896, the Times' motto has been "All the news that's fit to print."
BuzzFeed definitely knew the slogans sounded similar: In a post announcing AM to DM, the site's head of U.S. news Shani O. Hilton revealed the snappy phrase and then added in a parenthetical, "with apologies to the Gray Lady."
The Times did not accept said apology, however. Instead, the paper's lawyers reached out to BuzzFeed to express their concerns about the slogan. The site's attorneys concurred, and the "lit" motto was removed from AM to DM yesterday.
"We're glad (the Times is) following along with our new show, like the rest of our robust audience over the last few weeks," BuzzFeed spokesman Matt Mittenthal told Mashable.
BuzzFeed isn't the first media company to shamelessly court millennials. Google was subjected to online ridicule earlier this year after the company released an ebook called It's Lit, meant to help brands market to Generation Z. The guide included such pearls of wisdom as "Teens love learning and knowing."
But at least the Google guide didn't mess with U.S. patent law. By contrast, "All the news that's fit to print" has been a registered trademark of The New York Times since 1996 through the U.S. Patent and Trademark Office. As such, the paper might've had grounds for a lawsuit.
So it looks like BuzzFeed dodged a bullet. Patent infringement isn't lit, fam.