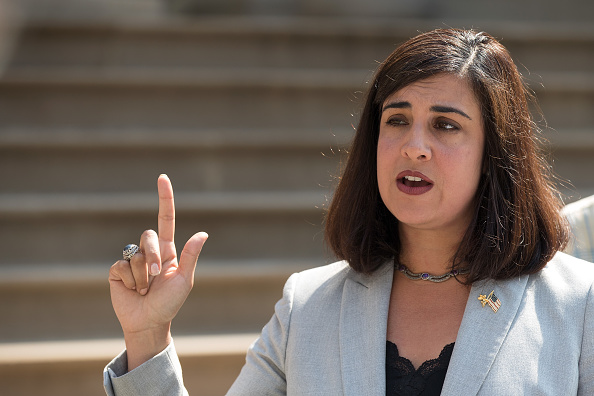 Five days before she is set to debate Mayor Bill de Blasio, Staten Island Assemblywoman Nicole Malliotakis, the GOP mayoral candidate, asserted that quality of life is declining under the mayor, speaking of worsening homelessness and mental illness crises.
During her first-ever speech before the Association for a Better New York — a nearly 30-minute speech which drew a mere 90 attendees — Malliotakis mainly rehashed her usual criticisms of de Blasio: an insufficient plan to address the homelessness crisis, a need to better tackle mental health issues, troubled schools, the city's overspending and public urination.
"One of the biggest things that I've noticed is that the quality of life in the city has deteriorated," she said. "We have a homeless crisis that is epic. We have a mental illness crisis that is going unaddressed, and combined it has created a major issues for not only the individuals who are affected directly by living in the street, who are mentally ill and go untreated but it's also affecting the quality of life for the rest of the people in our city."
In February, de Blasio announced a plan that seeks to reduce the record 60,000 people living in city shelters by 2,500 — roughly 4.17 percent — over the next five years. She called for more permanent solutions, referencing a need for more supportive housing, and having the New York City Health + Hospitals system be retooled to address mental illness and substance abuse.
She referred to an incident at the end of July in which a homeless man stabbed two individuals outside a Salvation Army headquarters in Manhattan as well as a homeless woman who slashed a 31-year-old woman who was with her baby on a train near the Grand Central subway station at the end of May.
And she complained about what she said was a phenomenon of people urinating and defecating in public places.
"You had the issue … where someone was defecating outside a building in Chelsea and a 72-year-old man approached him to ask him what he was doing in front of his building, and he was stabbed," Malliotakis continued. "We have a serious issue with mental in this city."
During the speech, she also expressed openness to a congestion pricing proposal that Gov. Andrew Cuomo is currently working on to address the problems plaguing the city's subway system. She also embraced a strategy implemented by former Mayor Michael Bloomberg that entails closing failing schools and opening smaller ones in their place. And she said that she is studying a plan to fix the property tax system and that she is in favor of a property tax cap.
Former City Council Speaker Christine Quinn, who ran against de Blasio in the 2013 Democratic primary and recently endorsed him in the 2017 race, was in attendance at the breakfast and held a gaggle with reporters after it ended.
Quinn — who now heads housing nonprofit Women in Need (WIN) — called her remarks "incredibly inappropriate and offensive."
"If you listen to her speech, apparently homeless people are the cause of all problems in the city of New York and her description of the homeless is inaccurate and offensive," she said.
Malliotakis, for her part, dismissed Quinn's comments, saying that she is "very compassionate."
"The mayor's the one that's not compassionate when he's walking through the subway system and wants to sweep them all out of his way, that's not compassionate," she told reporters following the breakfast. "And what I think — he's being uncompassionate towards the taxpayers of this city by announcing last week that he wants those New Yorkers who are already struggling to pay their own rent to pay the rent for a whole year for individuals who are homeless."
Last week, the assemblywoman received $1.5 million in public matching funds from the New York City Campaign Finance Board. She became eligible for matching funds because she raised and spend more than $500,000.  She also qualified for the first general election debate, which will be hosted by NY1 on Oct. 10. She will face off against de Blasio and independent mayoral candidate Bo Dietl, a former NYPD detective.