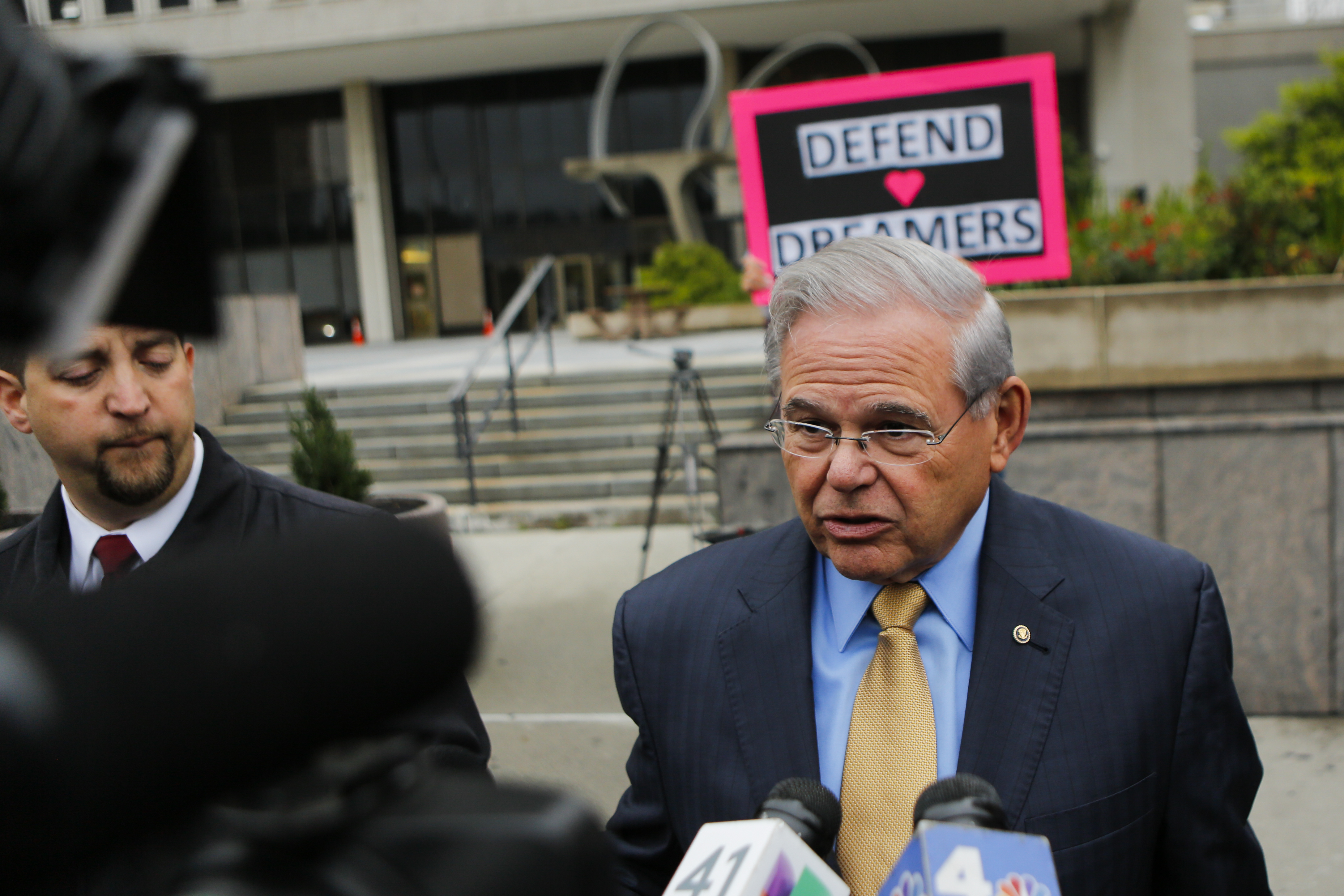 Sen. Bob Menendez turned "hostile" and hung up on a federal official who wouldn't help with his top donor's Medicare billing dispute, a witness testified Monday at the senator's corruption trial, according to reports.
Jonathan Blum, a former Centers for Medicare and Medicaid Services official, described a 2009 phone call he had with an "angry" Menendez, who sought to change a Medicare reimbursement policy troubling Salomon Melgen, the wealthy Florida eye doctor accused of bribing the senator, according to the Associated Press. Prosecutors argue the call is one of the actions Menendez allegedly took to help Melgen, who gave the senator gifts, trips and campaign contributions.
New Jersey officials responded Monday to the deadliest mass shooting in U.S. history this weekend in Las Vegas. Gov. Chris Christie said new gun laws won't stop future massacres, while Phil Murphy, the Democratic nominee for governor, called for a discussion on 'sensible' gun control measures.
And the New Jersey governor's race has taken over the airwaves with political advertisements. Here's a look at some of the TV ads from Murphy, Guadagno and their supporters.
Quote of the Day: "Sometimes bad things happen and sometimes there's nothing we can do to stop it." — Gov. Chris Christie on gun control in the wake of the Las Vegas mass shooting.
Guadagno: Trump Scrapping Tax Deduction a 'Disaster' for New Jersey
Kim Guadagno, the Republican nominee for governor, said Monday that part of President Trump's tax plan would be a "disaster" for New Jersey, criticizing her own party's biggest legislative proposal because it would eliminate a property tax deduction that benefits Garden State residents.
Christian Hetrick, Observer Read more
NJ Governor Candidates Respond to Las Vegas Attack
The two major-party candidates for New Jersey governor took different approaches Monday toward gun control after the deadliest mass shooting in U.S. history this weekend in Las Vegas, as Democrat Phil Murphy called for "common sense solutions" while Republican Kim Guadagno avoided answering questions about gun policy.
Christian Hetrick, Observer Read more
Attack Ads Fill Airwaves in NJ Governor's Race
With a little more than a month before Election Day, the campaigns, national groups and a union-supported super PAC are waging a multimillion-dollar battle to sway the large bloc of voters still up for grabs.
Christian Hetrick, Observer Read more
Democrat Phil Murphy's Pick for Lt. Governor Veers from Usual Playbook
The name Sheila Oliver might not ring a bell for a lot of New Jersey voters, but it carries the political heft Democratic gubernatorial candidate Phil Murphy needs as an outsider in Trenton.
WNYC Read more
A Surge of Anti-Trump Volunteers Floods Governors Campaigns
With Election Day on Nov. 7 drawing closer, the campaigns of Mr. Murphy in New Jersey and Lt. Gov. Ralph S. Northam, the Democratic candidate in Virginia, are seeing a surge in volunteers, many of them coming from anti-Trump groups.
New York Times Read more
Testimony: 'Angry' Menendez hung up on bureaucrat who wouldn't help Melgen
U.S. Sen. Robert Menendez was so angry that a federal bureaucrat wasn't giving him the answers he wanted on his friend's Medicare billing dispute that he hung up on him, according to testimony Monday at Menendez's federal corruption trial.
Politico Read more
Christie: 'Whole bunch of new gun laws' won't stop mass shootings
In the wake of the deadliest mass shooting in modern U.S. history on Monday, Gov. Chris Christie said he doesn't believe adding new gun laws to the books in New Jersey or the nation would prevent future massacres.
NJ.com Read more
Christie to spend $200 million on opioid programs; here's where he's getting it
Gov. Chris Christie said Monday the estimated $200 million the state needs to expand opioid-related programs will come from debt-service savings, lapses of unspent funds and extra tax revenue the state collected last fiscal year.
NJ 101.5 Read more
Vulnerable N.J. congressman gets another opponent
A veteran of the last two Democratic administrations is the newest entrant in the race against Rep. Leonard Lance. Tom Malinowski, a former assistant secretary of state under President Barack Obama and a former senior director on the National Security Council under President Bill Clinton, announced his candidacy Monday for the Democratic nomination in the 7th Congressional District.
NJ.com Read more
MacArthur foe gets some outside help
Andy Kim, the former Obama administration official seeking to oust Rep. Tom MacArthur, got some help from a group that wants to limit money in politics.
NJ.com Read more
Paterson's next mayor says she won't double-dip with pension
The city's new mayor-select, Jane Williams-Warren, said Monday that she plans to forgo her $97,500 state pension while she serves as Paterson's chief executive.
Paterson Press Read more
Kalafer Pulls All Car Ads From NFL Over Anthem Protest
Steve Kalafer, the owner of the Flemington auto dealership colossus, has pulled all advertising from NFL games, Observer has learned.
Ken Kurson, Observer Read more
Democratic Leaders Want Cops, Firefighters to Manage Own Pensions
Frustrated by state government's handling of the New Jersey public-employee pension system, police officers and firefighters launched a major push earlier this year to gain more control over how their own retirement funds are managed. The effort won broad support in the Legislature from both Republicans and Democrats, but ultimately hit a road block when Gov. Chris Christie rejected their favored legislation.
NJSpotlight Read more
EDITORIAL: Condolences and prayers aren't enough
The repeated episodes of mass gun violence in this country have rendered words of condolence and calls for prayers for the victims' families as trite. Coming from the mouths of politicians who refuse to take steps to stop the carnage, the laments are both hypocritical and repugnant.
Asbury Park Press Read more