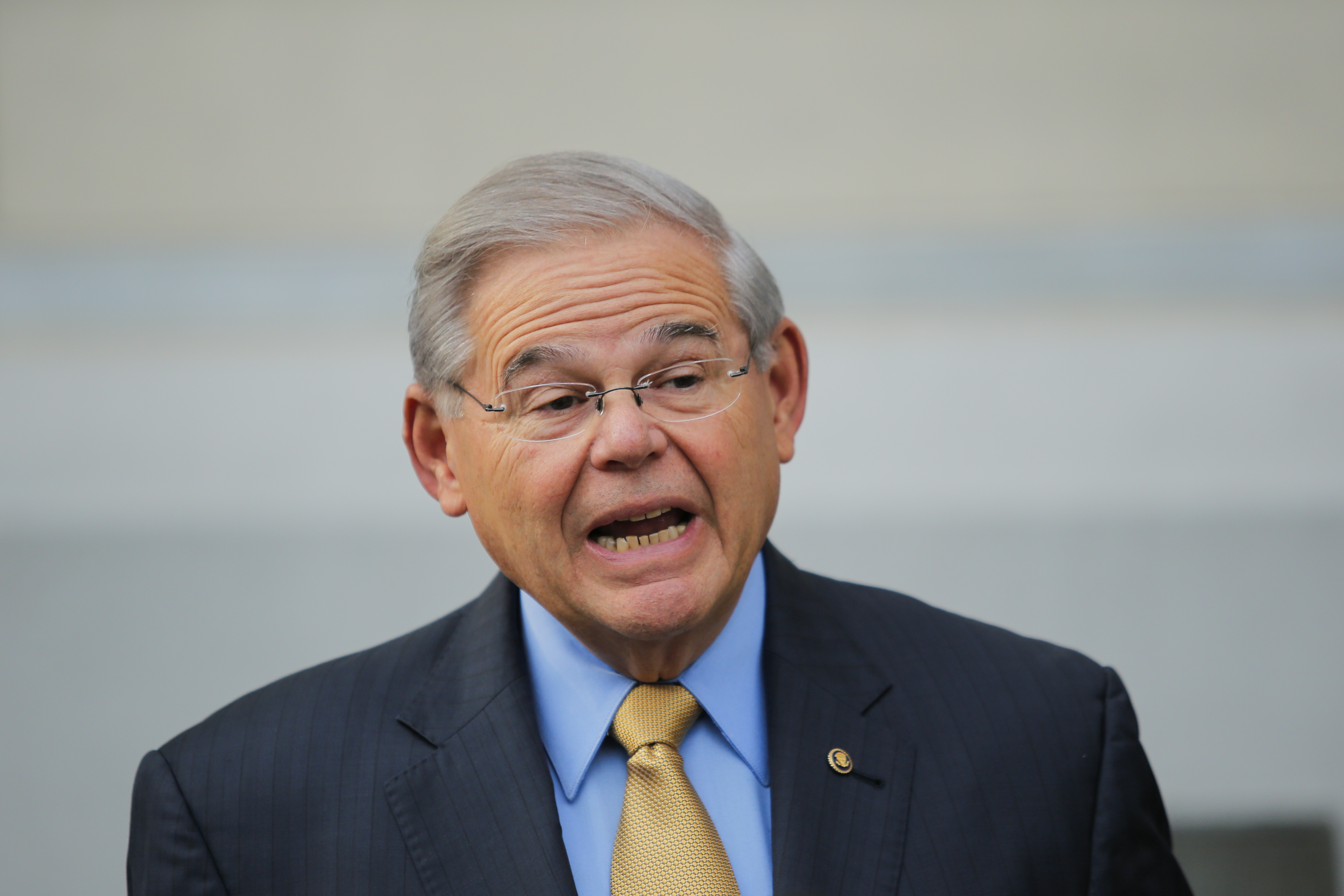 Former Health and Human Services Secretary Kathleen Sebelius on Tuesday recalled an "unusual" meeting she had with Sen. Bob Menendez and former Senate Majority Harry Reid, according to reports.
Testifying during Menendez's ongoing corruption trial, Sebelius said the meeting was the only time during her five years in the Obama administration that she was asked by one senator to meet another, according to the Associated Press. And she said it was the only time she was asked to discuss a Medicare "billing issue" — a problem that happened to be plaguing Menendez's top donor, Salomon Melgen. Prosecutors allege the meeting was an official act Menendez took to benefit Melgen, the wealthy Florida eye doctor accused of bribing the senator.
Phil Murphy's lead in the governor's race is still in the double digits, but it's not as big as previous polls have shown, according to a Monmouth University poll released Tuesday. Murphy, the Democratic nominee for governor, is beating Republican nominee Kim Guadagno by 14 points with five weeks to go until Election Day, the poll showed.
And Gov. Chris Christie revealed how he plans to pay for the up to $240 million in programs to combat the opioid epidemic. Christie said he found debt service savings and unspent money from several departments.
Quote of the Day: "What happened in Nevada is awful. Would adding certain specific laws have changed that outcome? I think it's too early to answer that question." — Kim Guadagno, weighing in on the gun control debate after the mass shooting in Las Vegas.
Christie Details $200 Million Funding Sources for Opioid Initiatives
Nearly two weeks after he announced the initiatives, Christie said the funds will come from "three buckets" – savings in debt service, unspent money from several programs and revenue growth.
Christian Hetrick, Observer Read more
Murphy's Lead Is 14 Points in New Monmouth Poll
Democrat Phil Murphy holds a double-digit lead over Republican Kim Guadagno in the New Jersey governor's race, according to a new poll, but it is a slimmer one than in other surveys.
Christian Hetrick, Observer Read more
Las Vegas shooting: Guadagno, Murphy split on guns
The Las Vegas massacre – and the nation's response to it – is now on the long list of topics Republican gubernatorial candidate Kim Guadagno and Democratic candidate Phil Murphy don't agree on.
Asbury Park Press Read more
After Las Vegas massacre, N.J. Republican will oppose effort to weaken this gun law
Rep. Chris Smith, R-4th Dist., made public his opposition the Sportsmen's Heritage And Recreational Enhancement Act after the nation's worst mass shooting Sunday night in Las Vegas.
NJ.com Read more
Former HHS secretary Kathleen Sebelius testifies that Bob Menendez meeting was 'unusual'
When former Health and Human Services Secretary Kathleen Sebelius was asked by then-Senate Majority Leader Harry Reid in 2012 to take a meeting with U.S. Sen. Bob Menendez, she found the request "unusual" for a couple reasons.
The Record Read more
Key Trump Tax Reform Proposal Is a Non-Starter, Lance Says
The Trump administration's recent tax-reform proposals have a key provision that would hit blue states particularly hard — the elimination of a federal deduction for state and local taxes. But while the GOP-dominated Congress might not need Democratic votes to get the provision passed, it does need the support of Republicans, some of whom — including U.S. Rep. Leonard Lance (R-7th) — have stepped up in opposition.
NJSpotlight Read more
Where N.J. lawmakers stand on Trump tax plan (which would kill your property tax break)
As President Donald Trump and congressional Republicans seek to overhaul the tax code and reduce rates on wealthy Americans, they have taken aim at the federal deduction for state and local taxes.
NJ.com Read more
Murphy or Guadagno, There's Likely RIGGI in New Jersey's Future
No matter who wins next month's gubernatorial election, it is a near certainty New Jersey will be rejoining the Regional Greenhouse Gas Initiative, the multistate coalition trying to clamp down on pollution from power plants.
NJSpotlight Read more
Did you know you can already vote for N.J. governor?
Election Day in New Jersey is five weeks from today — and it's a big one, with voters deciding who'll succeed Chris Christie as governor, as well as all 120 seats in the state Legislature.
NJ.com Read more
Pallone Reintroduces Legislation to Reduce Sudden Cardiac Death in Students
A Garden State congressman is seeking to reduce the number of students killed by sudden cardiac arrest, a leading cause of death in American schools and one that ends the life of a student athlete every three to four days, according to federal data.
NJSpotlight Read more
Atlantic County Republican committee requests investigation into ballot fraud
The Atlantic County Republican Committee has asked the state Attorney General's Office to investigate possible tampering of vote-by-mail ballots after a voter claimed he received one that was already filled out.
Press of Atlantic City Read more
Joey Torres: Nothing to hide as Paterson gets new wave of subpoenas
State and federal investigators dropped new subpoenas at Paterson City Hall this week and convicted Mayor Jose "Joey" Torres said there's nothing to hide.
Paterson Press Read more
Fulop catches heat for blocking critics on Facebook
Recent lawsuits targeting public officials who block citizen critics on social media are shining a spotlight on Mayor Steve Fulop's own itchy "block" finger.
NJ.com Read more
Fulop, Matsikoudis go head-to-head for first time in mayor's race
Mayor Steve Fulop argued that voters should give him a second term in office next month — and his sole challenger, attorney Bill Matsikoudis, made the case for change — on the New Jersey City University campus last night.
NJ.com Read more