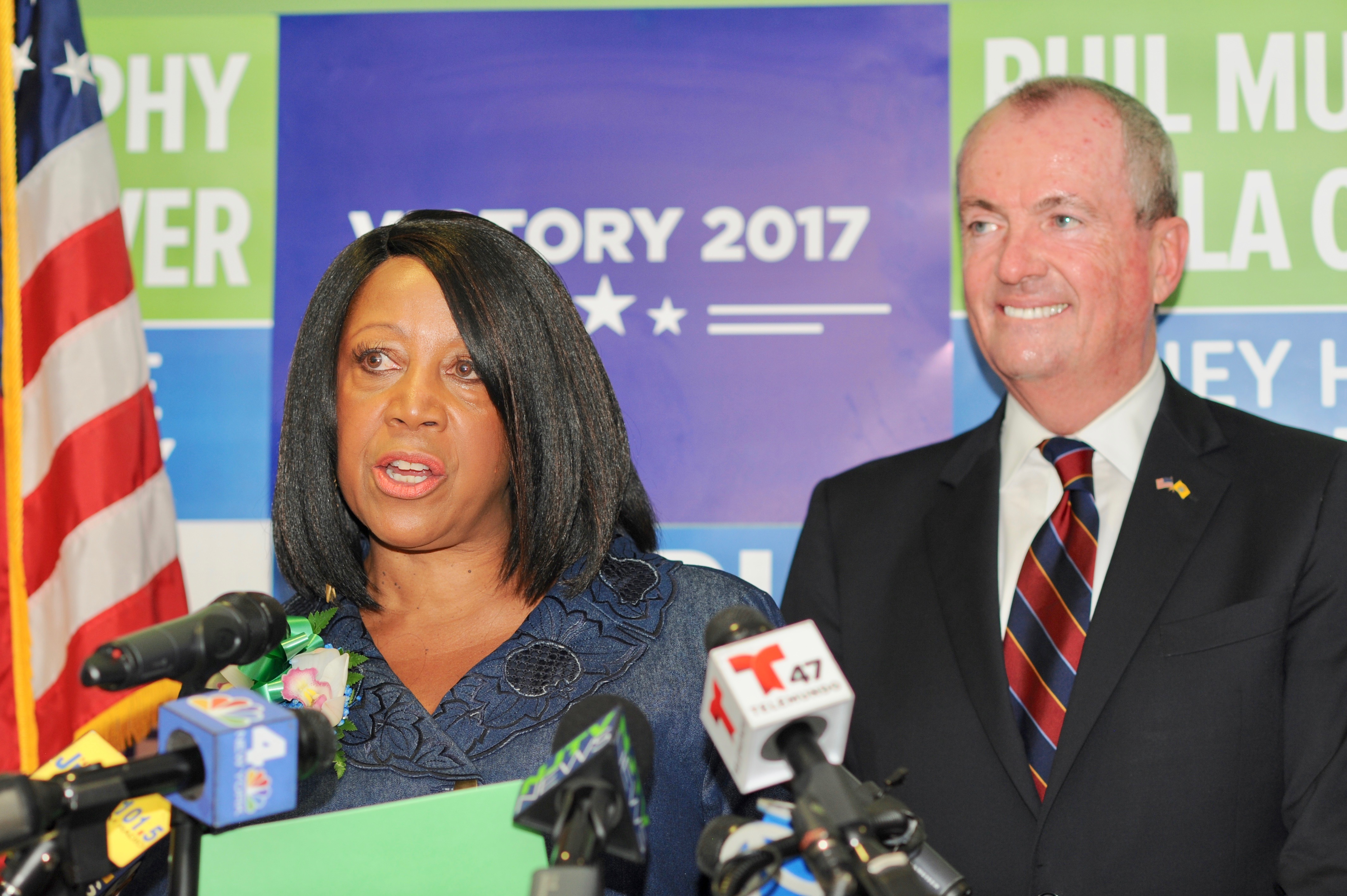 Phil Murphy, the Democratic nominee for governor, publicly disagreed with his running mate Friday for voting against a bill banning the state's public pension fund from investing in companies that boycott Israel.
Assemblywoman Sheila Oliver, the Democratic candidate for lieutenant governor, was one of just three lawmakers in August 2016 to vote against the bill opposing the "boycott, divestment and sanctions" movement that targets Israel. Asked about Oliver's vote, Murphy said he would have signed the bill if governor and voted for it if he was in the Assembly. Republican nominee Kim Guadagno's campaign accused Oliver (D-Essex) of having "anti-Israel views" and called for her removal from the Democratic ticket.
Gov. Chris Christie said he supports banning a gun accessory found in the hotel room of the Las Vegas attacker, even though he said he's against new gun restrictions. The governor said the accessories – called "bump stocks" – are not guns, and so a ban on them would not be a "gun law."
And Sen. Cory Booker will donate $7,800 in campaign contributions from the film producer Harvey Weinstein to a charity that works with victims of sexual assault. He is renouncing Weinstein's money after the New York Times reported on previously undisclosed allegations of sexual harassment against the film producer.
Quote of the Day: "They have no Second Amendment right to own a bump stock. I am pretty confident that James Madison and the rest of the crew were not considering bump stocks when they wrote the Second Amendment to the Constitution." — Gov. Chris Christie.
Christie: Bump Stock Ban 'Not a Gun Law'
Christie engaged reporters in a game of semantics Friday, saying the gun accessories — called "bump stocks" — are not guns and a ban on them would not, technically, be "a gun law." But his comments were far afield from what he said Monday, when he dismissed the idea that a ban on bump stocks would have stopped the attacker from carrying out the deadliest mass shooting in U.S. history.
Christian Hetrick, Observer Read more
Booker to Donate Harvey Weinstein Money to Sexual Assault Nonprofit
Sen. Cory Booker will be donating $7,800 in campaign donations from the film producer Harvey Weinstein to a charity that works with victims of sexual assault, his office said Friday.
Salvador Rizzo, Observer Read more
New twist in Menendez trial: Will judge toss case before it goes to the jury?
Sen. Bob Menendez's federal corruption trial is expected to last several more weeks, but a cryptic comment from the judge presiding over the case has renewed questions about whether it will even go to the jury. "I am very careful because of you know what and that being McDonnell," Judge William Walls said earlier this week — issuing the legal equivalent of a thunderclap in the courtroom.
CNN Read more
After a Month in Court, Menendez Relishes a Trip to Washington
He sternly challenged one of President Trump's nominees testifying in a Senate conference room. He discussed tax policy during lunch with members of the Democratic caucus. He displayed photographs of his trip to hurricane-ravaged Puerto Rico on the Senate floor. And he serenaded a smiling Senator Ben Cardin, a Democrat from Maryland, on his birthday.
New York Times Read more
Sparks (finally) fly in N.J. governor's race over Israel vote
The quiet campaign for New Jersey governor erupted Friday. Democratic nominee Phil Murphy publicly disagreed with his running mate for voting against a popular bill that banned the state from investing in businesses that boycott Israeli goods and services. Hours later, Murphy's Republican opponent, Lt. Gov. Kim Guadagno, called on the Democrat to drop the lieutenant governor pick, state Assemblywoman Sheila Oliver, from his ticket.
NJ.com Read more
On education, Murphy sticks to aid, Guadagno to property tax
Voters looking to get smart on two top party candidates' views on education in the race to succeed Gov. Chris Christie will find differences of emphasis and policy.
Associated Press Read more
Twitter just took back the extra 140 characters it gave Phil Murphy last month
Phil Murphy's Twitter account just did a complete 140. Twitter confirmed to NJ Advance Media on Sunday night that Murphy, the Democratic nominee for New Jersey governor, is no longer one of the small group of users across the country who were selected to try out an elevated 280-character count in a single tweet and is cut back to the customary 140.
NJ.com Read more
Christie to Democrats on dispute over opioid funding: Wait for the next governor
Gov. Chris Christie has a message for Democrats upset with how he's funding a new $200 million push to fight the state's opioid abuse epidemic: Get over it.
NJ.com Read more
A decade after disabled man's death, Christie signs law to make group homes safer
Nearly 10 years to the day after an unsupervised 22-year-old man with developmental disabilities choked to death, Gov. Chris Christie Friday signed a law designed to make group homes operators more accountable to the state.
NJ.com Read more
Cory Booker tells NAACP don't be discouraged
Sen. Cory Booker of New Jersey played to his family's North Carolina ties on Saturday as he urged the state chapter of the NAACP to have faith that racial injustices can be overcome.
News & Observer Read more
Wrongly convicted? Lawmakers want panel to review botched criminal cases
Such a commission is the centerpiece of legislation sponsored by State Sens. Joe Pennacchio, R-Morris, and Shirley Turner, D-Mercer, aimed at speeding up the arduous process of exonerating the innocent.
NJ.com Read more
After Trump victory, more women running for office in New Jersey
On a warm summer day, about a dozen women huddled in a dimly-lit conference room, intent on an unlikely task: Learning how to ask complete strangers for money.
The Record Read more
JC mayoral 'forum' a necessary snoozer
The Jersey City mayoral candidates' forum on Thursday evening featured incumbent Steve Fulop and challenger Bill Matsikoudis. Who else? It was somewhat informative but a real snoozer by the blood and guts standards of past Hudson County campaigning.
Jersey Journal Read more