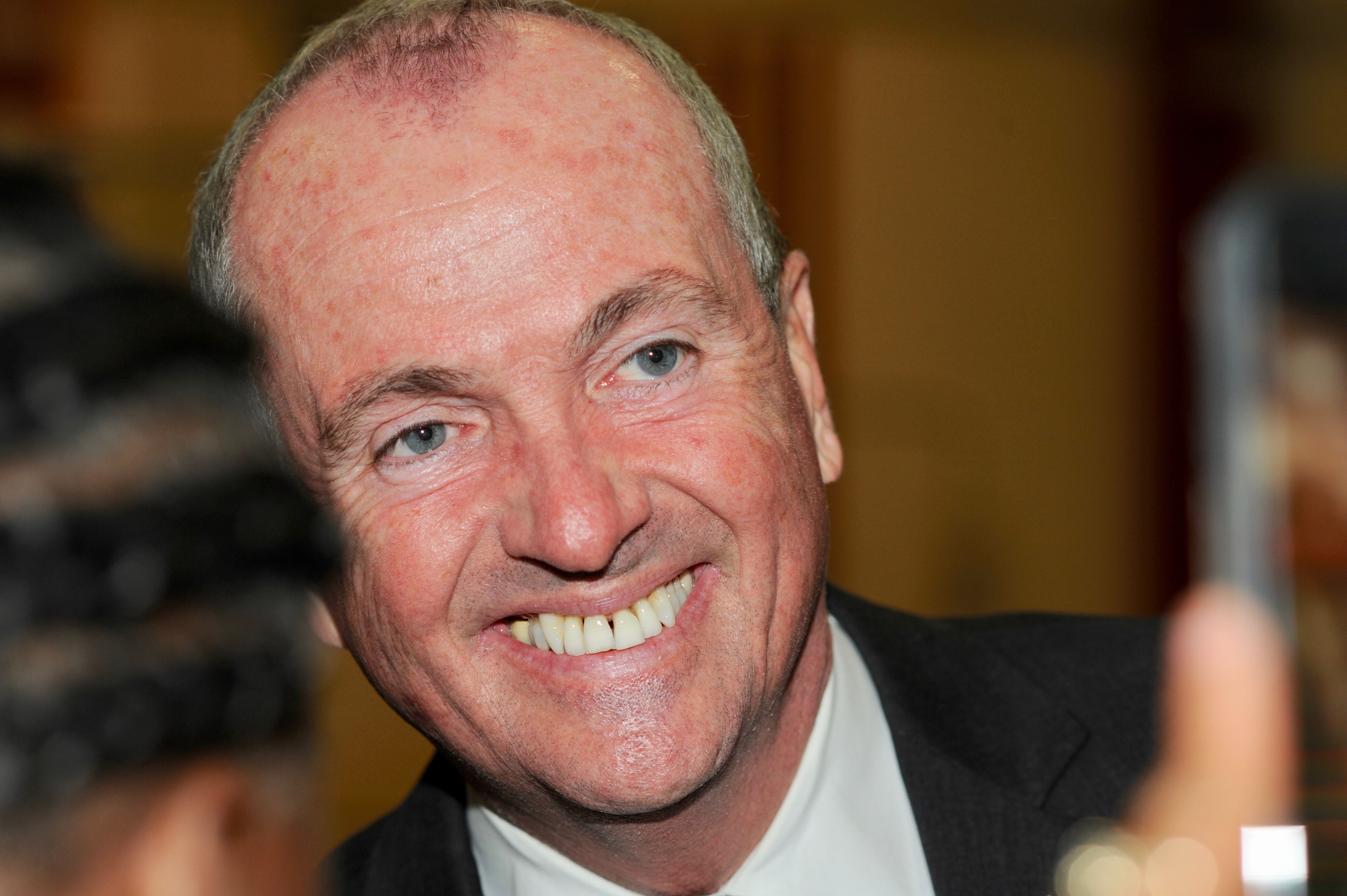 Phil Murphy mostly swept the endorsements from the New Jersey area's editorial writers, although the state's two largest newspapers were not exactly thrilled to choose the Democrat in the governor's race.
A schizophrenic editorial from the Star-Ledger purported to endorse Murphy — right before kicking him in the shins for being closer to the New Jersey Education Association than South Jersey Democrats. (It all makes sense if you've read a ton of Star-Ledger editorials.)
The newspaper called Republican Kim Guadagno "the worst nominee of either major party to come along in decades." For those keeping score, not even Chris Christie, whom the Ledger endorsed and then retroactively unendorsed after his re-election and Bridgegate, was as bad as his female lieutenant governor.
The Bergen Record had a more coherent but still slightly critical view, backing Murphy because he offered a "more progressive, inclusive agenda" than Guadagno, but wishing for "more dynamic choices, more specifics and, frankly, more vision."
The Philadelphia Inquirer was unabashed, endorsing Murphy because he "has the right sensitivities, background, and priorities to govern." The New York Times did not wade too deeply into the issues but said picking Murphy was "not even a close call" because he guaranteed an end to the Christie era, arguing that Guadagno would be Christie's mirror image.
The Asbury Park Press was the lone major newspaper to endorse Guadagno, calling her "best equipped" to address New Jersey's highest-in-the-nation property taxes. Their editorial board said Murphy built a campaign on "snake-oil promises," but their analysis of those promises inflated the cost of what Murphy actually has proposed.
Quote of the Day: "I'm not going to run a transition like Jon Corzine ran. Jon Corzine and I had two conversations from election night to inauguration day, and quite frankly I think I was lesser for it, and the state was lesser for it." — Gov. Chris Christie on communicating with the winner of the governor's race.
Democrats Take Grenier to Court Over Political Contribution
As Senate President Steve Sweeney battles the New Jersey Education Association for his Senate seat, Democrats took his GOP challenger, Fran Grenier, to court this week and claimed he violated campaign disclosure law as Salem County Republican Committee chairman.
Christian Hetrick, Observer Read more
NRCC Backing Lonegan in Race Against Gottheimer
The National Republican Congressional Committee, a key fundraising group for House races, is throwing its support behind Steve Lonegan in New Jersey's 5th congressional district, giving him an advantage in a GOP primary and possibly the 2018 midterms.
Alyana Alfaro, Observer Read more
County Party Fundraising at Highest Level Since 2009
Democratic and Republican county committees in New Jersey have amassed $6.7 million in funds this year, the highest total since the 2009 gubernatorial race, according to a report from the state Election Law Enforcement Commission released Friday.
Alyana Alfaro, Observer Read more
Christie not sure Trump will run again
Gov. Christie is advancing the idea that President Trump might not want to serve a second term. Christie says on NBC's "Today" show that four years is a long time, especially for someone who hasn't spent a lifetime in politics.
Associated Press Read more
Gov. Christie has a lot to say to the next governor of New Jersey
A week from Tuesday, New Jersey voters will elect a new governor. The outgoing one is pledging to do everything he can to ensure a smooth transition.
NJ101.5 Read more
Will Phil Murphy's immigration comments hurt him on Election Day?
It's probably not a narrative that Phil Murphy wants to dominate the final days of the New Jersey governor's race.
NJ.com Read more
Kim Guadagno to make final NJ governor election push with bus tour
Kim Guadagno is hitting the road this week for a bus tour of New Jersey's 21 counties in a final effort to close the gap in the race for governor, with polls showing the Republican still trailing Democrat Phil Murphy by double-digit percentage points.
Asbury Park Press Read more
NJ Transit posts lowest annual ridership since Superstorm Sandy
NJ Transit's ridership declined 3 percent last year, reflecting the impact of a major crash, a string of derailments and an agency struggling to maintain a consistently functional level of service.
The Record Read more
O'Reilly demands $5M from former N.J. lawmaker over Facebook post
Bill O'Reilly is reportedly threatening to sue a former New Jersey assemblyman for $5 million after the ex-legislator penned a Facebook post about allegations his ex-girlfriend made against O'Reilly.
NJ.com Read more
Hurricane Sandy, five years later: People living in cars and other realities of a slow-moving recovery
Sandy was the storm that landed in Brigantine, canceled Halloween 2012 in New Jersey, and sunk coastal residents into a nightmare of repetitive paperwork, confounding state bureaucracy, financial insecurity, and stress.
The Inquirer Read more
Christie: Congress needs to 'step up' and appropriate opioid relief funds
Republican Gov. Chris Christie brushed aside criticism Friday of President Donald Trump's decision to declare the opioid epidemic a public health emergency — which lasts for only 90 days and does not include new funds to combat the crisis — and put the onus on Congress to act.
Politico Read more
Lesniak's Last Campaign, to Give NJ Transit Commuters Seats on the Board
Veteran state legislator Ray Lesniak will leave office in a few months, having decided earlier this year not to seek re-election. But the longtime Democratic Senator from Union County has a final public campaign in him.
NJSpotlight Read more
Taxes, transportation, school funding the big issues in District 38 race
The 38th Legislative District that crosses central Bergen County is a study in contrasts.
The Record Read more