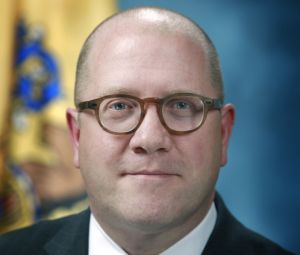 New Jersey Attorney General Christopher Porrino accused a drug company of an "evil" scheme to boost sales of a fentanyl painkiller after the state filed a lawsuit Thursday against the firm, according to reports.
The state's lawsuit alleges that Insys Therapeutics instructed its sales team to have doctors prescribe the drug "Subsys" for all types of chronic pain, even though it was just approved for cancer patients, according to the Associated Press. New Jersey also claims the company created false records to get insurers to pay for prescriptions for people who didn't need the drug.
Just days after saying new gun laws won't stop mass shootings, Gov. Chris Christie is open to further curbing a gun accessory found in the hotel room of the Las Vegas shooter, according to his spokesman. Democratic and Republican state lawmakers have introduced legislation banning the accessory, called a "bump stock," which allows shooters to fire bullets rapidly, resembling automatic fire.
And Senate President Steve Sweeney said he plans to talk to Christie about finding different funding sources for the governor's opioid programs. Christie grabbed money meant for preschool expansion and other Democratic priorities, but Sweeney said he wants those funds back. "We feel he can find it somewhere else, even if he takes it out of surplus," he told reporters.
Quote of the Day: "The conduct alleged in our lawsuit is nothing short of evil." — Attorney General Christopher Porrino.
Murphy to Campaign With Biden, Kerry, Gore and More
Some of the biggest names in the Democratic Party are coming to the aid of Phil Murphy this month during the final stretch of the New Jersey governor's race. Former Vice Presidents Joe Biden and Al Gore, former Secretary of State John Kerry and former Attorney General Eric Holder are among those scheduled to campaign with Murphy.
Christian Hetrick, Observer Read more
Bell, Corrado Sworn Into NJ Senate
New Jersey has two new state senators. Democrat Colin Bell and Republican Kristin Corrado were sworn in on Thursday during a brief summertime voting session in the Senate.
Christian Hetrick, Observer Read more
NJ Dems, GOP Introduce Gun Control Bills After Las Vegas Attack
For the second straight day, New Jersey lawmakers introduced gun control bills in response to the deadliest mass shooting in U.S. history over the weekend in Las Vegas.
Christian Hetrick, Observer Read more
Christie: I'm open to more curbs on gun device used in Las Vegas shooting
Gov. Chris Christie on Thursday opened the door for tighter regulations in New Jersey on a controversial gun accessory that has become a focal point in the gun debate that has been reignited by the recent Las Vegas massacre.
NJ.com Read more
Sen. Menendez won't say he'll resign if convicted
Sen. Bob Menendez would not say Thursday whether he would quit his job if convicted on federal corruption charges and insisted his poll numbers "will rise" if he's acquitted. The New Jersey Democrat, back in the Capitol for a whirlwind day during a break in his corruption trial in Newark, refused to say what he would do if he were convicted.
CNN Read more
Lawsuit alleges 'greed' drove Insys Therapeutics' opioid sales in N.J.
State Attorney General Chris Porrino filed a lawsuit on Thursday against Insys Therapeutics, alleging an "evil" scheme to drive sales of its synthetic opioid pain medication Subsys.
Politico Read more
How N.J. lawmakers voted on making it easier for Trump to kill your property tax break
A budget resolution that could make it easier to pass President Donald Trump's tax plan that would sock New Jersey by ending the federal deduction for state and local taxes passed the House Thursday.
NJ.com Read more
Democrat quits N.J. House race against Republican supported by Trump
Civil rights lawyer Katherine Hartman withdrew Thursday from the race for the Democratic nomination against Rep. Tom MacArthur, citing the time needed to raise enough money to compete.
NJ.com Read more
NJ Public Pension Fund Returns Over 13 Percent, Outpacing Expectations
New Jersey's public-employee pension-fund investments generated returns of more than 13 percent during the state's last fiscal year, far outpacing the assumed rate of return for what is one of the nation's worst-funded state retirement systems.
NJ Spotlight Read more
CSX official who urged Christie oil train veto to lead oil train regulator
A former CSX executive who lobbied Gov. Chris Christie to veto an oil train transparency bill this year is now poised to lead the federal agency that regulates oil trains.
The Record Read more
Improper handling blamed in Atlantic County ballot mix-up
A vote-by-mail ballot returned to the county clerk's office was improperly handled and ended up in the hands of another would-be voter, according to a court certification from the Deputy Atlantic County Clerk Thursday.
Press of Atlantic City Read more
Affordable housing emerges as key issue in Jersey City election
With about a month until Jersey City voter heads to the polls in the quadrennial mayoral and council races, affordable housing has emerged as one of the major issues on voters' minds, with candidates saying they hear from residents citywide who are anxious about rising rents and property taxes.
NJ.com Read more
Lawmakers OK tougher scrutiny of N.J. group homes after death of advocate's son
Eliciting wild applause and chants of "thank you" from a gathering of families at the Statehouse, the state Senate Thursday gave final approval to legislation that would impose tougher scrutiny on the operators and employees of group homes for people with developmental disabilities.
NJ.com Read more