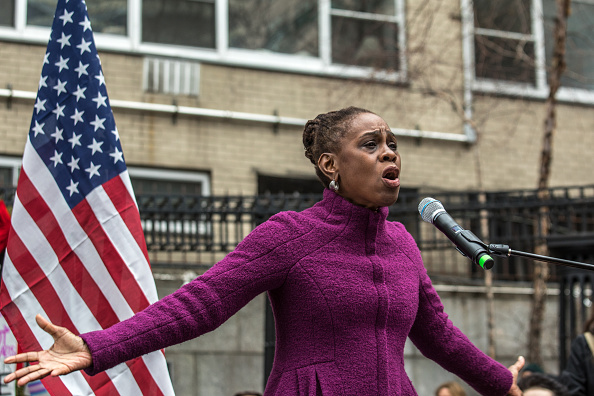 First Lady Chirlane McCray said New York City became the first city in the country to enforce a ban on employers asking applicants about their salary history because it "had the will" to do so and because the administration and supporters were ready to do the work.
In August 2016, Public Advocate Letitia James introduced legislation that would prohibit public and private employers from asking job applicants about their salary history — a measure she contended would close the wage gap between men and women. In April, the City Council passed the legislation and Mayor Bill de Blasio signed it into law in May. Tuesday marks the first day that the law goes into effect.
Last November, de Blasio signed an executive order banning city agencies from inquiring about job applicants' salary history.
In an interview with Observer, McCray said that the executive order was "common sense."
"We saw that this was something that we could do easily because we have such a large work force … it was a very, very easy and effective way to get the ball started," she said. "We knew we needed to talk to many more people to make it citywide but you can't tell people to do something if you're not going to do it yourself, right?"
California's ban is set to go into effect in January; Delaware in December; Massachusetts in July; Puerto Rico in March; and Oregon in January 2019.
New Orleans' rule already went into effect but only applies to city departments and contractors that work for the city. Philadelphia's rule, which only applies to city employees, was set to start on May 23 but has been temporarily blocked by a judge.
The city needed buy-in from the business community and for employers to understand the benefits, McCray said.
"One, this administration and people who support it had the will, wanted it to work," she said. "Two, because it was a lot of work that we were willing to do. It meant having long meetings with business leaders, bringing in people who presented what they thought were obstacles to figure out how to work this through."
In the city, women earn $5.8 billion less than men in wages every year, according to a report by James' office. Black women in the city make just 55 cents for every dollar a white man makes while Hispanic women make 45 cents.
Nationwide, women earn 80 cents for every dollar that mean earn, according to the U.S. Census Bureau. And the Pew Research Institute found that black and Hispanic men have average hourly wages of $15 and $14, respectively, compared with $21 for white men.
"I think many employers didn't realize that it is such an obstacle for women being successful because this is a practice that has been done for so long," she said. "No one really questioned it. But when you look at the facts, when you look at the disparity in wages, then it really makes a lot of sense."
She said that the city has been a leader on women's issues in many respects, noting that it recently received 4.5 stars from the Institute for Reproductive Health, is the largest city in the country to have full-day  prekindergarten and has more protections and support for LGBTQ residents.
"We see ourselves as a model for the nation and hope that other cities, other states, other municipalities will look at and copy what we're doing," McCray added.
McCray has not yet discussed having the law implemented statewide with Gov. Andrew Cuomo but said that it is "possible."
"I have not spoken to him but it's certainly possible," she said. "You look at Oregon, you look at California, you look at other states, Massachusetts, they're all in the process of working on this. They may not be where we are but it's coming. So I would hope that New York State would not be too far behind."
Under the new law, employers cannot ask questions or request information about applicants' current or previous salaries or benefits, including on job applications; ask current or former employers or their employees about it; search public records; or rely on information about applicants' current or previous  salaries or benefits to determine their compensation.
The law applies to full-time, part-time and internship positions as well as independent contractors. But it does not prohibit job-seekers from voluntarily sharing the information or employers from asking applicants about their salary expectations or giving a salary range for a position.
Carmelyn Malalis, who heads the city Commission on Human Rights, told Observer that if an employer asks applicants about their salary history, they should divert the question, recommending, for example, that they state their salary expectation instead.
The commission can fine employers with civil penalties of up to $250,000 for "willful and malicious violations" of the law and can give compensatory damages to victims such as emotional distress damages and other benefits.
The commission weighs factors such as the size and experience level of a business, its ability to pay, whether the business deliberately flouted the law and the effect of a fine on the business. It can also hold training sessions on the New York City Human Rights Law, changes to policies and other types of relief such as  community service and mediated apologies.
McCray said New Yorkers can expect more on gender equity in the future.
"This is not the end, I can tell you that," she said. "We have a Commission on Gender Equity. We have designated areas where we want to make an impact with public safety, health and reproductive rights and economic equity. You will see more in the coming days, coming months. If people choose us on November 7, there'll be much more to come."