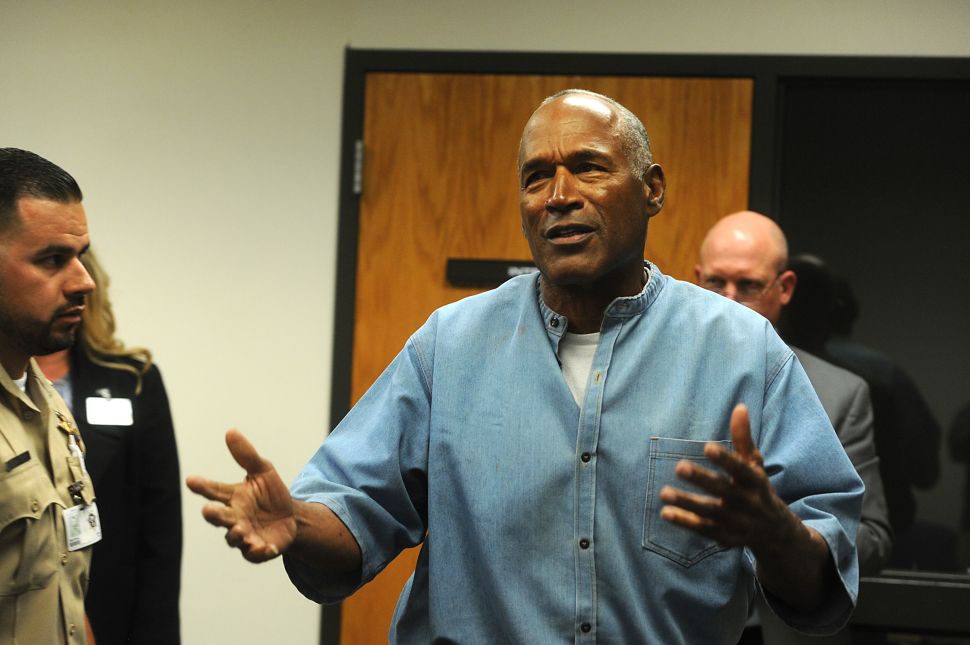 O.J. Simpson was released from Lovelock Correctional Center in Nevada after nine years on October 1 and has already begun pounding the pavement looking for a paycheck. According to THR, several associates of Simpson have been in touch with major television networks to discuss his first post-prison interview. The catch? Simpson's camp is reportedly seeking a seven-figure deal to make it happen. That, plus the obvious controversies that would accompany Simpson, have turned off most potential bidders.
"It is treacherous," one TV news veteran told the outlet. Not with a "10-foot pole," another said.
ABC, CBS and NBC have all reportedly passed, citing news division standards as to why they will not pay Simpson for an interview. THR reports that A+E Networks and Discovery have also turned him down.
Though Simpson was acquitted in 1994 of the murders of Nicole Brown and Ron Goldman, he was hit with a $33.5 million civil judgement in a 1997 wrongful death suit brought by the families of the victims. David Cook, a California attorney who oversees the collection for the Goldman family, told CNN that the cost has risen to $70 million due to interest on the unpaid award. Any money paid to Simpson for potential interviews would be headed that way.
The New York Post reports that Simpson is seeking between $3 and $5 million for a major TV appearance. People reports that he'll receive up to $25,000 per month ($300,000 annually) from pensions that aren't subject to seizure by creditors. The outlet also notes that his net worth was estimated to be $10.8 million during his 1992 divorce proceedings with Brown. Today, that number is rumored to be anywhere between $250,000 and $3 million.
Despite the tepid early response to his interview demands, could the Juice wind up scoring a big deal? One media buyer told THR that "if any anti-O.J. sentiment starts, I could see people pulling away." Media consultant Bill Carroll also told the outlet, "From a news perspective, it's probably a get. From an advertiser's perspective, it's something that most, if not all, advertisers would stay away from."