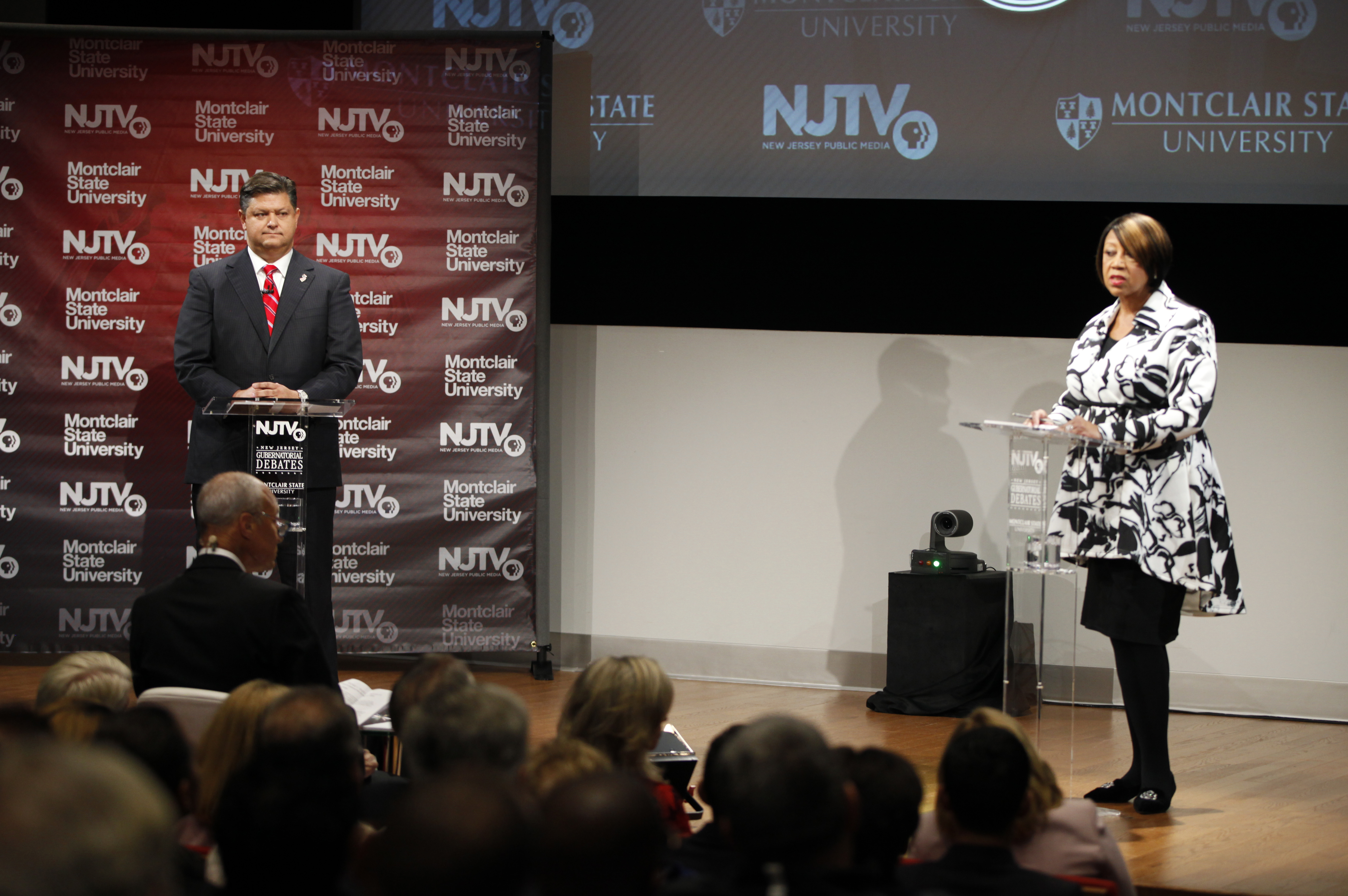 MONTCLAIR — The lieutenant governor candidate debate between Sheila Oliver and Carlos Rendo primarily featured the running-mates fiercely defending the two candidates at the top of the ticket, Democrat Phil Murphy and Republican Kim Guadagno.
An early point of contention came when moderator Michael Aron asked the candidates about a harshly worded attack ad released by Guadagno last week. That ad claims Murphy and would give safe harbor to dangerous undocumented immigrants like Jose Carranza, who immigrated illegally from Peru and shot and killed three Newark teens in 2004. Murphy has called Guadagno's ad racist, slurring all immigrants by focusing on Carranza.
Guadagno's campaign has stood by the ad and on Monday Rendo — a Cuban immigrant — doubled down.
"This is not about ethnic slurs or ethnic background," said Rendo, the state's only Republican Latino mayor. "This is about a cold-blooded murderer that needs to be sent to justice. It is not ethnicity. It is murder."
Rendo said that by promising to create a sanctuary state — loosely defined as a state where local law enforcement does not work with federal immigration officials on issues including the deportation of illegal immigrants — Murphy and Oliver are demonstrating that they are an "anti-cop, anti-law enforcement ticket."
But Oliver stood by the Murphy campaign's allegations that the ad painted all illegal immigrants with the broad brush of criminal conduct.
"It was a disgraceful, divisive, pitting one ethnic and cultural group against the other, and that is how the lieutenant governor's campaign has conducted itself over these past several weeks," Oliver said.
Another point of contention came when candidates were questioned about a legislative trip that Oliver took to Cuba two years ago, something that Rendo has criticized in the past. Rendo claims that a normalization of relations with the island nation fosters communism and human rights abuses. Rendo also questioned why Oliver did not push for the return of Joanne Chesimard, a fugitive now living in Cuba who was convicted of killing a New Jersey state trooper in 1973.
"Michael, this is a country that my family fled when communism came," Rendo said. "This is a country that systematically executes it's citizens without trial. This is a country that people lose their lives in the Caribbean Sea everyday looking for freedom… this is not a good country."
Oliver, a veteran Assembly member and former speaker, said that the trip was an effort to understand the country at a time when former President Barack Obama was moving toward normalized relations.
"This was an authorized trip, it was bipartisan in nature, Democrats and Republicans," Oliver said, noting that she paid her own way to Cuba.
The two campaigns depart sharply on the future of marijuana use in New Jersey. While Murphy and Oliver favor legalization of the drug, Guadagno and Rendo favor decriminalization only, although Rendo said that drug dealers and "heavy users" still would be penalized under their plan.
"The Murphy-Oliver ticket is proposing releasing criminals from jail early, legalizing pot and protecting them in a sanctuary state," Rendo said. "So my question to Ms. Oliver is, What will we have in the state of New Jersey? A bunch of criminals out on the street, high on pot and protected in a sanctuary state? So my question is, What was Phil Murphy smoking when he thought about that platform?"
Murphy has promised to raise taxes $1.3 billion if elected. According to Oliver, taxing legalized marijuana is an important piece of the puzzle. That taxation is a key part of Murphy's tax plan along with closing corporate loopholes and increasing taxes on the rich, part of an effort to inject much-needed cash into New Jersey's budget amid ballooning pension payments and the faltering transit infrastrastructure.
"I think that regulating marijuana as many states across the country are beginning to do, decriminalization will not allow for regulating," Oliver said. "I believe believe that taxation of marijuana and it's sales will be a route to go in."
Oliver also questioned the Guadagno campaign's circuit breaker plan to cap household property taxes at 5 percent of home income, something that the Guadagno campaign estimates will save the average New Jersey homeowner upwards of $800 per year. The campaign also estimates that such a cut will cost $1.5 billion, something that can be recouped by a large-scale audit of state government. After the debate, Oliver told reporters that the plan was a "blank piece of paper" that relied on an unknown funding source.
Rendo and Oliver were required by state election law to participate in Monday's debate because both the Murphy and Guadagno campaigns are participating in the state's public financing program. Murphy and Guadago have already faced one another on the debate stage once and will debate again on Wednesday at William Paterson University in Wayne.