An open letter to Yuhna Kim, founder of the meditation app Simple Habit.
Dear Ms. Kim,
We've never met, but you know me well. I started my company, Whil, three years ago. We have a well-being training platform to help people live healthier, happier and more engaged lives. Prior to starting Whil, I had the pleasure of running Headspace. In creating Whil, we took great care to introduce something new into the marketplace; a completely different goal-based mindfulness meditation experience targeted to a professional audience.
Last week, one of our clients reached out asking, "Have you seen the knock off of your app called Simple Habit? It was just on Shark Tank." Unfortunately, since your launch, I've gotten a few of these calls each week. Our team felt it was time to say something.
During your appearance on Shark Tank, the hosts accused you of just wanting free PR and self promotion, and of stealing a spot on the show from someone who actually needed it. It was hard to watch. We are happy to see anyone bring a greater awareness of mindfulness and meditation into the world. However, how you go about doing that matters. I, along with the 30 employees at Whil, can empathize with Shark Tank's feelings of being exploited by your company.
In this letter, I'm sharing the concerns that we have already brought to your attention in private correspondence with you, and which you've largely ignored. Similar to our clients, we are troubled by what appears to be, in our opinion, Simple Habit's ongoing (and less than mindful) exploitation of other entrepreneurs' work. Your PR narrative showcases a compelling "millennial woman in tech" storyline. We celebrate that. The world needs more women finding success in STEM—and all fields, for that matter. However, in our opinion, your actions exhibit a disingenuous "investment banker in tech" agenda.
In interviews, you tout having launched Simple Habit in under four months, even stating that it was easy. That's record time by any measure. It's also too good to be true. In our opinion, you appear to have lifted key elements of your business from other successful products in these 10 ways:
BJ Fogg is a pioneer in healthy behavior change. His Tiny Habits program has been transformational for startups trying to help people. It appears you've named your company "Simple Habit" and borrowed heavily from his famous method and language, without accreditation.
Prior to starting Simple Habit, one our early teachers gave you a "friends and family" pass for free, unlimited access to the Whil training platform. This was done without our knowledge. According to our analytics, you cycled through virtually our entire mindfulness training library. To say that you were a power user would be an understatement. We have learned that this same teacher has now been retroactively listed as an advisor to your company, is said to have helped create Simple Habit by recruiting the teachers (including several on Whil's platform), and is a shareholder in your company. Prior to terminating her agreement with Whil, this advisor continually asked Whil employees intimate details about our business model. We took it as curiosity from a friend. In hindsight, the "friends and family" access that she gave you to Whil no longer feels friendly.
As she later wrote to me in an email, "To me [Simple Habit] is not a threat to Whil or competitive but I've always had different ideas of what competition is so I would respect if you think I should terminate [my contract with Whil]!"
Outsourcing all development
You claim to be a "tech entrepreneur." However, while downplaying her involvement with Simple Habit, your advisor informed us that you outsourced your lightweight-app development to one of the many quick-turn freelance chop shops in the Bay Area.
Buddhify has been around for six years and is well-known as a high-quality meditation training app, having a wonderful founder (Rohan Gunatillake), and for being an inventive Radial app player—something our space had never seen. As Buddhify have pointed out, you appear to have replicated their famous radial player without accreditation.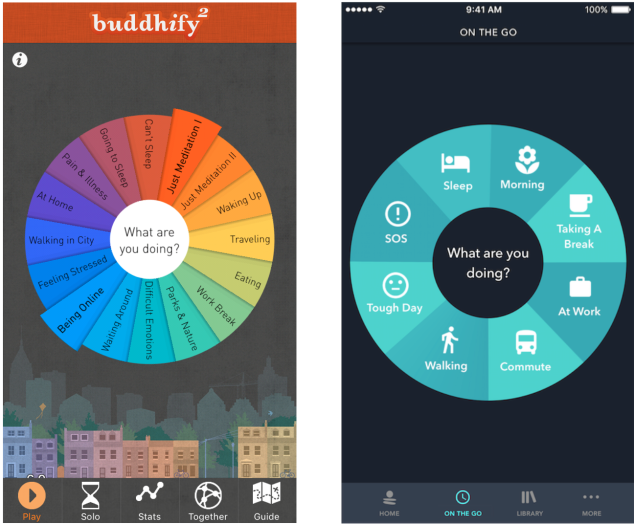 Whil has been around for three years and is known for our research, goal-based training, enterprise-grade SaaS training solution and the deepest library of teachers and content. You continue to promote yourself as the only solution with this approach or variety of teachers. As a power user of Whil, you and your advisor know that's not true. In the limited correspondence you've seen fit to reply to, you've even apologized about your claims.
Your actions may not be evident to consumers. However, they are evident to the talented teams who actually created the Whil and Buddhify experiences. They are also evident to our corporate clients, to whom you are now pitching your company offering. You appear to do this despite the fact that Simple Habit has no ability to deliver a secure, HIPAA compliant enterprise-grade solution. It would take Simple Habit years and a lot more than the $2.8 million you raised to replicate our full model back-end technology. To even suggest otherwise to unsuspecting businesses is reckless. In our opinion, you launched Simple Habit with your advisor's assistance, borrowing the look and feel of our platform including the layout, content, training structure, teacher options, teachers and even the imagery and photography (down to teacher headshots) that we created and own outright—and you've taken a piecemeal approach to removing these recognizable elements once called on it.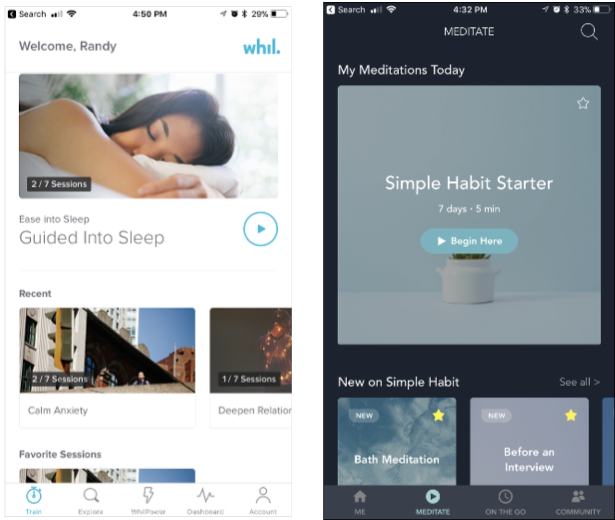 At launch, you appear to have replicated our website, including significant parts of our copyright protected language. Once again, only following our objections, did you strip the Simple Habit website down to its current form. Perhaps your investors have since given you mindful advice regarding trademarks, copyrights and trade secrets.
Borrowing strategy and content
You appear to have replicated the model of Whil's targeted goal-based training approach. That includes significant parts of our training catalog, the groundbreaking layout and presentation, with only making minimal changes to color and background. On Shark Tank, you shared slight modifications to our business model with teacher revenue shares. It appears that you're even using Whil's vendors to create content, following your advisor's request for their contact information.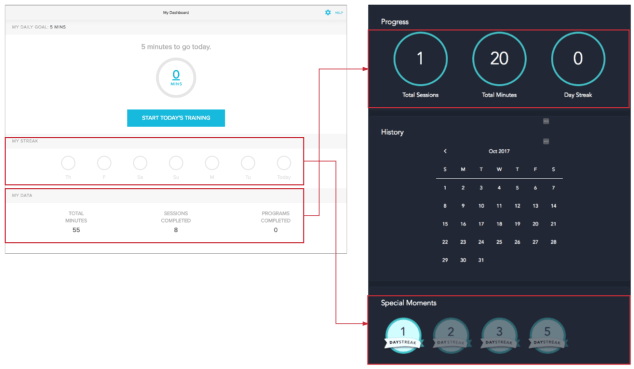 Borrowing headlines, taglines and claims
At launch, you claimed to have the "Search Inside Yourself" (SIY) teachers from the famous emotional intelligence program "born at Google." You did this despite your advisor knowing that Whil paid over $500,000 to produce the exclusive digital program with the SIY Leadership Institute (SIYLI). Your advisor introduced us. As the retired CEO of SIYLI wrote, "… in the press releases, the statements about teachers' backgrounds were inaccurate and we've reached out to Simple Habit to request they be corrected. In most cases this has been saying that teachers are "from Google" when actually they have not worked at or been trained at Google." Once again, in our opinion, you only removed the claims after recurring trademark objections from multiple parties.
In your press coverage, you tout your speed to market; collaboration with the former Director of Google's Mindfulness programs (though your advisor never worked for Google); and the (still unnamed) "team of Harvard Psychologists" that supposedly developed Simple Habit. Since you're pushing a mental wellbeing product, can you tell us who they are? What are their specific credentials, insights, and what was the involvement with your company?
We've long used the phrase "Whil is the Netflix of well-being" (a phrase we borrowed after one of our global clients coined it). Since the outset, we've showcased dozens of top trainers. Despite being a power user of our platform, you saw fit to tell TechCrunch "We're the first app with a Netflix/Spotify model—we introduce dozens of leading meditation teachers from around the world onto one platform." While these may be hard to trademark, it appears that you continue to co-opt claims big and small in your ongoing blog posts and interviews.
In our opinion, you've made it a simple habit to lift entire designs, business models and approaches from other companies, including ours. That doesn't feel great to the talented people at Buddhify and Whil, who have spent years bringing our ideas to life. Your quick-copy approach knows no bounds, ranging from deep UX to seemingly basic advertising.
At each step you've done interviews taking credit for all of "your ideas." You say you created Simple Habit because of the intense pressure of being in your first startup for two years. Ms. Kim, imagine the pressure on those who actually did the work.
Despite the less than ideal appearance on Shark Tank, you quickly confirmed the hosts' concerns of your self promotion intentions. Within hours, your website read "As seen on Shark Tank." In several follow-up interviews and articles, you shared how your meditation practice helped you stay calm during two crying episodes on the show. Your ability to bend reality to manufacture excellent publicity is truly impressive. But one must pause to ask: where's the integrity?
Hiding and threatening legal action
Mr. Gunatillake and I have reached out on multiple  occasions about our concerns regarding Buddhify and Whil's products being improperly replicated. You've refused to meet or speak. Instead, you seem to have sent us each virtually identical notes:
A few of our teachers have explained to me that you've been 'reaching out' to them, and that you've tweeted some false and disparaging comparisons between your service and Simple Habit. I wish we could have been introduced under a better context, as I'm sure we have a lot in common personally and would get along brilliantly.

In regards to the screenshots that you've posted, I firmly believe that there's nothing proprietary or unique to how we're using [insert borrowed features] …. I wanted to provide written reassurances to you that we did not copy your design, we're not plagiarizing anybody, and we simply both happen to be using [insert borrowed content and features].

I hope you understand our position, and ask that you take down your false and disparaging tweet—not only is it defamatory, it's against Twitter's Terms of Abuse.  I also ask that you cease to reach out to our teachers, who have expressed to me that they feel uncomfortable. Going forward, please reach out to me directly—I respect that we might disagree, and ask that you do the same.

Thanks, Yunha
Ms. Kim, cutting and pasting these kinds of notes can't feel good. The issue in your approach is clear.
Ms. Kim, you ended your Shark Tank appearance by saying "I'm not lying." It's an unusual and memorable phrase. Entrepreneurs are systematically ripped-off every day by people in other countries replicating their hard work to use it to enter the U.S. market. Bringing this approach into the wellness and well-being space doesn't feel like Simple Habit is trying to get along brilliantly.
In speaking with Mr. Gunatillake on this matter, he shared, "Our wheel-based interface has become somewhat iconic within the world of mindfulness apps. While imitation may be the sincerest form of flattery, we feel there is a clear point at which imitation become plagiarism. At Buddhify, we believe that the values and thinking of how we work is just as important as the app itself. Call me naive, but I believe that well-being companies should aspire to be better than the average startup. This experience has made us realize that our values have never been more important. It's inspired us to work on evolving our app even more, since our creativity and our heart can never be ripped off."
I couldn't agree more. When it comes to helping people, the world needs all the entrepreneurs in wellness that it can get. The more new ideas and competitors, the better. But the approach you continue to take does not feel like competition.
Being connected to a mindfulness practice, you may be familiar with three foundational beliefs. The first is do no harm. The second is that there is no pill form of mindfulness. It takes hard work and practice. You can only reap the benefits by actually doing the work. The third is the practice of not saying something unless it's true, necessary and kind. While I could certainly do better (we all can), that was my intention here.
On behalf of the Whil team, may we all bring more integrity to our work. And may we be grateful for the entrepreneurs that take the risks and lead the way by truly creating from nothing.
Joe Burton is the founder and CEO of Whil Concepts, Inc. ('Whil'), a digital training platform helping employees to reduce stress, increase resiliency and improve their sleep and performance. He's an entrepreneur in scientific well-being, former President of Headspace and spent fifteen years as a global COO in public companies. Joe is an alumnus of Harvard Business School and travels the world speaking on topics including disruption, culture, employee safety and mindfulness as competitive advantage.