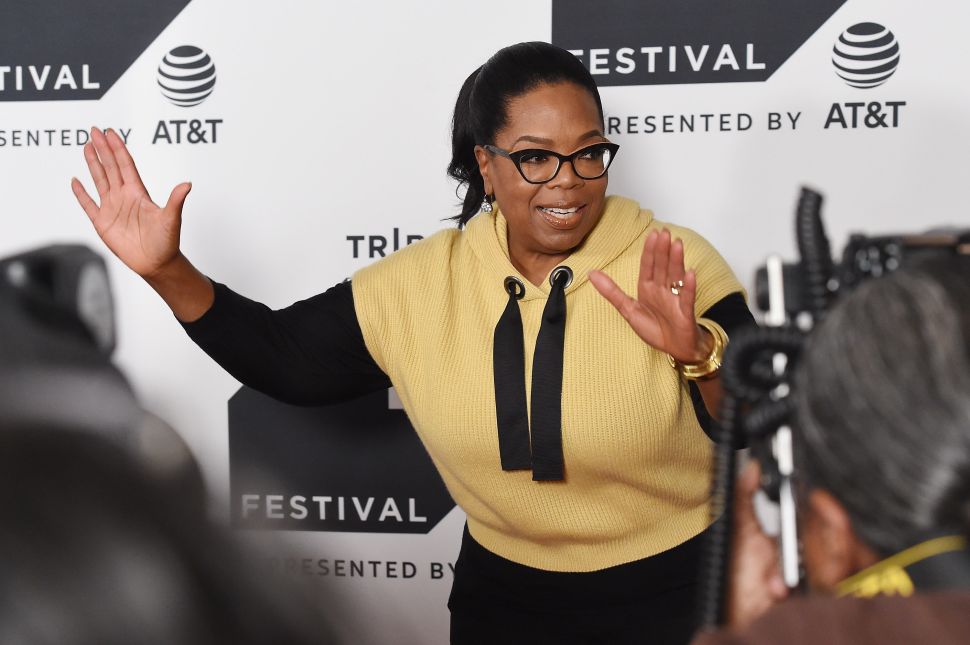 When her show was in session, getting a seat in the audience was like scoring a winning mega-millions lottery ticket.
For nearly 25 years, people clamored to be in the presence of Oprah Winfrey as she hosted her iconic talk show.
Many tried for years, but never got that coveted pass. Then this happened—an event hosted by the award-winning journalist that felt as though it was exactly like spending an hour in the audience of her now defunct show.
In a New York theater at the Tribeca TV Festival Oprah Winfrey was in the house, doing what she does best: holding court as she shares her latest passion.
At various points during the event, she was serious, funny and self-deprecating. She gave a shout-out to her best friend Gayle King, grabbed a microphone and came into the audience, and used her famous and immediately recognizable voice to say, in that sing-songy way that only she can, "Watch me on '60 minnnnuttttes!'"
But, just like an episode of her afternoon talker, this evening wasn't really about her personally. At this event, the focus was on her new TV series, Released, which airs on her network, OWN.
In 45-minute episodes, the show presents autobiographical portraits of formerly incarcerated inmates, starting from when they walk out of prison for the first time. The narrative follows their first 90 days of freedom as they each attempt to rebuild their lives and reconnect with loved ones.
"I'd read an article in the New York Times titled something like 'After Prison, What Next?' and what struck me was that there was this man who got out and was so shaken by just going to a Denny's restaurant to eat. He was rattled by the knives and forks, and women," said Winfrey. "So, I started to think about what would happen if we were able to tell that story, to gather together men and women and look at their lives after coming home; humanize them in such a way that we would come to know them as people who were trying to make it on the outside."
She added, "Mass incarceration is close to my heart, because redemption is possible for almost everybody."
To help with the project she enlisted Shaka Senghor as a Consulting Producer. Senghor, who spent 19 years in prison for second-degree murder, is the author of the New York Times best-seller Writing My Wrongs. Since his release, Senghor has become one of the most prominent faces of a celebrity-backed national initiative called #cut50, which is seeking to cut the staggering two million-strong American prison population in half over the next 10 years. His TED talk has over a million views.
Winfrey said that after reading Senghor's book she had to interview him and discovered that, "I've done 4,589 shows, I've interviewed over 37,000 people one on one, and Shaka was one of the best."
Senghor says that he realizes much of the population might brush off this issue but hopes that many people won't, saying, "We have to consider that over 90 percent of people incarcerated will at some point be coming home. As humans, we're frail, we're fragile, we make poor decisions. No one wants to be judged for the rest of their life based on some decisions."
Showrunner Keaya Braxton reiterated Senghar's thoughts saying, "The first thing you know about [these people] is that they have a criminal background, so we worked to help our audience move through that and find something deep to connect to and identity with."
She hopes that the experiences that the production team shared with their subjects will translate to the show. "Everyone's release day was incredibly powerful. We stood outside with the families and waited, feeling that excitement and anxiety building. We were as invested as they were. We rode that wave with them and people who watch will too."
To be true to the narrative, executive producer Jon Sinclair says that the production team worked hard to tell the real stories, struggles and all, of the people involved, "It's really stepping back and allowing the moments to be real. In this show, for these people, getting a driver's license is a very big deal—it's freedom. We show what it's like to get a suit and go for a job interview. Then there's getting a job and taking on more responsibility. It's all very real."
Senghor says the series is a very accurate depiction of post-prison life. "It validated a lot of the feelings that I had. You come back to a world that you've been gone from for two decades and it's a very different world and many people just don't understand that feeling. Inside [prison] you don't have all those choices. For example, for the first two years after I was out, I ate chicken wings and fries because there were just too many choices and I couldn't decide."
Discussing the overall message of the series, Sinclair added, "There are giant issues in here that we need to look at as a society and ask ourselves: 'Are we ok with that?' Is this how we want to treat these [people] who, according to the law, have done their sentence and who just want to come home?' They just want to get back to life."
One of the series' subjects, who was there for the event, shared with the audience, "There's this honeymoon phase when you get out…" (at which Oprah quipped, "I think we've established that it should be called the Chicken and Waffles phase.") "But the thing to remember," he continued, "is that this is about real people, and there are no throwaway people." Oprah, in the way that Oprah can, nodded in agreement, giving him not only the platform, but the support to share his story, and allowing others an avenue through which to access voices rarely heard.
'Released' airs Saturday nights at 10/9c on OWN. Episodes can also be streamed at Oprah.com.
Anne Easton is a West Coast-based writer for Observer. She's an Emmy-award winning writer and producer who has worked in news, sports and children's television for FOX, ABC/Disney and the ReelzChannel. Follow her on Twitter at @anne_k_easton.
More from Anne Easton: 
Trevor Noah Says Comedy Helps the Country Cope With Polarized Politics
Trump May Now Be Brunt of Jokes, But Thankfully Will & Grace Hasn't Changed 
Mariska Hargitay and Brooke Shields Will Duke It Out On New Law & Order: SVU
Larry David Talks Trump, Turning 70 and Being A Quitter