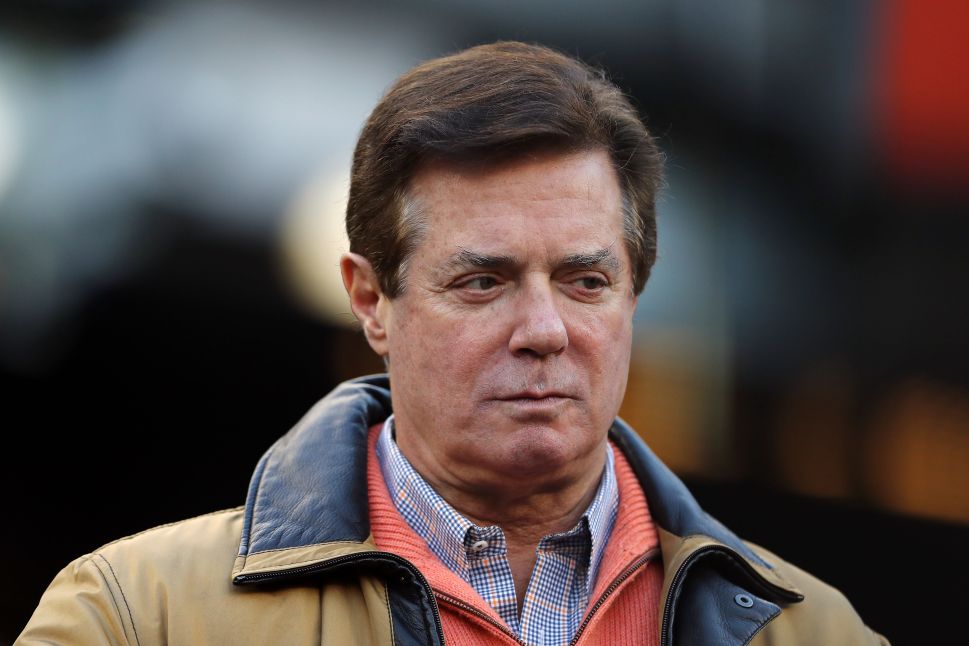 Former Trump Campaign Manager Paul Manafort surrendered to federal authorities on Monday morning. At 8:15 a.m., escorted alongside a federal agent, Manafort walked into the F.B.I.'s field office in Washington D.C. with his lawyer. The Justice Department released its indictment later in the morning.
The 12 counts against Manafort include "conspiracy against the United States, conspiracy to launder money, unregistered agent of a foreign principal, false and misleading FARA statements, false statements, and seven counts of failure to file reports of foreign bank and financial accounts."
The indictment says "more than $75,000,000 flowed through offshore accounts" and that Manafort laundered more than $18 million to buy property, goods, and services in the United States (which he concealed from the Treasury and the Justice Department). Foreign corporations, partnerships, and bank accounts were all tools Manafort used to form a massive operation that aided Eastern European political operatives, most notably the pro-Russian former Ukrainian President Viktor Yanukovych.
Rick Gates, Manafort's former business associate, was also charged. Gates' name appears on documents linked to companies that Manafort's firm set up in Cyprus to receive payments from politicians and businesspeople in Eastern Europe. Unlike Manafort, Gates remained in Trump's orbit during the general election, working on joint fundraising and coordinating with the Republican National Committee even after Manafort was ousted as head of the campaign in August.
Though the indictment makes no reference to the Trump campaign's alleged collusion with Russia, it does represent a serious escalation in Special Counsel Robert Mueller's investigation. As Republicans jockey to use the probe's pricetag as a foil, tangible results like Manafort's indictment erode the talking point of the probe being a partisan witch-hunt, especially since Clinton-affiliated lobbyists who worked with Manafort are also under investigation. Such a massive web of fraud leaves previously undetected operations vulnerable. Manafort's indictment isn't a standalone ending- he is the first political casualty in a longer narrative of compromised global networks.