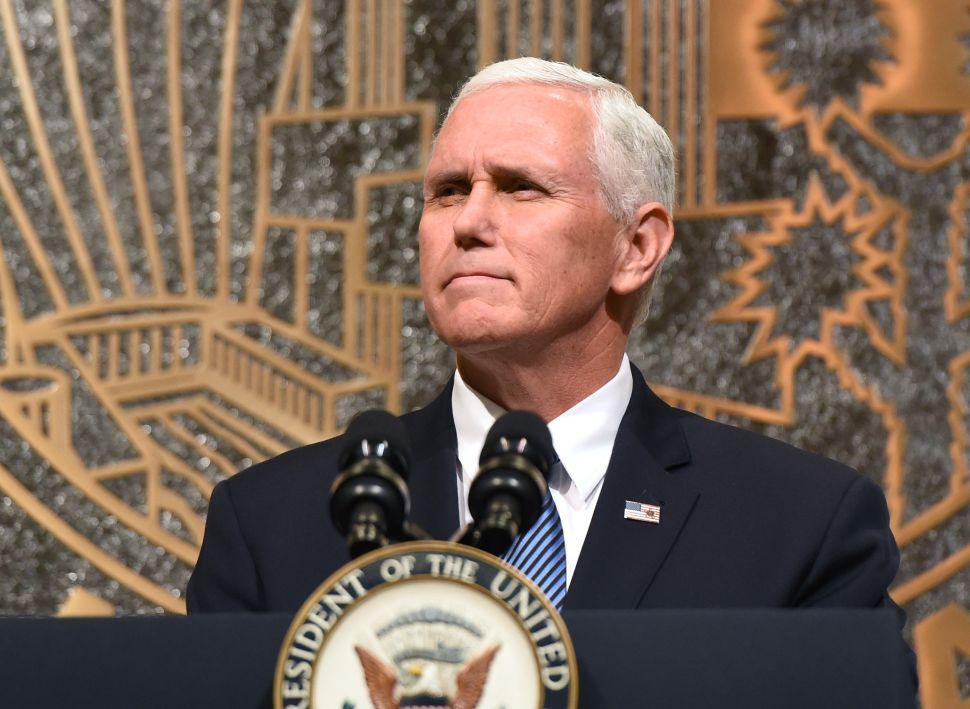 Mike Pence's walkout stunt carried a hefty pricetag for taxpayers. On Sunday, the Vice President flew to Indianapolis for a Sunday football game between the Indianapolis Colts and San Fransisco 49ers. He stood for the national anthem as players kneeled, had his photo taken, and then immediately left.
Estimates show that this stunt could have cost tax-payers close to $250,000. According to the Air Force, flying a C-32 (the plane Pence chartered) for one hour costs about $30,000. Pence's flight from Las Vegas to Indianapolis the night prior clocked in at three hours and 20 minutes, translating to roughly $100,000.
On Sunday, Pence flew from Indianapolis to Los Angeles, a trip lasting four hours and 45 minutes that equates to about $142,500. In total, without factoring the cost of advance personnel, Secret Service, or support on the ground, this adds up to $242,500.
The Republican National Committee is expected to cover some of the costs since Pence was attending a fundraiser in Beverly Hills. The Vice President reportedly met with real estate developer Geoff Palmer and House Majority Leader Kevin McCarthy during a reception for donors.
At Sunday's game, the traveling press pool was instructed to wait in their van. Upon arriving, Pence tweeted a photo of himself and his wife, Karen Pence, that was actually a photo from 2014. After standing for the National Anthem and then immediately leaving the game, Pence tweeted that he wouldn't "dignify any event that disrespects our soldiers, our Flag, or our National Anthem." He later made a photo of himself standing for the National Anthem as his Twitter banner. 
President Donald Trump, tweeting from the Trump National Golf Club in Sterling, VA, said that he had asked the Vice President to leave the stadium.
The Vice President's Sunday walkout is part of the ongoing war between the Trump administration and the NFL. Pence's walkout, mostly recognized as a PR stunt, demonstrates how taxpayers are often the ones footing the bill for partisan warfare. Separating the responsibilities of the executive branch from its members' political intentions is difficult, and is mostly subject to the President's interpretation. For now, the American people, regardless of party affiliation, will have to endure more political theatrics.
Unlike the Vice President, we can't just leave the play.