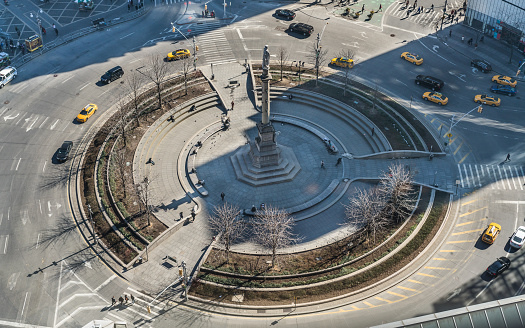 A group of Italian American and Catholic organizations rolled out a list of 54 elected officials and candidates for office in New York City who want to keep the Christopher Columbus statues in the city.
The 41 groups — which include the Columbus Citizens Foundation, Italian American Museum and the New York State Commission on Social Justice — said their supporters include Senate Minority Leader Charles Schumer, Gov. Andrew Cuomo, Public Advocate Letitia James, City Comptroller Scott Stringer, GOP mayoral candidate Nicole Malliotakis, independent mayoral candidate Bo Dietl and Democratic mayoral candidate Sal Albanese, a former Brooklyn councilman who is now running on the Reform Party line.
Mayor Bill de Blasio has appointed a special commission that is reviewing all city monuments and will recommend whether any should be removed due to their offensiveness. The Columbus Circle statue of the famed explorer is under review and the City Council speaker, Melissa Mark-Viverito, has said it should go. Critics cite Columbus's legacy of violence against native populations.
The coalition sent out roughly 140 letters with a one-question survey asking respondents whether they are in favor of or against the retention of the Columbus statues throughout the city.
"I think the message is pretty clear as to what should happen vis-a-vis the Columbus statue," said Philip Foglia, founding director of the Italian American Legal Defense Fund. "And we're also proud to announce that this is not an ideological issue. If you look at the people who have answered our survey, it cuts across the entire political spectrum."
The supporters include a total of 23 Democrats, 19 Republicans, four Conservatives, three from the Reform Party, two from the Working Families Party, one from the Green Party and two from the Women's Equality Party.
Democratic supporters include Manhattan Borough President Gale Brewer; Brooklyn Councilmen Vincent Gentile, Chaim Deutsch, Mark Treyger and Alan Maisel; Staten Island Councilwoman Debi Rose, Bronx Councilmen Ritchie Torres and Andy King and Manhattan Councilwoman Margaret Chin.
Republican supporters include Staten Island Councilmen Joseph Borelli — who led a rally in support of keeping the statue — and Steve Matteo; Staten Island Borough President James Oddo; and J.C. Polanco, the GOP candidate for public advocate.
A number of candidates for various New York City offices were also listed among supporters, including acting Brooklyn District Attorney Eric Gonzalez; Justin Brannan, who won the Democratic primary for the seat held by Gentile; Bronx Assemblyman Mark Gjonaj, the Democratic candidate for the seat held by Bronx Councilman James Vacca; and Bronx State Senator Ruben Diaz Sr., a conservative Democrat who won the Democratic primary for the seat held by Bronx Councilwoman Annabel Palma.
Angelo Vivolo, president of the Columbus Citizens Foundation, which sponsors the Columbus Day Parade, said his group is not a political organization but is merely trying to educate the public.
"We are not a political organization," Vivolo said. "We are just Italian Americans who believe in our culture and heritage and we're here to preserve that and we wanna make sure that our voices are heard, like any other ethnicity."
Vivolo maintained that they are not against having an Indigenous People's Day but would like to see it held on a day other than Columbus Day.
He also said that he is not attending de Blasio's Columbus Day event at Gracie Mansion and that he doesn't anticipate the event will draw a large crowd. And he added that he will still be participating in the Bronx Columbus Day Parade.
"I think the commission has heard us loud and clear," he said. "I don't think we need to reach out to them … they've heard about our position so hopefully they will heed our word and act appropriately."
The violence from a white nationalist rally in Charlottesville, Va., ignited a movement across the country seeking to remove statues, monuments and markers bearing the names of Confederate generals.