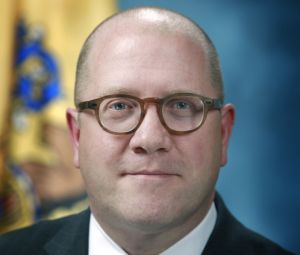 State Attorney General Chris Porrino is suing Mahwah Township and its council, alleging that the Bergen County town tried to keep out-of-state Orthodox Jews from moving in by passing two discriminatory ordinances.
Porrino charged that the township council sought to halt an unwanted "infiltration" of Orthodox Jews by passing a measure to ban non-New Jersey residents from using the town's parks, and a separate measure effectively barring the posting of plastic strips called "lechis" on utility poles that mark boundaries of an eruv used by Orthodox Jews. The nine-count complaint also challenges actions the township took to remove an existing eruv.
A representative from the township declined comment.
In announcing the lawsuit Tuesday, Porrino compared Mahwah officials to 1950s-era white suburbanites who sought to keep blacks from moving into their neighborhoods. The state charges that the Mahwah council was largely influenced by anti-Orthodox-Jewish sentiment expressed by residents when passing the ordinances. The state charges that the measures were meant to stem the flow of Orthodox Jews moving in, particularly from neighboring Rockland County, New York.
"In addition to being on the wrong side of history, the conduct of Mahwah's township council is legally wrong, and we intend to hold them accountable for it," Porrino said in a statement. "To think that there are local governments here in New Jersey, in 2017, making laws on the basis of some archaic, fear-driven and discriminatory mindset, is deeply disappointing and shocking to many, but it is exactly what we are alleging in this case. Of course, in this case we allege the target of the small-minded bias is not African-Americans, but Orthodox Jews. Nonetheless, the hateful message is the same."
The state is asking the Superior Court in Bergen County to block both ordinances and to claw back $3.4 million in state Green Acres grant funds given to Mahwah to promote open space, arguing that Mahwah's ordinance banning out-of-state residents from using those parks, passed in June, breaches the Green Acres funding contracts. Department of Environmental Protection Commissioner Bob Martin said the use of lands acquired under the Green Acres Act cannot to be restricted on the basis of religion or residency.
In July, the Mahwah council expanded an ordinance that had previously banned signs on utility poles to include prohibiting the posting of "any … device or other matter" on a utility pole, shade tree, lamp post or other public structure or building in Mahwah, according to a news release from the Attorney General's Office. That amendment effectively barred Orthodox Jewish residents from affixing lechis to utility poles to mark the boundaries of the eruv, a designated area where Orthodox Jews may push or carry objects during the Sabbath and the Jewish holiday of Yom Kippur, the state claims.
The legal action announced Tuesday is the second high-profile lawsuit filed by Porrino in recent weeks. He filed a four-count lawsuit on Oct. 5 against the drug company Insys Therapeutics, accusing it of an "evil" scheme to boost sales of a fentanyl painkiller.
That lawsuit alleges that Insys instructed its sales team to have doctors prescribe the drug "Subsys" for all types of chronic pain, even though it was just approved for cancer patients. The Attorney General's Office also claims the company created false records to get insurers to pay for prescriptions for people who didn't need the drug.