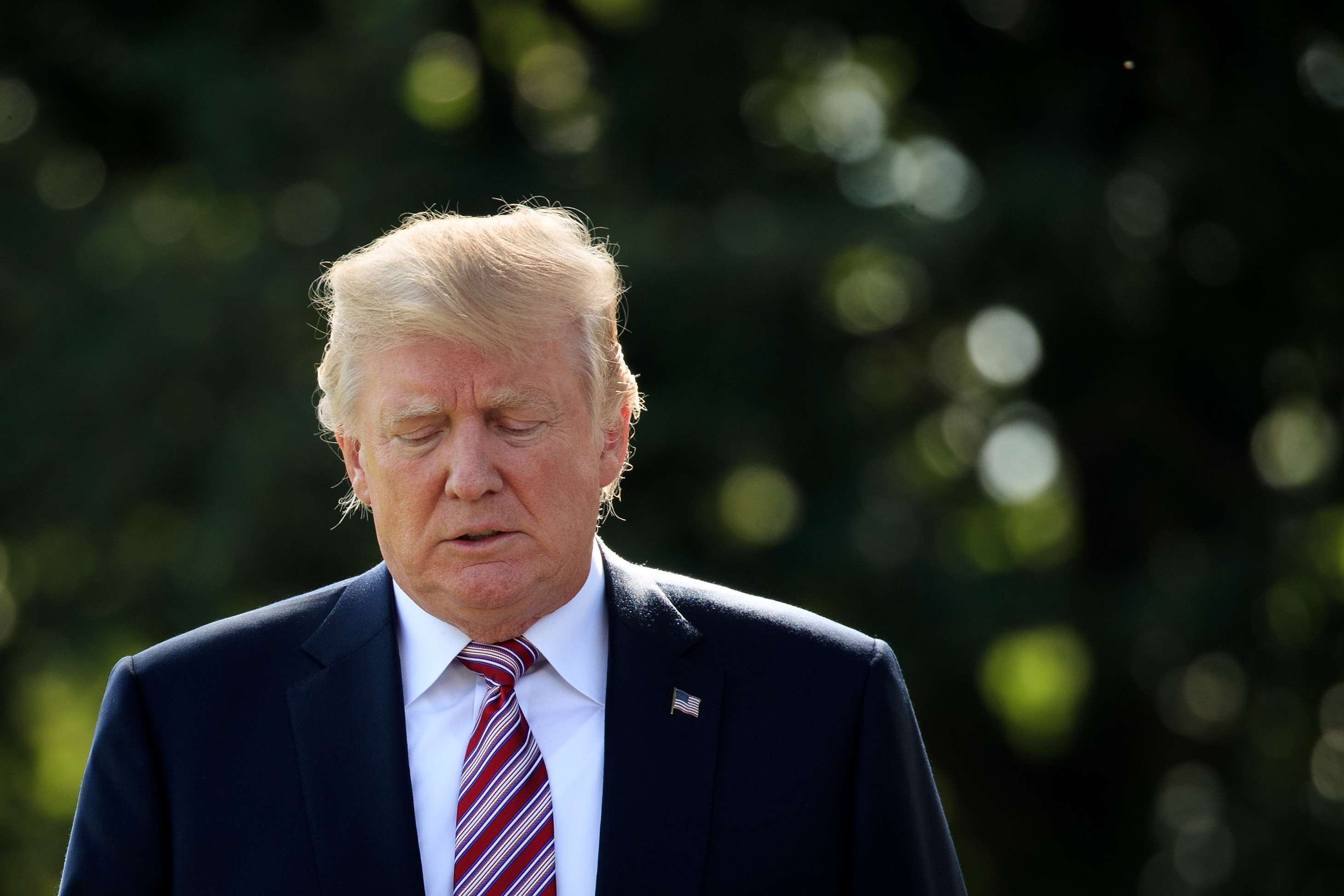 As Saturday Night Live crossed midnight, it technically and spiritually became the weekend's first Sunday morning political talk show when Weekend Update co-anchor Michael Che spoke directly to amateur President Donald Trump.
"You bitch," he said to Trump on NBC. "You cheap cracker."
Che is a comedian and drew laughs, but many a true word was spoken in jest. Che was reacting to Trump's hurling of insults at San Juan Mayor Carlin Yulin Cruz, who begged for more help after Hurricane Maria devastated Puerto Rico.
Among other things, Cruz said last week, "If anybody out there is listening to us, we are dying and you are killing us with the inefficiency and the bureaucracy." This came despite Trump's bragging in Washington about the great work he was doing.
Many people on the island of 3.5 million American citizens need food, water, shelter, communications and electricity. Many have brown skin and speak Spanish.
"They want everything to be done for them," wrote the large, loud, bellicose, 71-year-old, orange-faced, yellow-haired chief executive in one of his Twitter farts on Saturday.
Another Trump tweet on Sunday called Puerto Rican officials who want more help "politically motivated ingrates."
This sort of stuff offends Che.
"This isn't that complicated, man," Che said to Trump. "It's hurricane relief. These people need help. You just did this for white people twice. Do the same thing. Go tell Melania to put on her flood heels."
Trump's wife, Melania, wore high heels when she left the White House last month en route to Houston with her husband to offer sympathy to victims. They also visited hurricane sites in Florida. On Tuesday, the Trumps are to go to Puerto Rico, almost two weeks after the destruction.
Critics like Che charge that Trump has shown relatively little interest in Puerto Rico while spending the past week starting and worsening a bitter feud with black professional athletes in the U.S.
Trump says they disrespect the flag, the national anthem and the military when they make one-kneed genuflections during the pre-game song to protest racism in America—in particular, police killings of African-Americans.
Such a player, Trump said, is a "son of a bitch." Che sees a pattern.
"It's like when anybody darker than your golf pants has a problem, you're thinking 'How can I make this worse?" Che said.
This alluded to Trump's support in August for "some fine people" who marched alongside neo-Nazis, neo-Confederates and white supremacists in a Virginia rally about a Robert E. Lee statue that left one female protester dead.
Also in his first year, Trump has attacked Muslims, Mexicans and the media.
Other Sunday shows offered takedowns of Trump. Some reactions did not need to be heard. On ABC's This Week with George Stephanopoulos, panelist Alex Castellanos referred to the mayor as a panicking swimmer.
As he spoke, the director of the telecast cut to a reaction shot of fellow panelist E.J. Dionne of The Washington Post. His jaw literally dropped. Perhaps he was thinking of last week's video that showed the young mayor wading in waist-deep water in a street helping her fellow American citizens.
On NBC's Meet the Press, Treasury Secretary Steven Mnuchin showed up to push Trump's plan to cut taxes for the wealthy. But host Chuck Todd first asked him, "Why does the president think Puerto Rico's not doing enough to help themselves?"
When Mnuchin didn't answer it, Todd pressed.
"Why did he attack the mayor?" Todd asked Mnuchin. "She's in a desperate situation. It seemed to lack a little bit of empathy."
Mnuchin gritted his teeth and gave a stock Trumpist reply from the script of Kellyanne Conway.
"As you know, when the president gets attacked, he attacks back," Mnuchin said. "And I think the mayor's comments were unfair."
On CNN, host Jake Tapper asked budget director Mick Mulvaney to explain Trump's insult.
"What, exactly, does President Trump mean when he says 'They want everything done for them?'" Tapper asked. "Who's 'they' and what is the 'everything they want done for them?'"
Mulvaney smiled.
"I think what the president is trying to get at is folks think this is going to be easy," he said.
Tapper then read a message from conservative critic Erik Erikson, who mocked Trump for his display of contempt for the female mayor.
"What a man he is!" Erikson wrote.
Tapper next asked Mulvaney about Trump's tweets.
"Can you understand why some Americans see these tweets from the president and feel revulsed?" Tapper asked.
Mulvaney didn't really answer, but what he said revealed the kind of put-upon attitude infecting the White House.
"I work in the Trump administration, Jake, and I've known from Day One there's folks who want to see this administration fail," Mulvaney said.
Later in the show, panelist Bakari Sellers of CNN spoke of "this trope that, somehow, Puerto Ricans are lazy… this is who the president is… There is an animus toward people of color. And poor people… There is a disdain and animus that come from the leader."
Later, the same network showed perhaps the best moment of the day on Reliable Sources when host Brian Stelter played another clip from SNL in which actor Alec Baldwin played Trump talking on the phone to the San Juan mayor.
"TRUMP" (in golf shirt): "We want to help you, but we have to take care of America first."
"MAYOR": "Wait. You do know we're a U.S. territory, don't you?
"TRUMP" (contorting face, pausing uncomfortably): "I mean, I do. But not many people know that."
Back on set, Stelter spoke with his guest, Edwin Melendez, director of the Center for Puerto Rican Studies.
"That's a joke, Edwin," Stelter said. "But does it sum up how people really feel?"
Melendez smiled.
"Sometimes," he said, arching his eyebrows, "a joke is the best way to approach reality."
Joe Lapointe spent 20 years as a sports reporter for The New York Times and worked as a segment producer for Countdown With Keith Olbermann. Recently, he has taught journalism at New York University, Rutgers and Long Island University-Brooklyn. follow him on twitter: @joelapointe
More by Joe LaPointe:
Propaganda Kings Limbaugh and Hannity Spew Trump-Approved Stories
Fox News Bros O'Reilly and Hannity Defend White Race Against NFL
Trump Fumbles Most Dangerous Plot Yet: A Cultural War He Can't Win