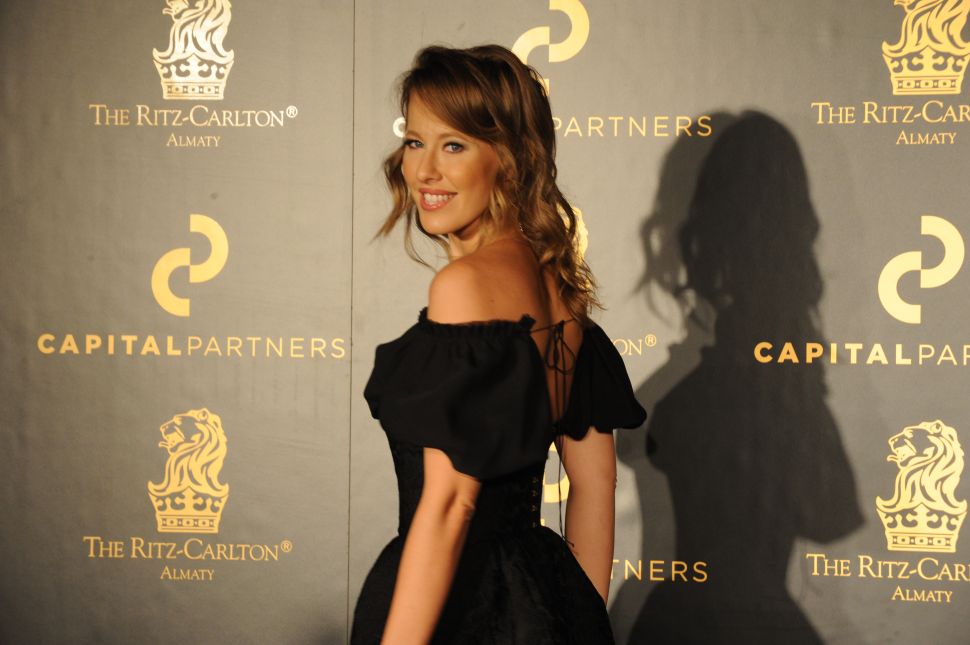 A reality television star, socialite, and former Playboy pin-up model declared her bid for Russia's presidency on Wednesday. In a YouTube video, Ksenia Sobchak, 35, announced her run against Russian President Vladimir Putin while portraying herself as an anti-establishment candidate who could give a voice to the opposition.
"You want to show your active position, but your candidate is not authorized to run? You don't have a candidate? Tick Sobchak," she wrote in Russian business daily Vedomosti. "You're just using a legal and peaceful opportunity to say 'Enough! I'm fed up with this!'"
Sobchak is the daughter of Anatoly Sobchak, the former St. Petersberg mayor who gave Putin his first job in politics after he left the KBG (Sobchak has declined accusations that she is Putin's goddaughter). Her mother, Lyudmila Narusova, serves in the upper house of Russian parliament.
Often portrayed as the Russian equivalent of Paris Hilton, Ms. Sobchak boasts her extravagant escapades to her 5.2 million followers on Instagram, which include champagne dinners, runway shows, and traveling the globe à la helicopter and private jet. Though she is a fixture of Russia's entertainment industry, in June 2012 Sobchak's apartment was raided by the armed police after she supported anti-Putin protests in Moscow on the eve of an opposition rally.
But even with her brief stint in activism, many critics have accused Sobchak of colluding with the Kremlin to secure an election-win for Putin by delegitimizing opposition groups.
"This is a loathsome Kremlin game that goes by the title of 'let's put a liberal laughing-stock up for the elections in order to distract attention,'" said Russian opposition leader Alexei Navalny. Navalny is currently serving 20 days in jail on protest-related charges and is ineligible to stand for public office.
Sobchak admitted that she had discussed running with Putin during a recent visit to the Kremlin.
"He said that everyone has the right to make their own decisions and that they must accept responsibility for them," Sobchak explained on Wednesday.
Although reality television emerged from Hollywood, it was architected into a political science by the Kremlin. Reality T.V-style campaigns of Putin propaganda went viral as the Obama administration clashed with Russia over the country's invasion of Georgia. Staged photo-ops, shared through social media, created a pro-Putin narrative that Westerners often satirized, even as the Russian leader expanded into Ukraine and committed mass human rights violations.
In November 2016, the same month that Donald Trump claimed victory in the U.S. presidential election in part due to Russia disinformation campaigns, the pro-Putin Chechnya President Ramzan Kadyrov launched a reality television show where contestants compete for a job in the Chechen government's department for strategic development. Earlier this year, reports of prison beatings and electric shocks committed by the Chechen government as part of a purge against gay men emerged.
Beneath the ridiculous facade of reality television lurks a totalitarian force using the platform to sustain dictators. In laughing at the audacious intersections of politics and entertainment, we encourage a world where genocide is reduced to satire.
Though Ms. Sobchak's run is self-serving, pumped with the same cookie-cutter "anti-establishment" rhetoric employed by U.S. Republican candidates, it undermines legitimate opposition to a totalitarian state. Laughing at Ms. Sobchak's campaign only boosts her brand while handing more power to the most powerful man in the world. Perhaps we can expect a political appointment to have a "voice of the opposition" represented at the Kremlin.