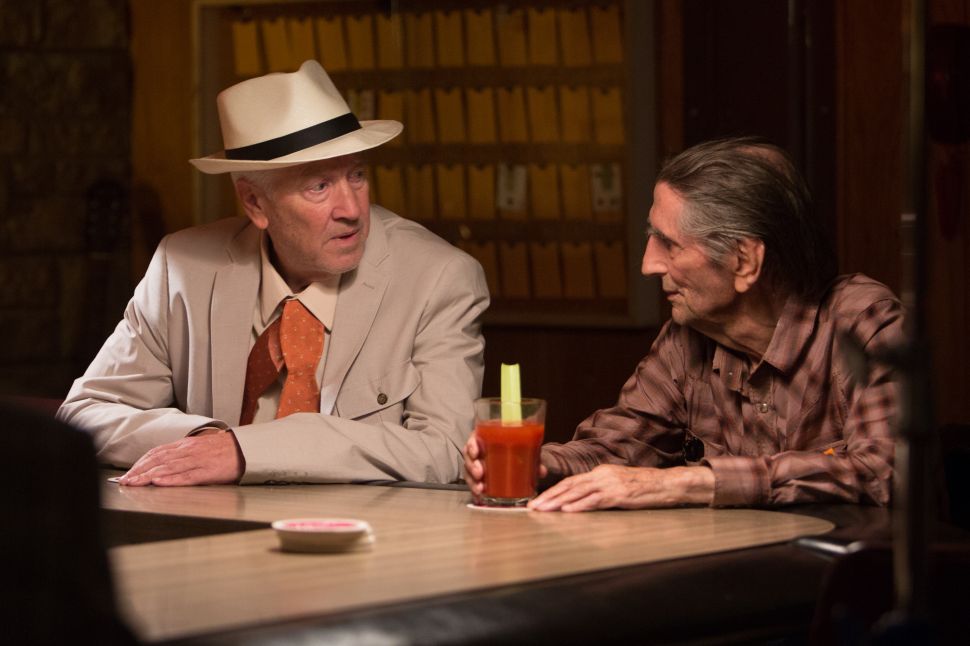 From his sagging chest to his liver spots and drooping eyes as he gets out of bed each morning, he's not a sight for sore eyes. Or maybe he is. In Lucky, he's not just another pretty face. But kudos are in order to salute Harry Dean Stanton, warts and all, in his final leading role, playing a cranky old curmudgeon very much like himself—one of the screen's beloved character actors who lived through a career of more than 60 years, and died on September 15, 2017 at age 91. The movie is so carefully observed and quietly calibrated as the old man moves from one scene to the next, as unobtrusive as a lap dissolve, that you can't tell Harry from Lucky, or vice versa, and it doesn't take long before you stop trying.
Lucky is not a film about action or events; it's an elegiac character study about growing old with the meter running and the soul growing lichens. Lucky's life has been so uneventful he worries that when he dies, Death might not even notice. All we know is that he's is a 90-year-old has-been turned never-was, living alone in the blistered butt-end of nowhere, somewhere in Arizona. His willingness to say nothing much and let his wrinkles do the talking would have a parched, frustrating effect from any other actor, but battered and bludgeoned by life and the weather, Stanton's face speaks volumes. While a harmonica plays "Red River Valley," he stumbles down the empty streets like a tumbleweed in an old Republic western, as broken as the concrete sidewalks. In his modest house, he passes the time drinking coffee, doing crossword puzzles and watching TV game shows, chain-smoking unfiltered cigarettes. He smokes a pack a day and even though his doctor says he doesn't have cancer, his cough grows until it sounds like a death rattle. Sometimes he ambles up to the bar at Elaine's Saloon for a Bloody Mary and listens to the rough rants of the owner (another been-around-town-before-and-I-know-the-score performance by two-fisted Beth Grant). The film follows closely on the heels of Hero, an overlooked gem with Marlboro Man Sam Elliott as a forgotten cowboy star with cancer—and a bigger payoff at the end. But whether it's Elliott or Stanton or Jerry Lewis in Max Rose, movies about old age do not spell big box office. I hope this one will be different. Harry Dean Stanton deserves better.
---

LUCKY ★★★
(3/4 stars)
Directed by: John Carroll Lynch
Written by:  Logan Sparks and Drago Sumonja
Starring: Harry Dean Stanton, David Lynch, Ron Livingston, Ed Begley Jr. and Tom Skerritt
Running time: 88 mins.

---
It's a slow film that establishes its premise (growing old is not for sissies) and then goes nowhere. Lucky waters his cactus in his underwear and a cowboy hat. At the bar, he shares stories with a retired marine (Tom Skerritt, who co-starred with Stanton in Alien) but it turns out Lucky never saw any active duty; he was a cook who spent World War II peeling potatoes. People come and go, like Ron Livingston as a sympathetic life insurance salesman who Lucky accuses of exploiting the fear and uncertainty of senior citizens, and David Lynch, who has directed Stanton in other films, as a bar buddy with a pet tortoise, and Ed Begley Jr. as Lucky's doctor who dispenses pills and false encouragement. All of them deliver with heartfelt sincerity in the kind of scenes that reveal internal vulnerabilities instead of broad character images. Nothing big happens, but director John Carroll Lynch zeroes in on the undeniable pathos and hidden feelings in Mr. Stanton's map-lined face. When the camera moves in for long, revealing close-ups the veteran actor's face as he sings "Volver Volver" at a Mexican child's birthday party, the effect is as touching and powerful as silent thunder.
It may not be big enough to win him a posthumous Oscar, but Lucky packs a really sensitive, understated, emotional wallop with its own unique built-in Lifetime Achievement Award for Harry Dean Stanton.
More from Rex Reed:
Tom Cruise Makes Another Formulaic Career Choice With 'American Made'
Jeremy Kagan's 'Shot' Is a Sobering Plea for Gun Control
Grim 'Last Rampage' Saved by Superb Acting
You Won't Be Bored by 'Battle of the Sexes'