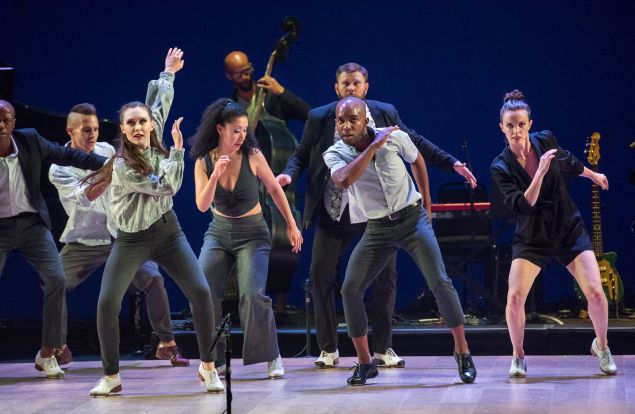 Another "Fall for Dance" has come and gone, and this was a good fall. Which means that the balance between real value, modest value, and junk was, to be realistic, as good as it's going to get. No thrilling revelations, but no utter disasters. (We can—and do—put up with longueurs.) This was the fourteenth year of FfD, and my fourteenth year of going to every program, which suggests some form of obsessive-compulsive disorder, but every dance critic follows his or her own inexplicable impulses: I have colleagues who happily go to lofts in outer Queens for folk-dance groups from the Baltics.
There's not meant to be coherence to any given season of Fall for Dance. The idea is to present five varied and interesting programs at super-bargain prices, and the idea works: every performance is sold out to ovating audiences. But some years you can't help noting recurring phenomena—everything in the dark, for instance. Or the smiling sickness. Or silhouetting. This year we had length—not everything went on too long, but almost everything did. The final ballet on the final night—Matria Etnocentria, performed by Danza Contemporanea de Cuba—went on so long (almost 40 minutes) that I felt like a refugee as I staggered up the aisle after the curtain finally came down. When a dance work has no essential structure—imposed either by narrative or music—it can go on as long as the choreographer indulges himself. The 25 dancers from Cuba were all strong, appealing, and committed—watching them crash around the stage in big groups and small had its appeal, even when a voiceover was chanting "Freedom…freedom…freedom." But that appeal withered as we grew older.
Gula, an ingenious solo created almost 25 years ago in Johannesburg by and for Vincent Mantsoe, is fascinating and impressive for its first four or five minutes. Then I, at least, had seen enough of a man impersonating a bird strutting, whistling, crooking his arms, etc. His focus never faltered, but mine did. The same held true for this year's Indian virtuoso, Sanjukta Sinha, of the Icecraft Dance Company. I confess that I'm less versed in Indian dance than many of my colleagues appear to be, but I do enjoy it sometimes, and Sinha (a woman of a certain age) is a vivid and commanding presence. But even though this piece, called Kin-Incede, is "an excursion into the parlays between love and longing," it becomes monotonous well before its allotted 20 minutes or so are up. Cuba, Africa, India—the same old rule applies: Less is more.
This proved to be true even of Michelle Dorrance's tap epic Myelinatian, an expansion of an earlier Fall for Dance work by her. Dorrance is a terrific dancer—witty, strong, happiest when making her audience happy—and she's surrounded herself with a superb group of tappers, almost all of whom are given dazzling moments in the sun. Always artistically ambitious, she's mixed in a big dose of modern angsty stuff—convincingly performed, yes, but the mix itself isn't always convincing. Even so, better an overlong and over-ambitious work by this important choreographer than the by-the-numbers classical ballet, Concerto Grosso (Geminiani after Corelli), by San Francisco's Helgi Tomasson. He's the boss, so whither his company goes, his ballets go too. Alas, they're formulaic and dry, and always have been.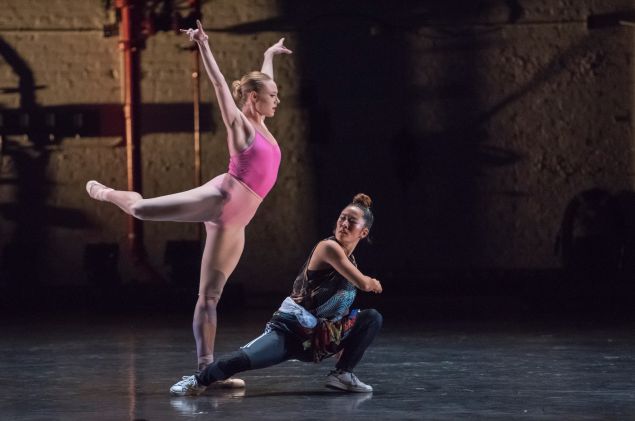 There were two short specialty acts featuring famous and beloved dancers. Mark Morris created a solo, Twelve of 'em, for the newly-back-from injury David Hallberg to music by Benjamin Britten—twelve very quick, clever, jokey piano variations. Hallberg looked relaxed and confident, and if he was having problems, you'd never know it; he and Morris were clearly having a good time. On a different program, City Ballet's Sara Mearns, always eager to expand her repertory, joined up with Honji Wang of Company Wang Ramirez in No.1—another jokey affair (ballet meets hip-hop) that worked, Mearns particularly appealing in pink. Both these pieces were commissioned by Fall for Dance, so hats off. (Another commission was Kyle Abraham's Drive. My hat stayed on.)
A welcome surprise was the newly reconstituted Pennsylvania Ballet under the direction of Angel Corella. The surprise wasn't the ballet—Christopher Wheeldon's Rush, a New York premiere although almost 15 years old, and as the title suggests, a lot of pell-mell rushing around. The surprise was how energized and carefree the 16 dancers looked after the company's difficulties of these last several years. Not a surprise was the galvanizing performance by the Hubbard Street Dance Chicago of a piece called Solo Echo by the very talented and interesting Crystal Pite. Dark, tumultuous, exciting (turbulent piano and cello music by Brahms), this work reinforced my high opinion of both choreographer and company. There were only seven dancers on stage, but their impact was large.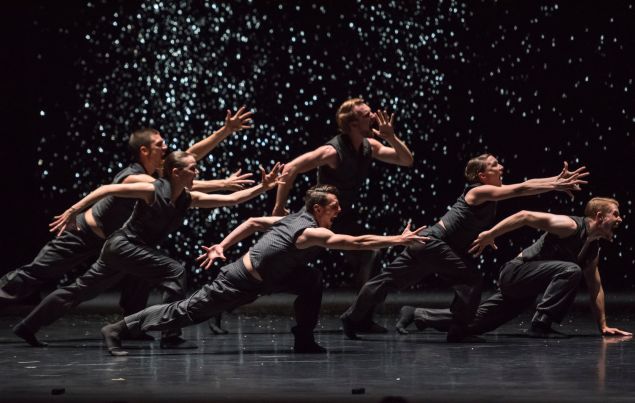 Some familiar works turned up. No need to describe ABT's offering, a rather tame Ratmansky ballet, Souvenir d'un lieu cher; or Open Door, a recent Latin-jazzy work by Ronald K. Brown for Alvin Ailey; or the post-modernism of bits by Yvonne Rainer and Steven Paxton; or Miami City Ballet's performance of Wheeldon's Polyphonia, possibly his best ballet, (though since I'm personally connected to the company, my lips are sealed). Less familiar, and pleasant if unriveting, was a mirror duet, You can see us, by Trisha Brown, which began life as a solo, If you couldn't see me. No harm done.
For the record: four companies dropped in at the City Center with lots of dancers and lots of overwrought dances. The Gauthier Dance/Dance Company Theaterhaus Stuttgart presented a new piece by the established choreographer Andonis Foniadakis, whose art I have deplored before; Ballet BC (that's British Columbia) with something called Bill originally created for Israel's Batsheva Dance Company—unbearable, and not just because of its stupefying length; CIE Art Move Concept from La Rochelle, France brought Nibiru, less intriguing than its title—anything goes in government-sponsored French dance; and a harmless and far from original tango work called Tango Fire from German Cornejo's Tango Fire (that's what it says)—sleek and derivative.
Finally—let's end on a high note—the Trocks swirled in with their glorious version of Paquita (Minkus/Petipa). They do it so well that all your memories of second-rate Paquitas fade away. The radiant star is Chase Johnsey (nom de dance, Yakaterina Verbosovich), an enchanting and brilliantly accomplished ballerina who happens to be male. Paquita was long, yes, but not a moment too long. You wanted it to go on and on….
Robert Fairchild Farewell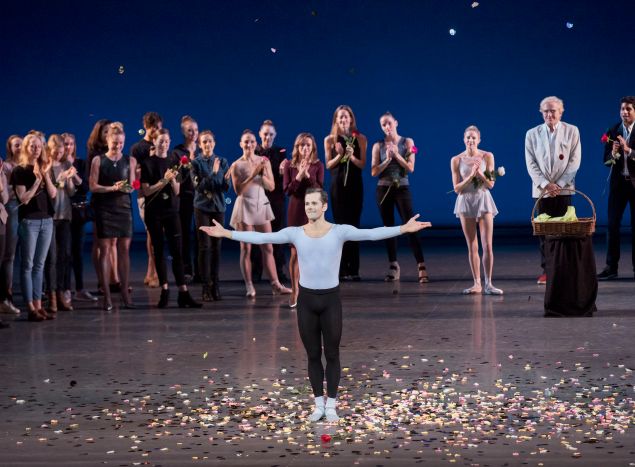 On the last night of the recent City Ballet season, the company threw one of its "Farewell to a Beloved Star" events, this time to mark the early retirement of one of its most popular dancers, Robert Fairchild. He's what? Thirty? From the start the public took to him, a very good looking guy in the Gene Kelly all-American mode, except without Kelly's edge. You couldn't understand why he wasn't in musical comedies—and then he was in musical comedies, or at least one: the hit Christopher Wheeldon show An American in Paris, which he played for many months both here and in London. (Note: it's a famous Gene Kelly role.) Soon he'll be in the Encores! production of Brigadoon.
In his dozen or so years with City Ballet, Fairchild appeared in a broad range of Balanchine and Robbins roles, as well as new ballets by Justin Peck, Alexei Ratmansky (the fascinating Namouna), and others. He may not have been the most advanced ballet technician—he was more effective in neo-classical works than classical ones—but he was always good to look at, and was always working hard.
He'll be missed.
For his final performance he chose to appear in Balanchine's beautiful Duo Concertant, created for the 1972 Stravinsky Festival for Peter Martins and Kay Mazzo. Fairchild has been dancing it with Sterling Hyltin, and the other night she was at her absolute peak—charming, expressive, playing daringly with the music. I've never seen this role performed better. Hyltin has grown and grown—perhaps not the strongest dancer in the company but certainly the most intelligent, with a perfect body for ballet and the will to continue working on each role until she's mastered it. Like Patricia MacBride and Darci Kistler before her, she pleases. And Fairchild, if very slightly nervous, gave a lovely performance as well. This is a partnership we're going to miss.
Earlier in the program came a ravishing interpretation of Balanchine's Square Dance, with Ashley Bouder and Taylor Stanley. Bouder began as a powerhouse 17 years ago—wham, bang, get out of my way! But Square Dance demands elegant phrasing, lightness of touch, springiness as well as commanding technique. And because she's so strong, Bouder can provide all those qualities with ease: the challenges are comfortably met and never seem pushed. For whatever reasons—natural evolution, motherhood, good coaching (no, not at City Ballet)—she's moved into a glowing phase of her career. And in Taylor Stanley she's found an ideal partner for this neo-classical masterpiece. His natural grace and expansiveness are revealing themselves, presaging (we hope) a major career.
Preceding these triumphs was one more unsatisfactory performance of La Valse—elegance and subtlety replaced by tawdry glitz. (The late Karinska should be suing over what's been done to her exquisite costumes.) And before that, a so-so performances of one of Balanchine's weakest ballets, Cortège Hongrois, created 1973 to honor another retirement—Melissa Hayden's. This was Balanchine's fourth use of the Glazounov score for Raymonda, and most of it is pro forma. Why City Ballet drags it out—hideous costumes and all—every few years, is one of the mysteries. I've certainly never heard of any other company doing it.