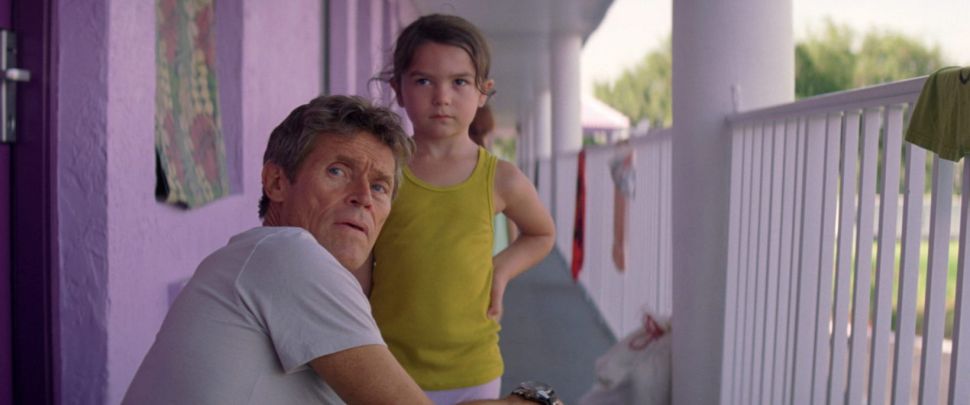 After you pay your money and walk through the gates of Disney World, you enter another planet—an alternate universe of wonder, magic, entertainment and science where anything is possible and everything exists to enrich and enhance your life forever. You forget for a little while the hideous reality and endless misery that lurks just outside the gates and in the suffocating environment that surrounds the place. This is the world director-writer-producer-editor Sean Baker examines with the precision of a hunting knife in The Florida Project, a depressing and uncompromisingly bleak look at the crime and poverty that flourish in the marginal lives of people in Orlando who would otherwise never have entered the mind of Walt Disney, except in nightmares.
The Florida Project is set on the trashy outskirts of Disney World in a place called Kissimmee, a grim community along a highway of automotive repair shops, fast-food franchises and garishly painted shops shaped like oranges and ice cream cones that are seen only by tourists when they're running out of gas or looking for a discount parking lot. The film follows the daily routines of a group of impoverished residents in a crummy low-rent motel and their bored, obnoxious and unsupervised children. The centerpiece is a six-year-old girl named Moonee, whose trashy, irresponsible, tattooed, chain-smoking mother Halley works as a thief and a prostitute to pay for junk food and cable TV. Moonee and her friends pass the time during what they call their summer vacation (there's no evidence that they ever go to school, in the winter or any other time) escaping from their bedbug-infested purple motel called the Magic Mountain in pursuits that include disconnecting the power and plunging the other residents into darkness, tossing dead fish into the swimming pool, breaking into abandoned buildings, burning down a housing project and covering automobiles with spit. To stave off boredom, they stage burping contests. It's not a pretty picture and nothing ever happens to bring it to life until you realize that's exactly what director Sean Baker intends. The lethargy has a purpose of its own, and even when the documentary style threatens to overwhelm the viewer with a tedium stronger than the film itself, you cannot avoid the heartbreaking dead-end hell little Moonee faces, possibly forever. Eventually The Florida Project (the working title Disney gave to his dream in its planning stages on the drawing boards) sucks you into a world you would never otherwise know anything about.
---

THE FLORIDA PROJECT ★★★
(3/4 stars)
Directed by: Sean Baker
Written by: Sean Baker, Chris Bergoch
Starring: Willem Dafoe, Bria Vinaite, Brooklyn Kimberley Prince and Valeria Cotto
Running time: 95 mins.

---
Arresting performances from a cast of non-professionals who never seem intimidated by the camera—especially child actress Brooklyn Kimberley Prince as the irrepressible Moonee and Bria Vinaite as her desperate, clueless mother Halley—provide balance, along with the invaluable assistance of Willem Dafoe as Bobby, the exasperated and exhausted motel manager and handyman who tries to follow the rules, maintain discipline and impose a kind of ragtag order among the residents. The impression is a disturbing film of energy and compassion that left me with an inescapable sadness, from which director Baker offers no way out. Critics may rave and arthouse patrons might venture forth out of curiosity, but I doubt if there's much of a commercial future in store for The Florida Project. In the end, when Moonee's mother is finally taken into custody and the confused and hysterical child is being packed up and sent away to foster care, she escapes herself—into the overflowing crowds and forbidden fantasy of Disney World at last. What awaits her, I'm afraid, is another cruel reality from which no escape is really possible—including the limited appeal of a movie facing the risk of box-office doom.
More from Rex Reed:
Smith Brothers' Thriller 'Walking Out' Will Have You Glued to Your Seat
'The Mountain Between Us' Stars Separated by Miserable Lack of Chemistry
Justin Long Deserves Much Better Than Trite 'Literally, Right Before Aaron'
Jeremy Kagan's 'Shot' Is a Sobering Plea for Gun Control
Grim 'Last Rampage' Saved by Superb Acting