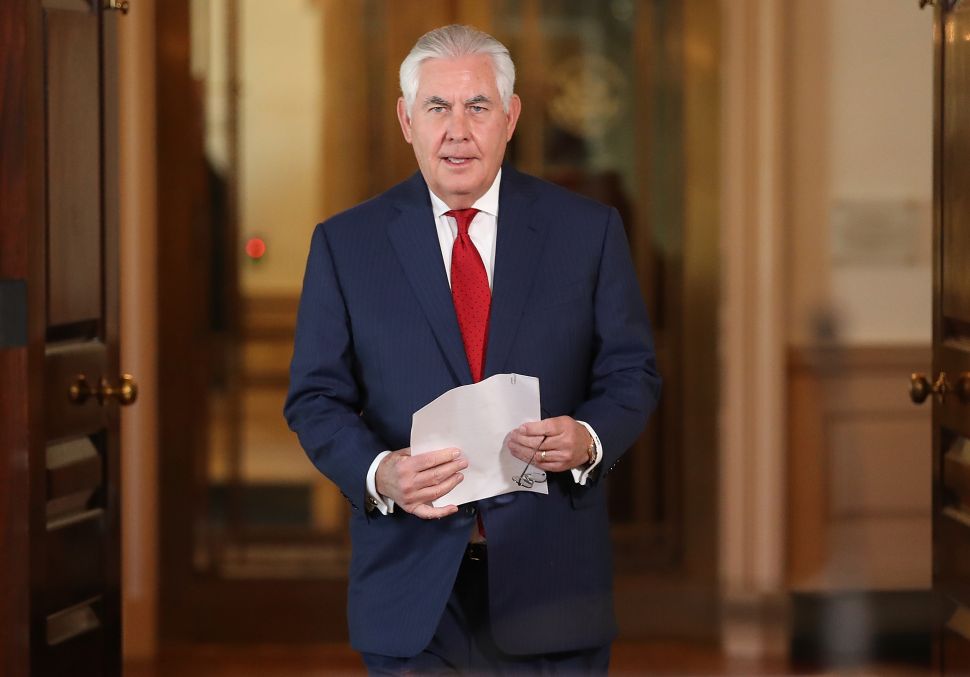 On Monday, Secretary of State Rex Tillerson addressed reporters over claims that he called President Donald Trump "a moron" and threatened to resign this summer. NBC first reported the story in the morning, citing frequent clashes between Tillerson, the President, and key White House officials over foreign policy issues surrounding Iran and Qatar. The Secretary of State's comments were allegedly uttered following a July 20 Pentagon meeting with Cabinet officials and Trump's national security team.
After praising progress made with North Korean sanctions and ISIS, Tillerson dismissed resignation rumors as "erroneously reported."
"While I'm new to Washington, I've learned that there are those who sow dissension to tear people apart."
Sources told NBC that Vice President Mike Pence and White House Chief of Staff John F. Kelly had to coax the Secretary into staying with the administration.
"The Vice President has never had to persuade me because I have never considered leaving my post," Tillerson told reporters. "I'm not going to be part of the efforts to divide this administration."
Tillerson's remarks reaffirmed the Secretary's faith in the President following a series of tumultuous public clashes between the two men.  In August, Tillerson told Fox News Sunday that "the President speaks for himself" after Trump blamed "both sides" for the deadly attacks in Charlottesville carried out by white supremacists.
Last weekend, the President undermined the Secretary's negotiations with North Korea, tweeting that Tillerson was "wasting his time trying to negotiate with Little Rocket Man…"
Before and after Tillerson's remarks, the President tweeted that NBC was "#FakeNews," uniting both parties against the media. Whether or not their statements are merely to maintain appearances, with resentment percolating underneath, will become evident as they continue executing statecraft with far-reaching consequences.
The NBC story is also a microcosm of the larger problem the Trump administration faces with leaked information. Everyone from unpaid congressional interns to former White House Communications Director Anthony Scaramucci has come under scrutiny for discussing office politics "off the record" with D.C. reporters. Tillerson's leaked remarks will likely exacerbate growing tensions between White House staffers, fueling more paranoia and leaks.
Although the President and Secretary of State have publicly made peace, the next scandal to leak out of Pennsylvania Avenue could be a tsunami.