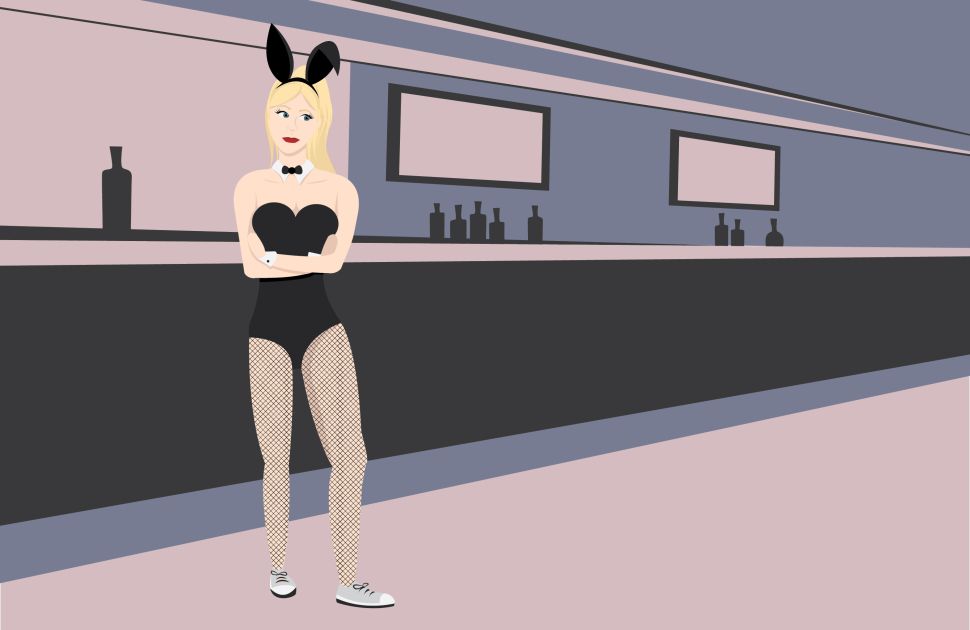 It's always been my goal to be in Playboy, landing strip and all. Luckily, rumor has it there's a new Playboy Club opening in NYC this year. How fitting, now that America is well on its way to being great again! Back when men were real, hot-blooded men and women were just—well, sweet and pretty.
In the wake of Hugh Hefner's death, I stumbled upon Gloria Steinem's seminal essay for Show magazine, "The Bunny Tales," chronicling her 11 days spent under cover at the New York Playboy Club, published in 1963. Her juicy tell-all was released in two installments—so much did she have to reveal about what it was like as a waitress in the notorious establishment. Walking a fine line, Steinem argued that sexual revolution would fail if men were the only ones allowed to define it—for all of Hefner's laudable support of free speech, the sexual revolution, civil rights and the LGBT community.
Phew, good thing that her early '60s warning made society change course! Men certainly don't profit off the exploitation of women's bodies nowadays. But in considering this career path, I have some demands—just in case the Playboy Bunnies happen to be held to the antiquated terms and conditions for employment as outlined in Steinem's essay. We're in a modern, post-revolution age; I'll be a bunny, but here's how a modern woman gets the job done.
1: Don't make me wear high heels. I want to wear sneakers because they are cute, sexy and comfortable. And if men love heels so much, they can wear them for hours on end while running around serving other men. Steinem was required to wear three-inch heels—anything lower was an automatic demerit. Steinem wrote, "I am totally absorbed in my feet. Because they hurt. They ache like teeth and are so swollen I can't get sneakers on."
2: Costumes shouldn't cut into my vagina so that I risk getting a UTI. Steinem recalls outfits so restrictive she was practically immobile and wore bandages to cover her wounds. "I went back to the Bunny Room, turned in my costume and sat motionless too tired to move. The stays had made precise indentations in my skin and the zipper left a welt over my spine. I complained of the costume's tightness to the bunny who was sitting next to me, also motionless. 'Yeah,' she said, a lot of girls say their legs get numb from the knee up. I think it presses on a nerve or something."
3: I need smiling breaks. After many grueling hours of man pleasing, the corners of my mouth get, well, tired and I just can't keep it up. "Bunnies must always appear gay and cheerful ('…think about something happy or funny… your most important commodity is personality') in spite of all worries, including the demerit system."
4: What's up with the demerit system? Why run a company on fear and punishment? I thought the sexual revolution was about love and freedom? I mean, just because Steinem's bushy tail was stained from some guy's greasy grip, that shouldn't be her problem. (FYI, dirty tails were a common demerit, a decrease in pay.) But in good news, at least he didn't grab her by the pussy!
5: Update your standards of beauty. Steinem recalled a young woman with blue glasses and plump legs at the PlayBoy bunny audition who was cruelly passed over. And yet, she still hoped. "'I don't have a phone,' blue glasses said sadly, 'Is it alright if I give you my uncle's phone? He lives in Brooklyn, too.' 'You do that dear,' said Miss Shay….. 'I want to be a bunny so much,' said blue glasses, 'I read about it in a magazine at school.'….. 'My uncle isn't home all day,' the girl said, 'but I'll go to his house and stay by the phone.' 'You do that, dear,' said Miss Shay….. 'Could I call you?' said blue glasses. 'Don't do that, dear,' said Miss Shay, 'we'll call you.'"
6: I am not a commodity, nor am I replaceable. As Steinem relayed the background story of her concocted character, Maria Ochs, she was warned, "We don't like our girls to have any background…. we just want you to fit the bunny image." And when a bunch of bunnies tried get organized for better pay (it was a lot less than advertised), they were met with a similar disregard. "One time we all got together and said we'd quit if they didn't pay us more, but they said, go right ahead, they'd just hire more girls… You can't win." It sucked for her, but go, Playboy go!
7: I'm not going to conform to your ideal bunny recipe. Steinem found a description on a bulletin board. "A Bunny… like the playboy playmate, is the girl next door. She is… beautiful, desirable, and a nice fun-loving person…. We'll do everything in our power to help make you—the Bunny—be the most envied girl in America, working in the most exciting and glamorous setting in the world." Because that's every American girl's dream, to be a sexy rabbit! "Here, bunny, bunny, bunny!" Every girl is just aching to wear erect bunny ears, cake her face in makeup, and stuff her bosom with "Kleenex, plastic dry cleaner's bags, absorbent cotton, cut-up Bunny Tails, foam rubber, lamb's wool, Kotex halves, silk scarfs and gym socks." All for what? Little pay and the groping man, four martinis in, breathing down her neck? And when Steinem pulled back aghast (customers weren't allowed to touch bunnies) a belligerent man said, "What did you think I came here for, the roast beef?"
8: Enough with the rules regulating women and their bodies already. (Rule 1) Even though Bunnies were forbidden to date the clientele, they were encouraged to date the Number One Key holders (Playboy Execs, reporters, and VIPs). One bunny was fired when she told a Number One Key to go screw himself. Ouch! (Rule 2) Bunnies were invited to big wig parties but could only attend if they were solo. (Rule 3) Bunnies were not allowed to engage in prostitution, but were nonetheless, set up to fail. Hefner employed undercover men to dangle cash to trap them. "Your fired!" the patriarch says, as he keeps his ship tight. But if, "here bunny, bunny, bunny" plays by his rules, "her world will be fun-filled, pleasant and always exciting." Is it just me, or does this sounds a bit like Stockholm Syndrome? You know, where the victim feels protected by and bonds with her oppressor?
9: Don't think you can go all "Handmaids Tale" on me. Bunnies were forced to see the Playboy doctor which included a pelvic, internal exam. "The doctor, a stout, 60-ish man with the pink and white skin of a baby [said], 'So you're going to be a bunny… Just came back from Miami myself. Beautiful Club down there. Beautiful Bunnies." Steinem couldn't help herself and told him that testing for venereal diseases seemed ominous. She objected to being put through it. "'What do you care', he said, 'it's free and it's for everybody's good…. We usually find the girls who object to it strenuously have some reason.'" Well, how about this reason, asshole, I don't want you all up in my fucking cooch!
10: My tenth commandment is for you, Hugh. Or maybe it's more of a compliment. I commend you for standing your ground that all women, indeed, are created equal. One partial bunny agreed. "He is a real gentleman. He treats you just the same whether you've slept with him or not."
Luckily, as women no longer relate to the sexism Gloria Steinem endured in "The Bunny Tales," these little updates to the policy shouldn't be a problem. There's no such thing as gender inequality anymore! Thank Goddess this beautiful world has changed for the better and that Hillary Clinton is President.
And now, Playboy, how about the job?
Jasmine Lobe is a writer, actor, model, former figure skater, New Yorker, J Spot columnist for NY Observer. Follow her on twitter: @jasminelobe