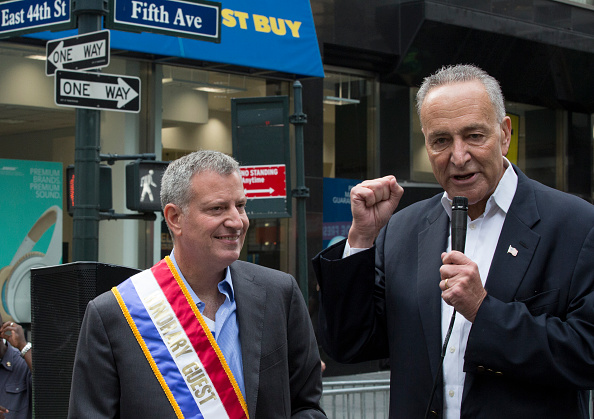 Senate Minority Leader Charles Schumer endorsed Mayor Bill de Blasio for re-election, citing a reduction in crime and an increase in the number of jobs in the mayor's first term.
Just a few days before the primary in September, Schumer said that he voted for de Blasio with an absentee ballot but did not officially endorse him on the grounds that he does not like to weigh in during primary battles.
At the time, he said that the mayor did not ask him to endorse him in the primary but told reporters that he expected to back de Blasio in the general election.
At a joint press conference with the mayor at Grand Central Terminal on Monday morning, Schumer said that he is endorsing de Blasio due to overall crime bring down in the city under de Blasio's first term and an increase in the number of jobs in the city.
He also touted the mayor's universal prekindergarten initiative and his affordable housing plan.
"The mayor has done an outstanding job," he said.
Top de Blasio donor Jona Rechnitz, 33, a wealthy Brooklyn real estate developer who pleaded guilty in March to charges of corruption, alleged in two days of testimony at the bribery trial of Norman Seabrook, the former president of the Correction Officers Benevolent Association, that he donated to the mayor's campaign in exchange for favors from City Hall. He is taking the stand again on Monday.
On Friday, Rechnitz claimed that de Blasio asked him to donate more than $100,000 in 2014 as he was looking to help Democrats regain control of the state Senate.
De Blasio has maintained that Rechnitz is lying and repeated those assertions on Monday.
When asked about the recent development, Schumer said de Blasio "answered questions on those issues."
"The two most important criteria in endorsing a mayor are is crime down, are jobs up?," he continued. "He can answer both yes resoundingly. I'm proud to endorse him."
De Blasio cited their work together to expand investments in the New York City Housing Authority, resisting President Donald Trump's  immigration policies and rebuilding after Hurricane Sandy in 2012.
And he noted that it is "no accident that the Affordable Care Act was saved on Chuck Schumer's watch." He said that he often turns to Schumer "for advice and guidance."
"I have regarded him for a long time as one of the smartest people in this work and he consistently helped me … when he talks, I listen," the mayor said.