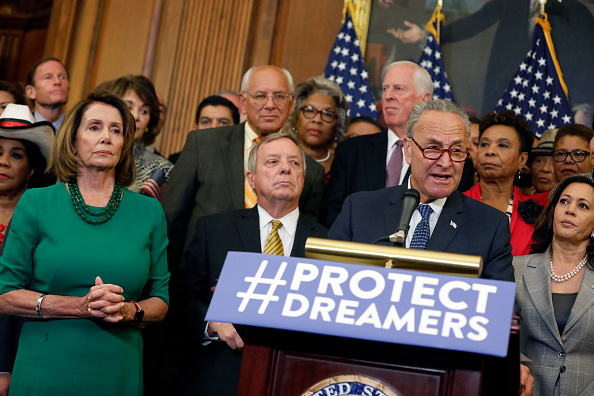 Senate Minority Leader Charles Schumer accused President Donald Trump of not making a "good faith effort" to come up with a compromise to protect undocumented youth brought to the United States in their early childhood after Trump laid out some aggressive demands to go with any agreement.
On Sunday night, the Trump administration presented a list of priorities for any agreement to protect the Deferred Action for Childhood Arrivals program created by former President Barack Obama in 2012, including the building of his proposed border wall along the southern border, an extra 10,000 immigration enforcement officers, revamped asylum and green card systems and withholding federal funding for so-called "sanctuary cities" for undocumented immigrants, according to the New York Times.
Last month, the Trump administration said that it would end DACA and gave Congress six months to come up with immigration legislation. At the time, Schumer and House Minority Leader Nancy Pelosi said that they hoped to finalize a deal with Trump to protect DACA recipients "as soon as possible" and maintained that both sides agreed that a border wall would not be part of it.
During the 2016 presidential campaign, then-candidate Trump said he would terminate the program.
"We told the President at our meeting that we were open to reasonable border security measures alongside the DREAM Act, but this list goes far beyond what is reasonable," Schumer and Pelosi said in a joint statement. "This proposal fails to represent any attempt at compromise. The list includes the wall, which was explicitly ruled out of the negotiations. If the President was serious about protecting the Dreamers, his staff has not made a good faith effort to do so."
Gov. Andrew Cuomo, for his part, urged Democrats to exercise "extreme caution" as they hammered out the details of the agreement, and warned that Trump would put in place a "cyber wall."
Two days later, U.S. Rep. Adriano Espaillat (D-NY) and other top Latino Democrats were arrested at Trump Tower after engaging in civil disobedience that called for the passage of the DREAM Act. Members of the New York congressional delegation, along with Pelosi and the Congressional Hispanic Caucus, also called on the GOP to sign a discharge petition that would bring a clean DREAM Act to the House floor for a vote.
U.S. Rep. Joseph Crowley (D-Queens/Bronx), the House Democratic Caucus chairman, also blasted Trump's demands.
"President Trump created a crisis for nearly one million DREAMers when he unilaterally ended the DACA program to appease the most extreme anti-immigrant voices in his party," Crowley said in a statement. "Demanding a crackdown on children fleeing abject violence and funding for an ill-conceived border wall is beyond unreasonable. The president is not serious about compromise and is insincere in his negotiations."