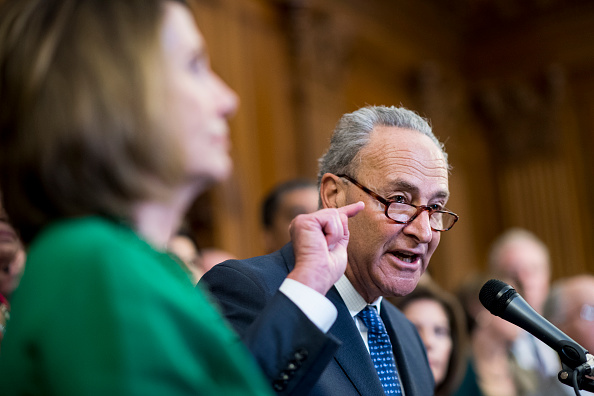 Senate Minority Leader Charles Schumer says that he and other Democrats will secure an agreement to protect undocumented youths brought into the United States in their early childhood by the end of the year, with or without President Trump's help.
Last month, Trump ordered a phaseout of the Deferred Action and Childhood Arrivals program started by former President Barack Obama in 2012 and gave Congress six months to come up with immigration legislation. Schumer and House Minority Leader Nancy Pelosi agreed on the framework of a deal with Trump to protect DACA recipients "as soon as possible" and said both sides agreed that a border wall would not be included.
But earlier this month, the Trump administration unveiled a list of priorities for any agreement to protect DACA, including the wall along the southern border and an extra 10,000 immigration enforcement officers.
"I would hope that we can get DACA done before the end of the year," Schumer said on NBC's "Meet the Press" on Sunday morning. "There's overwhelming support in the House and Senate once again to deal with these kids. Even the president has expressed sympathy and I think in this case it's genuine for the DACA kids."
He said that he and Pelosi reached an agreement with Trump but that he backed off when "the right wing attacked."
"He cannot let a fringe wing of the Republican Party run the show or his presidency will not accomplish anything and that's the greatest rap against him, even with his supporters," Schumer continued. "So what he ought to do is follow through on the agreement he had with Leader Pelosi. If not, we will figure out a way to get this done before the end of the year. We think it's really important."
During the 2016 presidential campaign, then-candidate Trump said he would terminate the program.
Gov. Andrew Cuomo has warned Democrats to exercise "extreme caution" as they work out the details of the agreement. U.S. Rep. Adriano Espaillat (D-N.Y.) and other top Latino Democrats were arrested at Trump Tower after engaging in civil disobedience to call for passage of the DREAM Act.