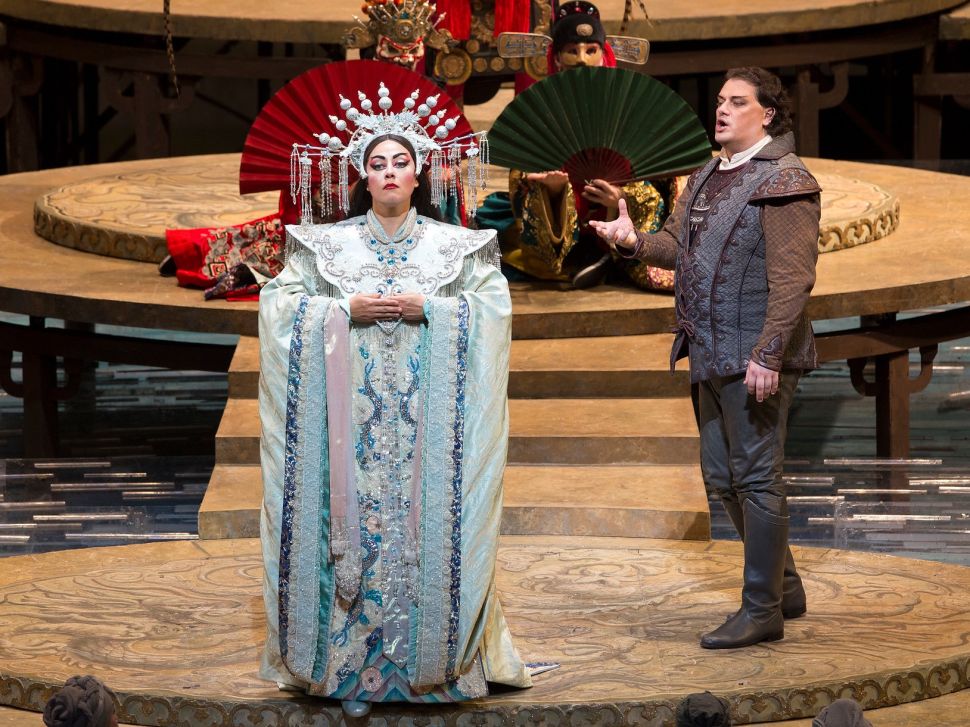 Though burdened with tradition and constrained by the narrow-minded expectations of its more conservative patrons, the Metropolitan Opera pulled off a spectacular feat of serendipity last Thursday. The company's revival of Puccini's Turandot (in which the title character's emotional arc is informed by a traumatic memory of rape) coincided with breaking news of sensational accusations of sexual abuse by Harvey Weinstein.
Unfortunately, the opera, at least as seen in the Met's current production, seems to take the wrong side in the controversy. The climax of the drama is a figurative rape: the hero Calaf forces a kiss upon the icy Princess Turandot over her loud and clear objections, which action transforms her into a warm and loving wife.
This is not to suggest that the Met is presenting pro-rape propaganda, but rather that the company needs to stop programming problematic pieces like this so mindlessly. Yes, Puccini's shimmering music sounds stunning, especially as played by the virtuoso Met orchestra, and Franco Zeffirelli's 1987 production—a mountain of silk, glitter and beefcake—retains most of its lurid impact. (It's like being whacked in the face with a bedazzled shovel.)
But that climactic kiss is still staged today as it was three decades ago, with its clear implication that Turandot can only achieve true womanhood if a man forces sex upon her. It would take an hour or less in the rehearsal room to revise this moment: the thundering dissonant chords at this point in the score could indicate Calaf's struggle to keep his passion in check, and the gentle "dawn" music an epiphany for Turandot that his love for her is tender, not violent.
That dramatic tweak wouldn't have solved all the problems in Zeffirelli's staging (that would require a warehouse fire), but it at least would have moved the dramaturgy a notch closer to the generally high musical level of this revival. Both Oxana Dyka (Turandot) and Aleksandrs Antoņenko (Calaf) flaunted big, vibrant voices superbly suited to so heroic a tale, and for once the climax of "In questa reggia" rang out with a confident peal, both singers securely sustaining the high C.
The wild, swooping score sounded bracingly transparent under Carlo Rizzi's direction and the company's chorus sang with a boldness and musicality one wishes more star soloists could achieve.
Should Turandot be banished from the Met? No. It's a crowd-pleaser with a gorgeous score and a story that attempts at least to address some intriguing and timely questions about sexuality. Turandot is far from being trash—which means the Met needs to stop treating it so trashily.
More from James Jorden:
War Is Hellish in BAM's 'Crossing'; Uptown, Angel Blue Soars
Tenors Keep Show Afloat in Met 'Hoffmann' and 'Magic Flute'
In a Lazy, Senseless 'Norma,' Met Diva Sondra Radvanovsky Steals the Show
New York City Opera's New 'La Fanciulla del West' Is a Tearjerker