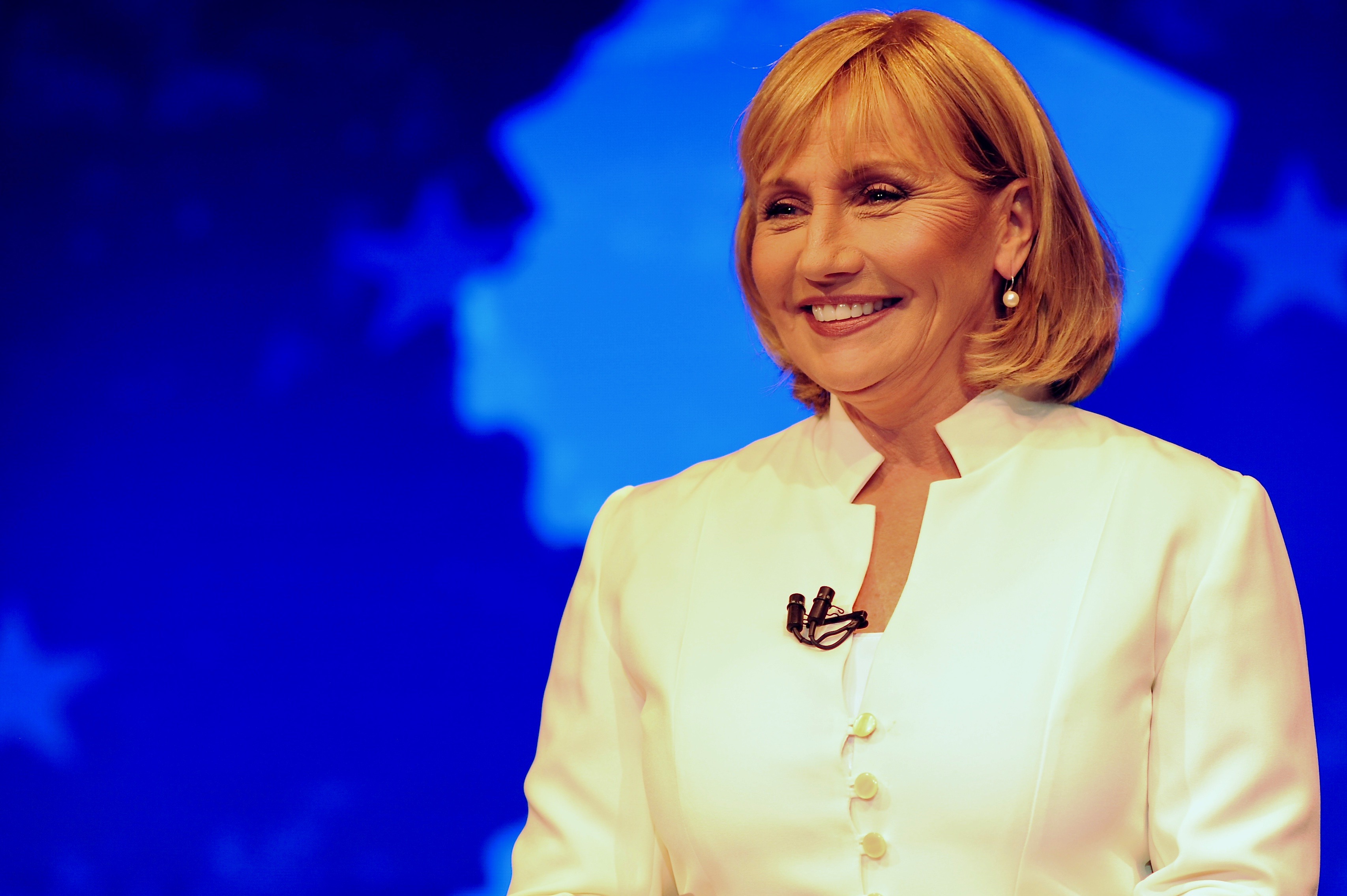 Kim Guadagno and Phil Murphy hammered away at each other Tuesday night at their first debate, sparring for an hour over a dizzying array of issues from the state's dire finances to legalizing marijuana, from high taxes to rising tolls, from Gov. Chris Christie's checkered tenure to Gov. Jon Corzine's.
The live broadcast on ABC's New York and Philadelphia affiliates was, for many New Jersey voters, the first chance to get acquainted with Guadagno, the Republican nominee for governor, and Murphy, the Democratic nominee, after nearly eight years of Christie at the helm.
Both candidates promised a departure from Christie's policies, albeit to varying degrees, since Guadagno has been Christie's lieutenant governor for two terms. And both came well armed with attack lines on Tuesday, although the format of the debate did not lend itself to much depth and at times seemed like a speed-dating blur of all the major policy issues circulating in Trenton (and in some cases Washington).
A crowded group of moderators and panelists crammed as many questions as they could into the hour-long forum at the New Jersey Performing Arts Center in Newark. Some went to the heart of the state's deepest problems, with wonky issues such as the state's 2 percent cap on yearly police and fire salary increases taking center stage at one point. Other subjects were less germane, such as a long colloquy on the Las Vegas massacre last month and a tangent about the sexual harassment scandal engulfing Hollywood film producer Harvey Weinstein.
Down by double digits in the polls with a month left before the Nov. 7 election, Guadagno delivered perhaps her sharpest campaign performance of the year. She successfully framed the first half of the debate as a discussion on New Jersey's high cost of living, promising once again to cut property taxes and putting Murphy on the defensive for leaving unanswered how he plans to pay for many of his campaign promises and for pledging to raise taxes on the rich.
Murphy, a former U.S. ambassador to Germany who worked for years as a top Goldman Sachs executive, tried throughout the debate to weigh down Guadagno with two fellow Republicans who are deeply unpopular in New Jersey: Christie and President Trump. But he stumbled early on when pressed by the moderators on where he would find the money to ramp up funding for public schools and government workers' pensions. In one exchange, Murphy said he'd fully fund the cash-starved pension system "as fast as we can." When asked how, he offered: "We have a very, very credible plan."
"Chris Christie's record is your record, lieutenant governor," Murphy said, pointing out the 11 credit rating downgrades accumulated under Christie's watch. "You have been beside him every step of the way."
Guadagno tried to distance herself from Christie, who has sunk to historically low approval ratings. "The inconvenient truth for Phil is that Chris Christie is not on the ballot in November — I am," she said.
She also tried to turn the tables on Murphy, arguing that his plan to fund the pension system basically copied what Christie has been doing since 2015, gradually increasing contributions from the state budget to the retirement funds over a 10-year ramp.
"Quite frankly, Phil, that sounds like the Chris Christie plan," Guadagno said, indicating that she would seek to move newer government workers such as teachers and police officers off the current pension system to lower costs long-term.
Weinstein, the film producer accused of serial sexual harassment, became an unlikely focal point of the debate. He reportedly met with Murphy earlier this year and offered financial support for his campaign. Before the debate, Guadagno called Murphy a "coward" for declining to speak out against Weinstein until she raised the issue.
"I didn't ask for, and I didn't get, one dime from this guy," Murphy said during the debate. "What he's done is completely outrageous and heinous." Guadagno called Weinstein a "predator" and "an awful, awful man," praising the actresses and film industry workers who had come forward with their accusations in recent days.
The debate delved into legalizing marijuana. Murphy is for it, calling it a matter of fairness in the criminal justice system, which disproportionately ensnares black residents for marijuana offenses even though use of the drug is largely the same among all groups. Murphy also says taxing recreational pot would add $300 million to the state budget. Guadagno said she favors decriminalizing the drug but not full legalization.
A particularly heated exchange came when the debate turned to immigration. Murphy has been an opponent of Trump's plan to end the Deferred Action for Childhood Arrivals program, or DACA, implemented by President Barack Obama. DACA provides legal protections and Social Security numbers to some undocumented immigrants who were brought to the United States at very young ages. But Guadagno said that Murphy's support for undocumented immigrants in some cases posed a risk, since some violent crimes in New Jersey have been committed by those same immigrants.
Nearly half of likely voters still know little or nothing about either candidate, according to a Monmouth University poll released last week. Despite being broadcast on prime time statewide, Monmouth pollster Patrick Murray said few people watch gubernatorial debates, and the one tonight would not dramatically change the race. Asked about the debate at a news conference in Trenton, Christie said the same thing Tuesday afternoon and added that press accounts of the event have a far wider reach.
"The only way these debates have a real impact is if there's a gaffe or one candidate can cause the other candidate to slip up, and we did not see that tonight," Murray said.
Christie, who has served as governor since 2010 and is term-limited, loomed large. In one exchange, Murphy bashed Guadagno on the environment, even though the two candidates agree on returning New Jersey to Regional Greenhouse Gas Initiative, a regional cap-and-trade program to reduce carbon emissions. Later, when the debate turned to NJ Transit's funding woes, Murphy once again assailed Guadagno for her boss's record managing the railway as it raised tolls by 36 percent.
Michael Soliman, a Democratic strategist, said Guadagno tried too hard to run away from her boss. "She would've been better off to just own it and explain her stances moving forward instead of trying so hard to separate herself from Chris Christie, as she's now coming off as disingenuous," he said.
New Jersey voters consistently rank the state's high property taxes as the top problem their governor needs to fix. Guadagno said she would renew a 2 percent cap on interest arbitration for police and fire salary increases, saying it has saved taxpayers "billions of dollars."
Murphy once again declined to take a position on a law — known as the interest arbitration cap — that effectively caps police and fire salaries at 2 percent annually when local governments take their contract negotiations to arbitration. The cap expires at the end of the year, and Guadagno says renewing it is key because it has saved local taxpayers billions of dollars.
"People have a right to know where you stand on the arbitration clause," Guadagno said to Murphy.
Even though Murphy mostly dodged the issue of property taxes, Guadagno wasn't able to deliver a knockout blow with the topic, Murray said.
"Kim Guadagno kept coming after the issue of property taxes, but never went strong enough to rattle Murphy on that issue," Murray said. "And obviously Phil Murphy campaign's strategy is to not even acknowledge this issue exists."
The cornerstone of Guadagno's campaign is implementing a new credit for property taxpayers, which she says would equal $800 a year for the average New Jersey family.
Murphy says he would ramp up funding for public schools in the state budget, which would take the pressure off local governments and perhaps lower the property tax burden indirectly. Asked during a five-minute exchange with reporters after the debate how his platform would address the tax burden, Murphy said investing in education, implementing policies that buoy middle-class families and spurring economic growth would do the trick.
The two candidates will meet again on Oct. 18 for the second gubernatorial debate at William Paterson University in Wayne.