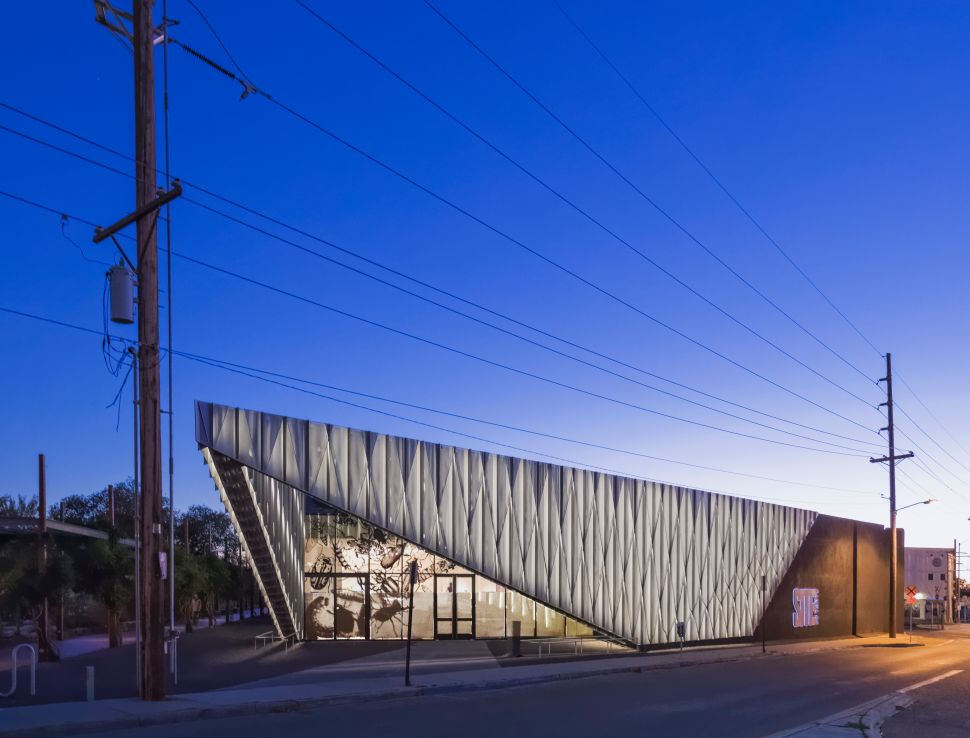 The New York-based design firm SHoP Architects has constructed an art oasis in New Mexico, where their latest project, SITE Santa Fe, recently reopened after nearly 10 months of renovations. The firm is best known for their work on Brooklyn's Barclays Center Arena and the Steinway Tower in Manhattan, as well as Uber's headquarters in San Francisco. The new and improved design, which builds off of SITE's original space—a former Coors warehouse—boasts a futuristic aluminum exterior and triples the building's square footage, furthering the growing global architectural trend of high-profile, designer art museums.
The most eye-catching of the building's updates is its dramatic entryway, a facade of glass under a triangular prow that hangs 60 feet out from the building. According to Christopher Sharples, founding principal of SHoP Architects, SHoP's primary desire after modernizing the galleries and support spaces was to take the old introverted beer warehouse and open it up into a building that would present SITE in a new way to the Santa Fe community. "The prow was conceived as a civic gesture, framing the entrance and inviting people's gaze into the lobby and galleries beyond," he told Observer. "Quite literarily, the art greets you at the street."
When it was founded in 1995, SITE was the only international biennial of contemporary art in the United States. It has since grown in both size and scope to encompass year-round exhibitions and educational programs, making it one of the foremost contemporary art centers in the Southwest—and prompting the need for a significant space upgrade. In addition to expanding the New Mexico art space's real estate by 10,000 square feet, (to 36,000 square feet in total) SHoP has also made it unmissable thanks to the metal clad exterior, a complex weave  perforated-aluminum sheets inspired by the surrounding railyard, including a classic Santa Fe boxcar that sits a block away. "We wanted the building to speak to its scrappy past and SITE's history as a highly innovative platform for art-making," said Sharples.
According to Irene Hofmann, director and chief curator of SITE Santa Fe, the expansion comes at a time when the institution is undertaking larger and more innovative projects, which often veer toward site-specific installations and immersive new media productions. "We wanted to be able to bring the best of contemporary art to Santa Fe audiences," she said. With new climate-controlled galleries plus a multi-purpose auditorium space with state-of-the-art audio-visual gear and acoustics, SITE will be able to show a more complex and ambitious range of contemporary works and programs, while retaining what Hofmann calls its "artist-centric vision of ambitious flexibility."
The inaugural exhibition in the newly-expanded building, "Future Shock," includes immersive, provocative works by 10 artists, including Doug Aitken, Andrea Zittel, and Andreas Gursky. It takes its title from Alvin Toffler's prophetic 1970's book of the same name, in which the author describes the exhilaration and consequences acceleration of technological and structural change in contemporary life. For Hofmann, the show not only brings to light some of our most pressing social issues, "but also charts the possibilities of the future, both for SITE and beyond."
Margaret Carrigan is a freelance writer and editor. She planned to go to law school but she did terribly on the LSAT, so she got a master's in art history instead. She lives in Brooklyn with her cat, who is named after Alyssa Milano's character from the early aughts CW smash hit series Charmed.
More from Margaret Carrigan:
Fondation Louis Vuitton Hosts US Expats in 'Being Modern: MoMA in Paris'
Museums Make Space for Sound Art This Fall
Nick Cave Pays His Dues to Artadia
5 Must-See Gallery Shows in London During Frieze Week
Studio Museum Unveils Plans for New Building to Mark 50th Anniversary