WAYNE — The second and final gubernatorial debate between Kim Guadagno and Phil Murphy was fiery and offbeat, a clash of wills featuring attacks, accusations of peddling falsehoods, interruptions, eye-rolls and a question about fruits and vegetables.
The forum on Wednesday night at William Paterson University also covered key New Jersey issues such as property taxes, the merits of marijuana legalization and the pros and cons of sanctuary policies for undocumented immigrants — all of them hot topics that have come to dominate this year's race to replace Gov. Chris Christie after eight years in Trenton.
As she has been doing for weeks, Guadagno, the Republican lieutenant governor, seized on Murphy's plan to possibly make New Jersey a sanctuary state that declines to assist federal authorities seeking to deport undocumented immigrants. A former federal prosecutor and Monmouth County sheriff, Guadagno claims that would give safe harbor to dangerous individuals and lead to a crime spike. Murphy has called her claims "racist" and Democrats have been up in arms over her charge.
"The reality is when residents in a city or a state feel comfortable about engaging with law enforcement and they're not worried about their immigration status, without question you have a safer environment, you have safer communities and a safer state," Murphy said.
President Trump has threatened to pull federal funds from sanctuary cities and states. But Murphy said that he would fight "tooth and nail" against the threat of decreased federal funding, and he added that he expected to be in court fighting Trump's policies throughout his time in office.
"I don't believe that the people of New Jersey want to see a violent criminal released from jail if there is an immigration detainer against them," Guadagno said. A detainer is a formal request from the feds to hold undocumented immigrants who are arrested over non-immigration matters. "It will put at risk millions in federal funding."
More than in their previous debate last week, the candidates seemed to get on each other's nerves throughout the night. Guadagno loudly asked Murphy not to interrupt her at one point. When the conversation turned to Sen. Bob Menendez's corruption trial, and whether the senator should resign if convicted, Murphy declined to take a position and seemed aghast when Guadagno said Menendez should go if convicted. "Are we still in America?" Murphy asked, saying Menendez should be presumed innocent until and if proven guilty.
Curiously for a New Jersey gubernatorial debate, the moderator from CBS New York spent nearly five minutes during the hourlong debate asking both candidates about congestion pricing, which New York City is considering. The proposal is basically to charge drivers more money to get into Manhattan. Some New Jersey commuters might be affected, and Guadagno and Murphy, visibly puzzled by the question, said they would consider giving rebates to offset the higher costs or negotiating with New York not to hike entry prices.
For some reason, there was also a question about fruits and vegetables. Murphy said he favored grapefruit and broccoli, while Guadagno went with two Jersey crops, tomatoes and cranberries (both technically fruits).
When the discussion focused on New Jersey finances, Guadagno repeated time and again that she would seek to lower property taxes and accused Murphy of having no plan. Critics of Guadagno's plan, however, say that she has not identified solid funding sources and would be relying on a vague promise to "audit Trenton" to root out waste, fraud and abuse. When pressed to identify how she would find the $1.5 billion she says would be needed to fund her property tax plan, Guadagno said, "At least I have a plan."
"I have a plan to fix property taxes in New Jersey, Phil Murphy does not," Guadagno said. "What I hear from Phil Murphy's team is that he is not going to address property taxes at all."
Murphy has proposed ramping up funding for schools by billions of dollars, and he argued that increasing that funding would give local governments and schools districts the room they need to cut property taxes. Murphy said he would be getting the roughly $9 billion needed to fully fund schools by going after wealthy residents and large corporations.
"The $9 billion is coming from your really wealthy friends, the corporations, and the hedge funds," said Murphy, a former top executive at Goldman Sachs. "Every dime of it is going back to the middle class and they deserve it."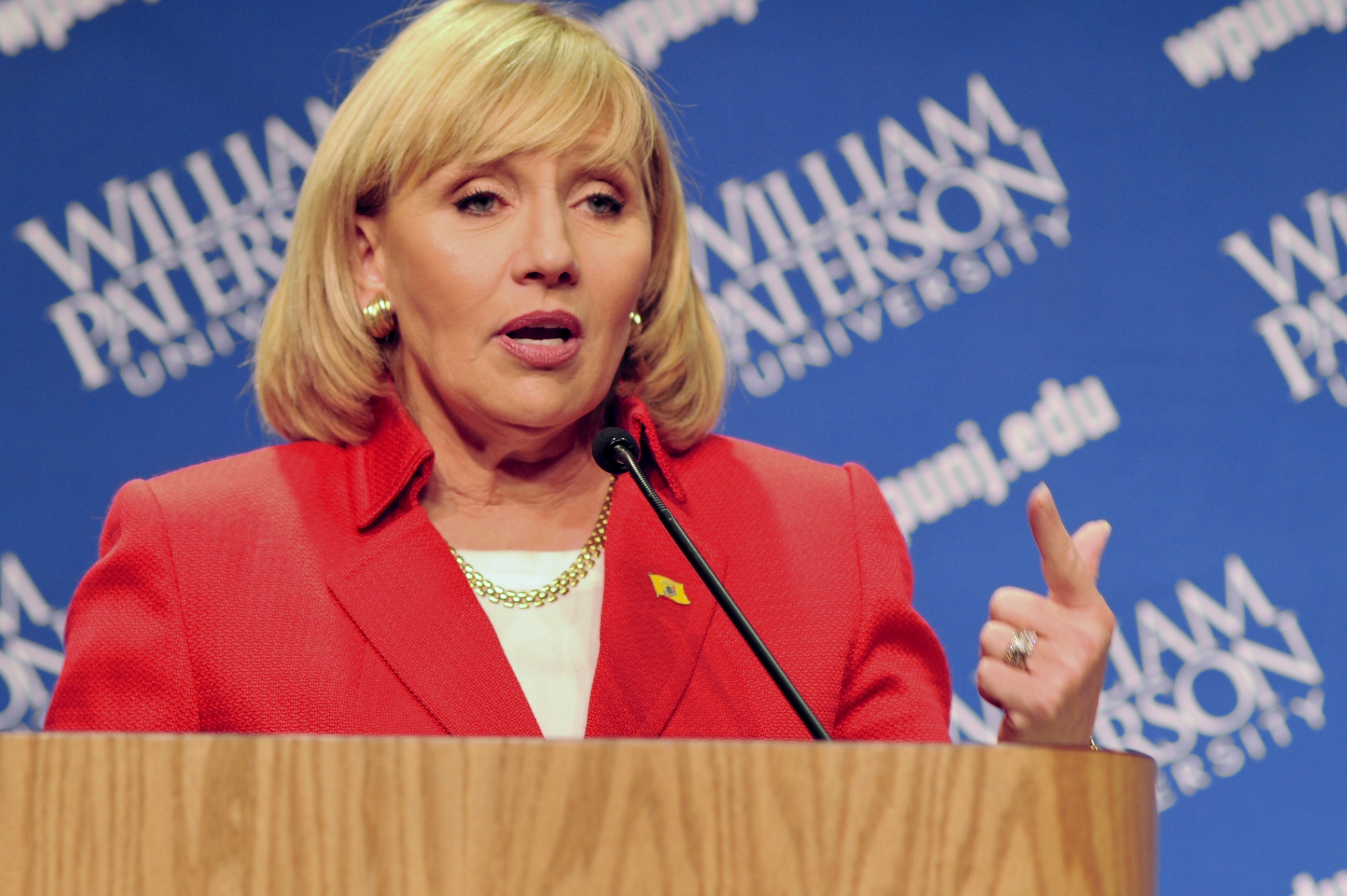 He accused Guadagno repeatedly through the debate of playing fast and loose with the truth and rebutted many of her ideas by asking where she had been for eight years as Christie governed the state.
For instance, Murphy said that Guadagno could have "audited Trenton" under Christie to round up the money she now needs for her property tax plan. Christie is deeply unpopular in New Jersey, and Murphy barely missed a chance to tie Guadagno to the sitting governor. (Asked whether she would appoint Christie to Menendez's seat if it opened up, Guadagno retorted: "No. That was an easy one." They don't have the best relationship.)
"I think an audit is a good idea too, by the way," Murphy said, adding that over the last "2,829 days we could have had an audit, I think, accomplished by now."
When the discussion turned to New Jersey's underfunded pension system, moderators asked Murphy if he would consider shifting new public workers to a 401(k)-style retirement plans, which are less expensive for the state than its current defined-benefit plans. Guadagno has indicated that defined-benefit plans for new employees would not be financially sustainable and that she would seek to transition new employees to less costly retirement plans.
"It is going to cost $5 billion in pension payments, it is going to cost another $10 billion in health care payments to fully fund the pension as suggested by my opponent," Guadagno said.
"Shouldn't there be a basic line here of telling the truth in these discussions?" Murphy asked, accusing Guadagno of "making stuff up."
A 2 percent yearly cap on police and firefighter salary increases approved through arbitration — which experts say has been key to slowing the rise of property taxes in the state — is set to expire at the end of the year. Murphy once again said he wants to wait until a report is released in December before deciding whether to end or renew the cap. A version of that report already has been released, but Murphy argues that it doesn't paint a full picture because no Democratic appointees on the task force studying the issue signed off on the release.
The data in the report showing that the interest arbitration cap has stemmed the rise of property taxes in the state, however, are unlikely to change by December.
Public safety unions that have endorsed Murphy have chafed at the cap since Christie signed it into law, and Guadagno claimed that Murphy's decision to stay quiet stems from a desire to please those police and firefighter labor groups backing him.
Christie once again loomed over the debate, as he did at the past one and in the primaries. The governor even weighed in on Twitter when the discussion turned to legalizing marijuana. Like Christie, Guadagno is opposed to full legalization, claiming Wednesday night based on a study that it could lead to increased traffic deaths in the state.
Murphy wants to legalize, regulate and tax the drug as a way to reform the criminal justice system and raise nearly $300 million for the cash-starved state budget. According to Murphy, opioid addiction in Colorado decreased as a direct result of legalization. Christie had a different take.
There are less than three weeks left until voters head to the polls on Nov. 7, and Murphy has held a double-digit lead in the polls since the race began.
Murphy is scheduled to appear alongside former President Barack Obama for a campaign event on Thursday. Guadagno is scheduled to hold a news conference on state affordability.