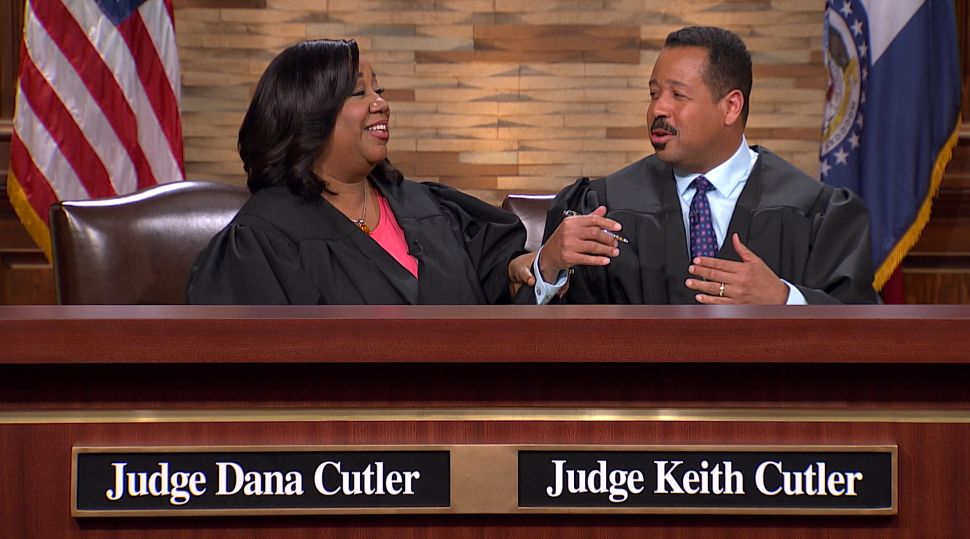 I'm always curious to know how a couple got together. Who doesn't love a good meet-cute? But at the same time, who doesn't also love a good crash-and-burn breakup? Confirmation of a new celebrity couple is fun news, but if there's a divorce, the public's attention is rapturous. We want no detail spared in learning how, when, and why a seemingly perfect couple fell apart. And if there's suspicion of infidelity? Grab the popcorn.
Therefore, it's easy to understand the draw of Couples Court with the Cutlers, the new daytime series that features the first ever husband-and-wife team working as judges. Now, I've never been a huge daytime TV watcher, but these shows have an obsessive, cult-like following. People don't just like court TV, they are addicted. Just ask RuPaul. He can't get through an interview without mentioning his queen, Judge Judy. And since RuPaul is my queen, when I was invited to visit the live set of Couples Court with the Cutlers, I had to go. I wanted to find how the sausage is made, go behind the scenes to see just how authentic these cases are, and to figure out what it is that people like RuPaul can't stop watching.
Produced by David Armour's 501 East Entertainment and distributed by Orion TV Productions, the nationally syndicated Couples Court with the Cutlers first premiered on September 18. What sets this series apart from other court shows is its duo of award-winning attorneys, Dana and Keith Cutler, who've been for married 28 years. While logging twelve hour days is nothing new for the long time litigators (they've worked side by side with each other for nearly three decades at their family firm, Jame W. Tippin & Associates) being on TV was never anything either of them imagined, nor is it something they actively pursued. It was David Armour, who also produced the two-time Emmy-nominated Lauren Lake's Paternity Court, who sought them out.
"In daytime TV, and in life, the concept of cheating is a hot topic," Armour told Observer, explaining why he wanted to create this spin-off. "We wanted to turn it on its side and bring it to the courtroom format because people want to get answers. We knew we wanted a male and female judge, but if we can find married judges, we thought that would be fascinating. We'd have a female perspective, a male perspective, a relationship perspective and life experience. You can't teach that chemistry. Sorry to say, but these two are sleeping together. This isn't like Regis and Kathie Lee waking up to do a show. We started searching for husband and wife litigators and attorneys, and through the process, the warmth of Dana and Keith, kept coming through."
While sitting in the judge's chambers couch, which are as comfy as they appear, I asked Armour how he found Dana and Keith, because knowing that it was the Cutlers' first time on TV, I expected to see them fumble with their words during filming. Watching the live screen backstage, I prepared myself for a long day, to hear "Cut!" over and over, and sit through numerous retakes until these onscreen novices delivered rulings with clarity.
But it was seamless. Dubbed "Missouri Super Lawyers" by Thomson Reuters, their a power couple in front of the camera, too. Dana was the first African American to be elected as the President of the Kansas City Metropolitan Bar, and Keith was the first African American President of the CMB's Young Lawyer's Section, and these two can clearly slay a courtroom. But when cameras are rolling, most people would freeze up. How were they so natural on camera? I was suspicious.
"Let me jump in on that,"  Armour said, "because they will not toot their own horn. I think the special sauce is that they aren't trying to be on television. Their natural interest in people, their line of questioning, their understanding of love, life and the law. It's all so organic. Who they are as people, and how they interact with people, that's the magic."
But for two such decorated, respected lawyers, this unexpected career transition to reality TV must have been a wild process.
"[On the first day of filming], there was a range of emotions " Keith said. "Because it was like okay, we've been talking about this for almost a year, and now we're actually going to do this. There was some anxiety, but once we got in the courtroom, we listened to what the litigants had to say, listened to the audience reactions, gave our advice, and it put everything at ease."
These two are using their knowledge of the law and their 35 year relationship to help other couples in trouble, and not the wig pulling, chair throwing kind of drama. Artificially produced TV is not what they signed up for, and not what Armour wants to produce.
"We get thousands of submissions," Armour said. "No one wants to see someone who just wants their 15 minutes. We fact check. We ask for marriage licenses, birth certificates, we want to make sure everything is real. We have producers that do pre-screenings, after care work, and we have psychologist, Dr. Jeff Gardere, on the team because at the end of the day, we're all hoping we can help relationships get better and stronger."
To get to the bottom of a case, the series uses cell phone forensics, GPS tracking, DNA evidence, professional interrogators, and lie-detector tests. "Some cases take three to four weeks in advance to fully prepare, others a week and a half," Armour said. "It depends on the couple's story. If someone keeps disappearing, clearly we need to get a private investigator on the trail. If someone claims certain texts, emails or search histories were deleted, we have forensic experts that can go in to retrieve all that information."
But watching the show, there was one issue that kept nagging at me: wouldn't any relationship be dead after one partner had hauled the other into TV court?
Armour mentions that there was a case in which a man cleared his name, and while he had cheated in his past, was not being unfaithful this time around. But after having to go through all of this, he was done.
"He had not articulated [beforehand] that either way, I'm out. How far ajar my jaw dropped…" Dana said.
"Some relationships are not salvageable," Keith admitted. "We can talk for days and it's just not going to work. But that's the beauty of this," Keith adds. "You never how it's going to turn out."
The Cutlers didn't watch much court TV before taping began, "but we practiced law with my dad," Dana said, "and he has some favorites. He loves the lady from People's Court. I met her once, and had her call my father and he was over the moon. My mother, I was on the phone with her the other day and she was like I gotta go. You're on TV. And I was like, Ma! The real thing is right here!"
When I mention Judge Judy, Dana echoes RuPaul. "The longevity!" she shrieked. "My god, she's been doing this forever. And that fan base loves her. She's gold."
Judge Judy 2020?
More from Emily Bicks:
In Ballet About a Ballet, 'The Red Shoes' Fails to Deliver Impeccable Dancing
Kevin Hart Launches Comedy Careers on New Streaming Network
LA Is Becoming More Like NY, and It's Awesome