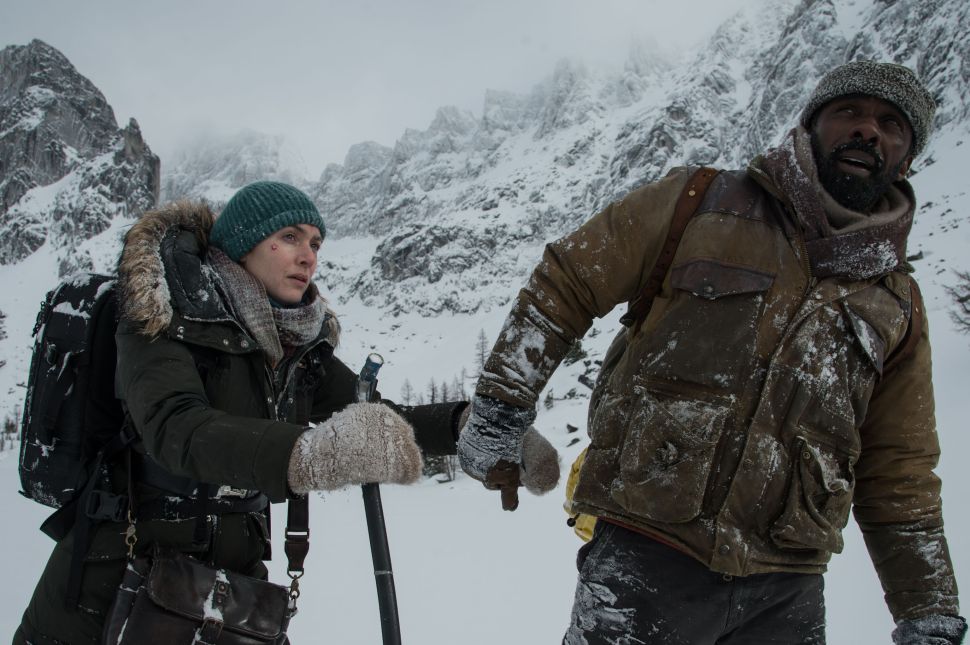 Labored and boring, The Mountain Between Us is a soap opera in the snow that fritters away the time and talents of Kate Winslet and Idris Elba for all the wrong reasons. They play mismatched strangers stranded in a snowstorm in an Idaho airport, who charter a private plane in to get to New York in a hurry, crash into the side of a mountain in Utah, survive all sorts of disasters (not to mention near-death) for weeks and miraculously stay alive long enough to have half-frozen sex in the snow, then fall in love. If you buy that one, there's a bridge in London I can sell you for a Brexit bargain.
He's a neurosurgeon on his way to a medical conference to save a dying patient. She's a brash, brazen photojournalist who is on her way home from an assignment photographing neo-Nazis for the Guardian, trying to get back for a wedding the next day. All flights are grounded, so they ill-advisedly grab a private plane to Denver where they hope to connect to anything at all, as long as it is headed toward the Big Apple. The plane crash is a good one, but it wipes out Beau Bridges much too early, playing the out-of-shape pilot who has a stroke over the snowy wildness of Utah, (with the snowy wilderness of British Columbia standing in). Terrified of dying in the wreckage in the middle of nowhere, their only companion is the pilot's dog. Without cell phone service and a dying battery, no supplies, and nothing but a few cookies to eat, they quickly grow understandably irritable. But in a movie short on logic to begin with, she starts out with a broken leg, hoping for rescue. What shows up instead is a mountain lion hungry for flesh and blood. Leave it to the neurosurgeon to dangerously but ingeniously jerry-rig a hypodermic needle to save her life just before she falls through the ice and nearly drowns in sub-zero water. To say it all seems less than convincing would be an understatement, but implausibility reigns when a deserted mountain cabin appears, replete with a fireplace, a can of soup, and a bed—where, for reasons that are never explained, this pair of peculiar partners by default  strip down and make passionate love in a sex scene as unconvincing as finding an electric blanket at the bottom an avalanche.
---

[FILM—ALL CAPS, NO QUOTATION MARKS] ★ 1/2
(1.5/4 stars)
Directed by: Hany Abu-Assad
Written by: Chris Weitz and J. Mills Goodloe
Starring: Kate Winslet, Idris Elba, Beau Bridges and Dermot Mulroney
Running time: 111 mins.

---
After staggering through the wilderness for weeks that seem like eons, with nothing to eat but two cans of soup and some gum drops, they both realize the love they found on that mountain could never work in real life, so they separate without even saying goodbye. In the years after they return to civilization, he moans and frets and works his eyebrows a lot in what passes for acting (unusual for the man who was so powerful in the Nelson Mandela biopic) and she dumps her fiancé and cancels her wedding, which is doubly incredulous since the groom is loyal, loving, dedicated to guaranteeing her future happiness, and played by Dermot Mulroney, who is movie-star appealing. In the chilly script by Chris Weitz and J. Mills Goodloe, we never get to know anything revealing or sympathetic about the characters. She comes off as an unappealing, self-centered cold fish, and the sad secret responsible for his silent suffering comes too late to make an impact. The two stars have a miserable lack of warmth that fails to melt the ice, to find any chemistry between them you'd have to chip away the frost with an ice pick, and the sappy ending wouldn't survive the rejection pile of a 1940 issue of True Confessions. In the final scene, all I asked (or cared about) was "What happened to the dog?"
The Mountain Between Us, based on a romance novel by Charles Martin, a wannabe Nicholas Sparks, is the first English-speaking bid for commercial success on an international scale by Oscar-nominated director Hany Abu-Assad, a Palestinian who lives and works in Holland. He should have stayed home, watering the tulips.
More from Rex Reed:
Justin Long Deserves Much Better Than Trite 'Literally, Right Before Aaron'
Jeremy Kagan's 'Shot' Is a Sobering Plea for Gun Control
Grim 'Last Rampage' Saved by Superb Acting
You Won't Be Bored by 'Battle of the Sexes'