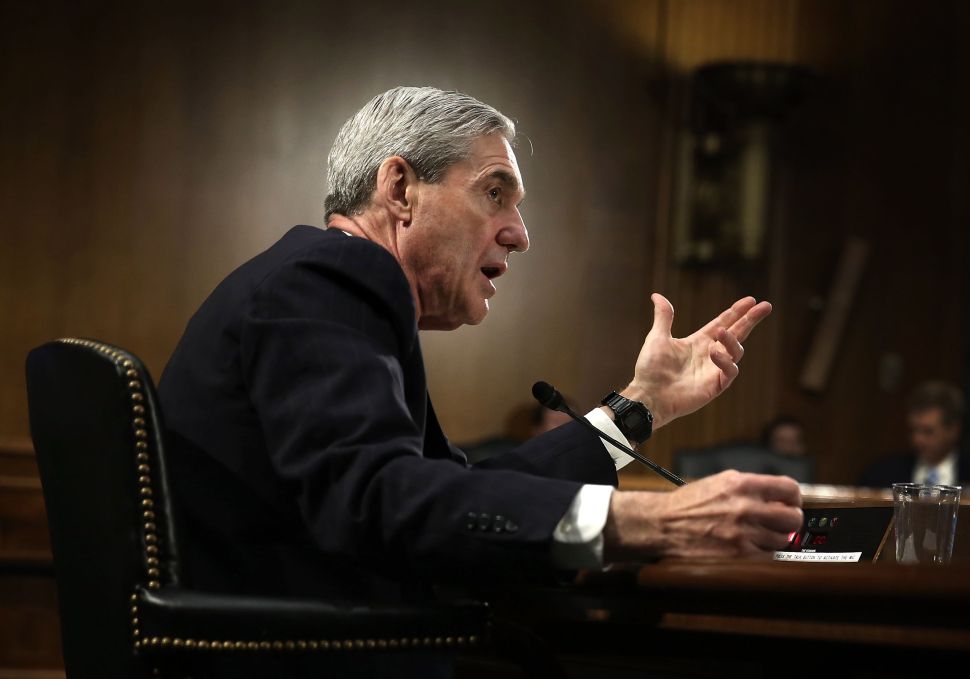 President Donald Trump's lawyers are weighing whether to grant Special Counsel Robert Mueller an interview with the president. A senior White House official told Politico that, in order to expedite the Justice Department's investigation into Russian interference during the 2016 presidential election, the White House might make the president available for questioning. The Trump administration claims to have no intention of stonewalling Mueller and believes an interview could end the probe faster while dispelling suspicion that has dogged the administration since the election.
"Whatever happens with regard to whether or not, or how, the special counsel might want to interview the president, there's no reason to expect that would be combative," a senior White House official told the publication.
This spring, the president told reporters he was "100 percent willing" to testify under oath about alleged ties to the Kremlin. But even if he has nothing to hide, Trump's bombastic personality and tendency to exaggerate could pose problems for his legal team as it strategizes how to best navigate the interview.
Although the president's lawyers have been cooperative with the probe, turning over emails from the campaign and complying with the investigation, some of the information that has surfaced has been damning for former Trump advisors.
Last week, The Atlantic obtained emails from the investigation that linked former Trump Campaign Manager Paul Manafort with Russian oligarch Oleg Vladimirovich Depripaska, a close alley to Russian President Vladimir Putin. This past July, the day after his hearing with the Senate Select Committee on Intelligence, Manafort's house was raided by the FBI at dawn. On Monday, former Trump Foreign Policy Advisor Carter Page told CNN he planned to plead the Fifth Amendment during a Senate Intelligence Hearing.
A meeting with Mueller could undermine the president's plausible deniability in regards to Russia while exposing him to questions that could be incriminating if answered incorrectly. Although Trump's bravado and unpredictability are what propelled him to 1600 Pennsylvania Avenue, they could be his unraveling as he faces someone who has taken an entire year to study his opponent.